This article, is the second article which is meant to guide you, how to deploy different segments of GUI. The introductory article went through the process of launching the administrative interface in StoneFly's Virtual Storage Appliance SCVM. This article will go through home page in GUI, Home page images in GUI and Master storage concentrator menu.
Home Page
After successfully logging into the Storage Concentrator, the home page will appear.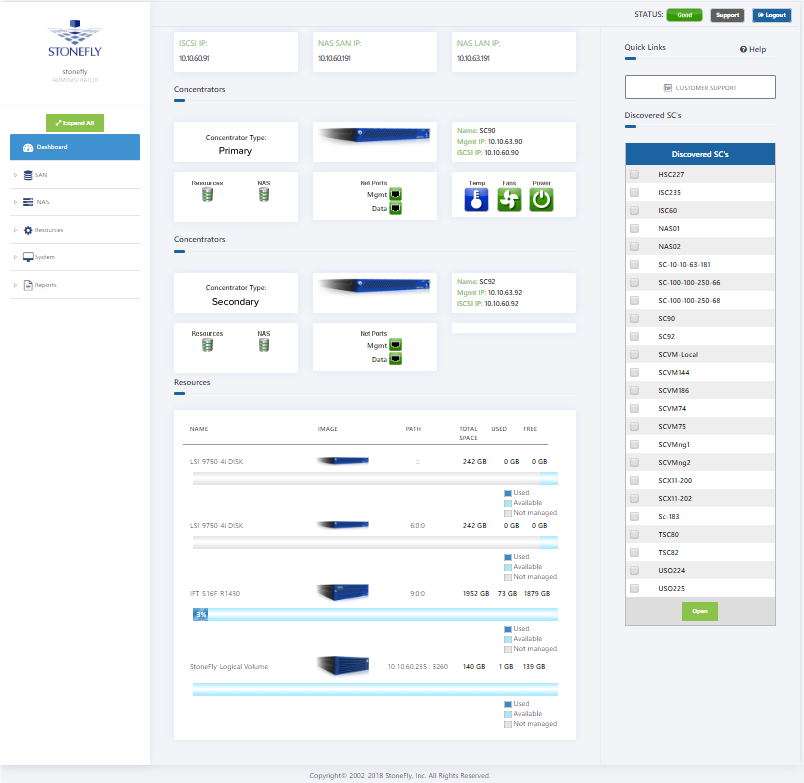 The bar across the top of the administrative interface allows the system administrator to access information regarding system information, support, and system status.
Home: Displays this home page with a summary of all system information.
Support: Displays StoneFly support information.
Status: Displays the status of the Storage Concentrator:
Good: Indicates normal operation.
Down: Indicates that the Storage Concentrator is not running correctly and must have the power cycled to recover.
Alert: Indicates that unacknowledged critical messages have been detected and have been written to the system log.
Logout: logs out the current session.
The Storage Concentrator can be configured to notify the system administrator when Alerts occur. For more information on acknowledging Alerts in the system log, see "Logs". For more information on Alert notification, see "Notifications".
Master Storage Concentrator Menu
The main menu for the Storage Concentrator is displayed on the left hand side of the screen. The picture above shows the menu in its Nested Menus format. View the detail screen for each user to set this feature to "On". The following buttons are active:
Volumes — Click to access volume management functions.
Hosts — Click to access host management functions.
Sessions — Click to access session management functions.
Resources — Click to access resource management functions.
NAS – Click to access NAS volume management functions.
System — Click to access system management functions.
Users — Click to access user management functions.
Reports — Click to access reporting functions.
This concludes this article which discussed about home page in GUI and Master storage concentrator menu. The next article will discuss about the resources section in GUI, how to discover resources and how to add resources in GUI. You can contact our experts in case of any quires or questions.