Veeam Cloud Connect to Microsoft Azure Cloud
Backup Mission-Critical Workloads to Azure Cloud, Azure Government, and Azure Stack 
Integration within minutes
24/7 technical support 
Supported protocols include NAS (NFS and CIFS/SMB) and iSCSI 
Backup solutions available for existing Veeam and Azure users and non-users 
Supported Azure cloud tiers: hot blob and cool blob
VMware vCloud Director support
No need to worry about file-size & bandwidth limitations
Perform file-level recovery, application item recovery, and full VM recovery 
No complex cost structure – get the full package with everything in it 
Highly Scalable Storage in Microsoft Azure Cloud, Azure Government, and Azure Stack
Simple month-to-month contracts
No hidden cloud storage charges 
Now Available with Support for Veeam Availability Suite Version 10!
Sign up for a free trial of StoneFly's Solution for Veeam Cloud Connect Backup  to Azure Cloud

Secure Important Business Data in StoneFly Storage in Azure Cloud
Business data requires adequate data security measures. Keeping all business backups in an on-premises backup infrastructure and in a single location isn't a reliable data protection strategy. Creating offsite copies delivers redundancy and high availability which is necessary for business continuity.
With our parternships with Veeam and Microsoft Azure, and using our storage in Azure, enterprises, large organizations, SMBs and SMEs can effectively secure their mission-critical workloads. Our gateway technology and expertise put us in a unique position to offer a simplified package that combines everything in a way that makes life easier for system administrators, IT administrators, and business owners.
No need to setup complex backup systems. Let us make cloud backup and disaster recovery simple for your enterprise IT environments
StoneFly, Veeam & Azure Backup – Product Overview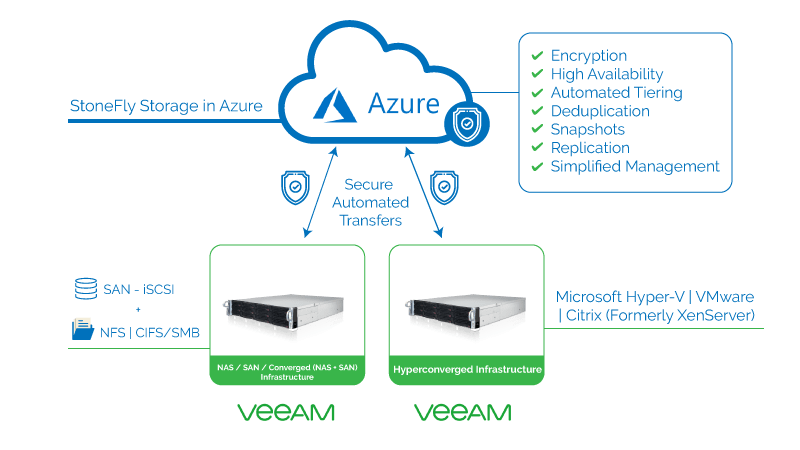 StoneFly's partnerships with Microsoft Azure and Veeam enables us to offer our customers the ability to leverage Veeam backup and replication software to create backups in StoneFly storage in Azure cloud.
StoneFly Azure cloud storage enables users to provision NAS and iSCSI volumes for file-level and block-level storage in Azure cloud. By connecting Veeam backup software with our storage in Azure, users setup additional redundancy and ensure high availability for mission-critical workloads.
Users can backup to Azure and protect files, folders, volumes, applications, programs, databases, hosts, and other enterprise workloads. The single centralized management interface of our backup solution makes it easy to manage all backup resources in Azure.
Our technology also puts users in complete control of their data in the cloud with enterprise-grade data services such as encryption, snapshots, replication, and more.
Backup to Azure and experience enterprise-grade data protection for your mission-critical workloads
The Complete Cloud Backup and Disaster Recovery Solution
Together, StoneFly, Microsoft Azure, and Veeam offer the full data protection package for enterprise IT environments.
Enterprises can protect mission-critical workloads running on NAS servers, iSCSI SAN appliances and Hyperconverged Infrastructures (HCIs) by creating offsite backup copies in Azure cloud.
Users can ensure protection for email servers, surveillance video stations, MySQL and NoSQL databases, physical storage servers, and cloud-based applications with this enterprise-grade cloud backup solution.
With Built-in features, like the WAN Accelerator, the backup solution delivers faster backup and recovery to make sure your business stays up and running with little to no data loss. 
Backup to Azure Cloud or Azure Government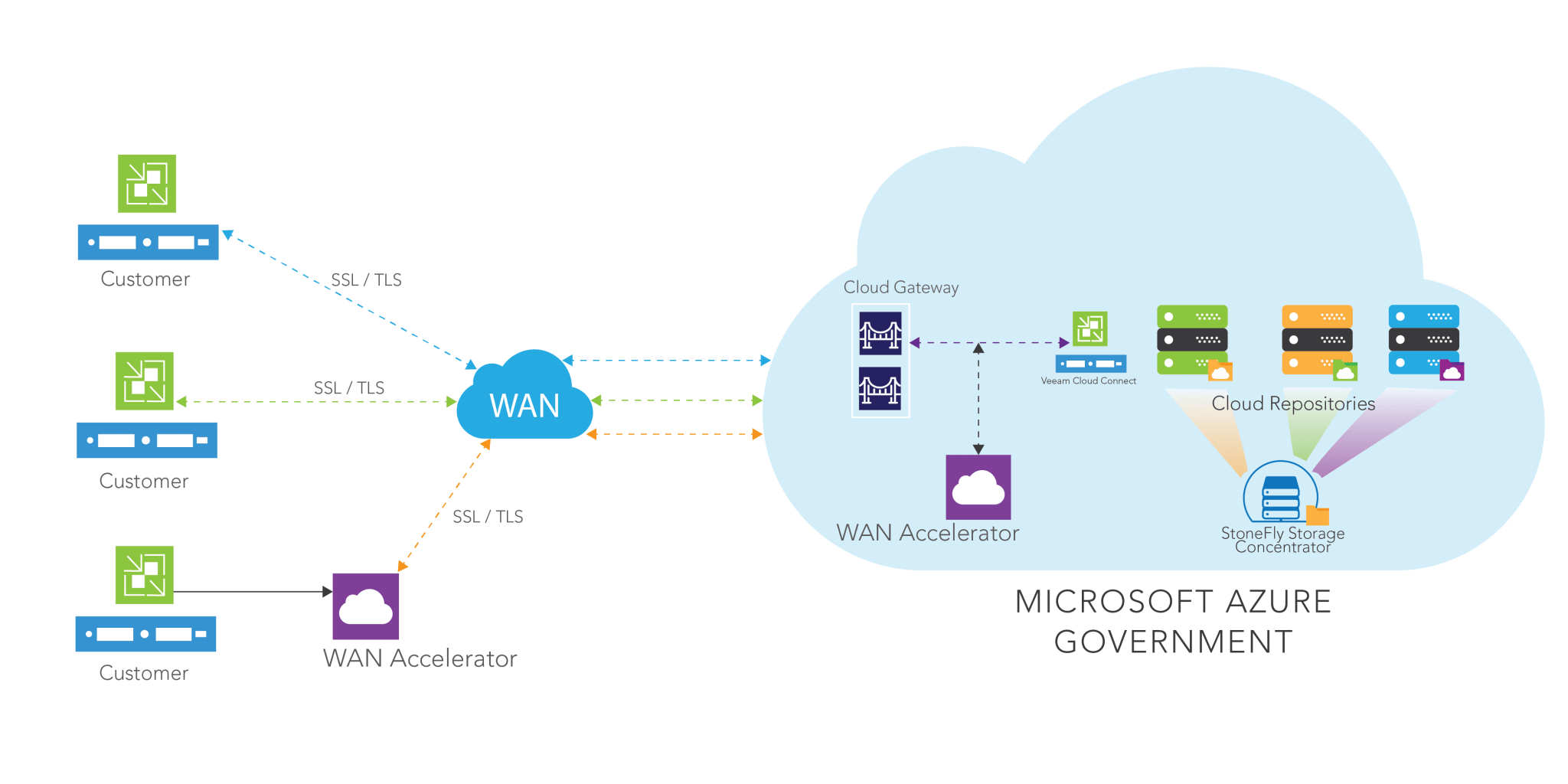 StoneFly has a number of partnerships with Microsoft Azure. Our partnerships open up an array of choices and opportunities for our enterprise customers. One of our partnerships with Microsoft Azure enables us to offer cloud storage in Azure government.
This means that using StoneFly gateway technology, our customers can connect Veeam backup to Azure Government cloud. The Azure Government cloud offers an additional layer of security and compliance which makes it especially suitable for government contractors, federal government clients, and service providers for various associated departments.
To store data in Microsoft Azure government, enterprises have to qualify in accordance to a pre-defined criteria. Our expertise enable us to guide our customers and expedite the process.
StoneFly Inc. is an authorized reseller of Azure Government cloud. Our company name can be found on Azure Government authorized resellers list. 
Interested in Deploying Your Backups in Azure Government Cloud?
Enterprise Backup and Disaster Recovery Features of Veeam Cloud Connect Backup to Azure
VMware vCloud Director
Protect important data stored in VMware vCloud and create Veeam backups in Azure cloud with our solution effortlessly. 
Delta-Based Snapshots
Schedule delta-based snapshots and create system state copies to prevent data loss due to data corruptoin, accidental/malicious deletion, or ransomware attacks. 
Replicate to Azure Cloud
Setup replication jobs that automatically replicate important data to Azure cloud tiers for faster backups and instant recovery. Thus delivering reduced RTOs and RPOs. 
Encrypt Mission-Critical Workloads
Leverage built-in advanced encryption technology to encrypt and secure data at rest and at transit and stay protected from malicious access, hacks, and data breaches. 
Scale Out Azure Cloud Backup Storage Repository
Backup to Azure without having to worry about storage capacity consumption or data storage capacity limitaitons. Scale out Azure cloud backup Storage capacity as your backup data grows.
Centralized Cloud Backup Management
Easily manage and control all your Azure backup workloads and your on-premises backup data with a single centralized management web GUI.
Built-in WAN Accelerator
Speed up backup and recovery speeds by leveraging the built-in WAN accelerator and making the most of your available bandwidth. 
Physical-to-Cloud Replication
Configure synchronous or asynchronous replciation to replicate workloads from on-premises or offsite infrastructure to Azure cloud tiers for additonal redundancy, high availability, and recoverability.
Cloud-to-Cloud Replication
Setup redundancy and high availability for your workloads running directly on the cloud with our cloud-to-cloud replciation feature. Create mirrored volumes in Azure cloud. 
Geo-Replication for High Availability
Meet demanding uptime requirements by leveraging Azure cloud's geo-replication that creates redundant copies to make sure you always retain access to your data stored in Azure cloud. 
Backup VMs in Azure Cloud
Replicate VMs running on Hyper-V, VMware, Citrix, and Nutanix hypervisors to StoneFly storage in Azure cloud. Recover important VMs with a single click spin up and recovery feature. 
Automated Backup Data Tiering
Automate data transfers, simplify data management, and enhance cost effectiveness with our automated tiering feature. Define policies that automate data transfers between on-premises and cloud tiers and improve utilization and reduce cloud backup costs. 
Veeam Direct Restore to Azure
Leverage the combination of Veeam software, Veeam cloud connect, and StoneFly Azure cloud backup storage to directly restore your mission-critical workloads to Azure and access them instantly for faster recovery.
Reduced RTOs & RPOs
The combination of snapshots, replication, 1-click restore to Azure, and other similar features delivers RTOs and RPOs (RTPOs) of less than 15 minutes making sure that business continue to operate with minimum data loss and downtime.
Deduplication for Azure Cloud Storage
Control the cost of storage in Azure cloud by leveraging our deduplication feature. Deduplication reduces the number of copies and optimizes storage space consumption thus reducing the cost of storage and retention in the cloud.
1-Click Restore to Azure Cloud
Directly spin up misison-critical Virtual Machines (VMs) in Azure cloud with our innovative cloud disaster recovery solution and recover within minutes. 
Continuous Data Protection (CDP)
Veeam taps into the hypervisor IO stream to replicate workloads in real-time. This reduces RTOs and RPOs considerably enabling you to be back up and running within minutes.
Data Integration
Extract virtual disks from your VM backup files and mount them as iSCSI volumes on iSCSI clients to run resource-intensive workloads without affecting the primary production environment.
Linux Backup Proxy
Create Linux backup proxies without any pre-built proxy appliance and configure backup and DR for Red Hat, Ubuntu, and Debian. 
NAS Backup Support
Add your NAS servers directly to the Veeam console and backup your NAS systems without agents and clients. 
Comply to Industry Regulations with Veeam Cloud Backup to Azure
Does your business need to comply to strict industry regulations? Are you worried about large fines in the event of data loss or data breach? Or are you worried about SLAs that you've committed to your customers?
Either way, our Veeam cloud connect backup to Azure solution can help ease your worries. With the combination of Veeam backup software and StoneFly storage in Azure cloud, organizations can comply to a number of industry regulations.
Examples of such compliance regulations include FedRAMP, CJIS, HIPAA / HITRUST, FISMA, and several others.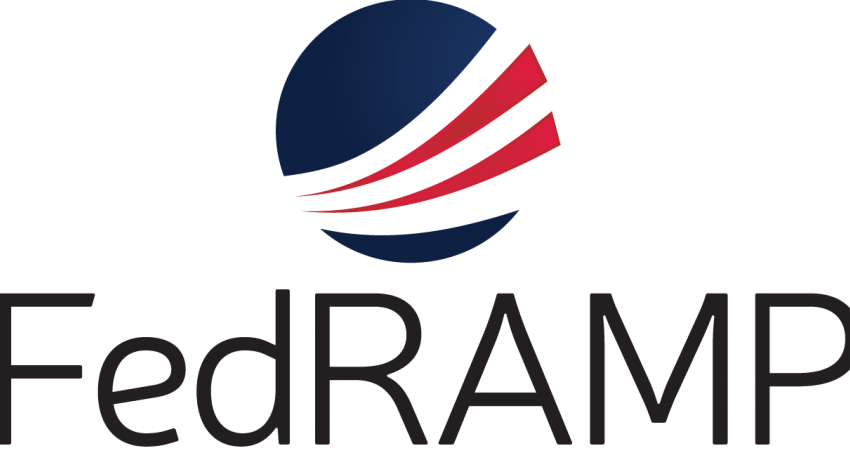 FedRAMP
FedRAMP is part of a set of security standards developed by the US government to make sure cloud services and products could protect federal and government data properly. FedRAMP comprises of a standardized approach to "Authorization, Security Assessment and continuous monitoring for Cloud services and products".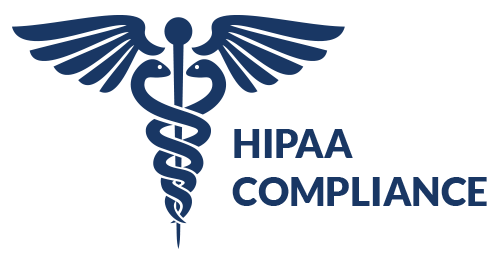 HIPAA/HITRUST
HIPAA defines rules and regulations for healthcare service providers that deal with patient data. These rules emphasize on data protection services for PHI (Protected Health Information) processed by healthtech infrastructure. HITRUST is a certifiable framework that synchronizes various other compliance frameworks such as HIPAA, PCI, ISO, NIST etc.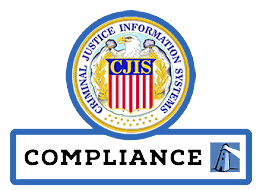 CJIS
CJIS policy is developed by the Advisory Policy Board, comprising of people representing different states, and is enforced by the FBI CJIS (Criminal Justice Information Service) division. The policy describes rules pertaining to the data protection of federal data and Personally Identifiable Information (PII) stored and backed up in the cloud.
Veeam Cloud Connect Backup to Azure Facilitates All Kinds of  Compliance Regulations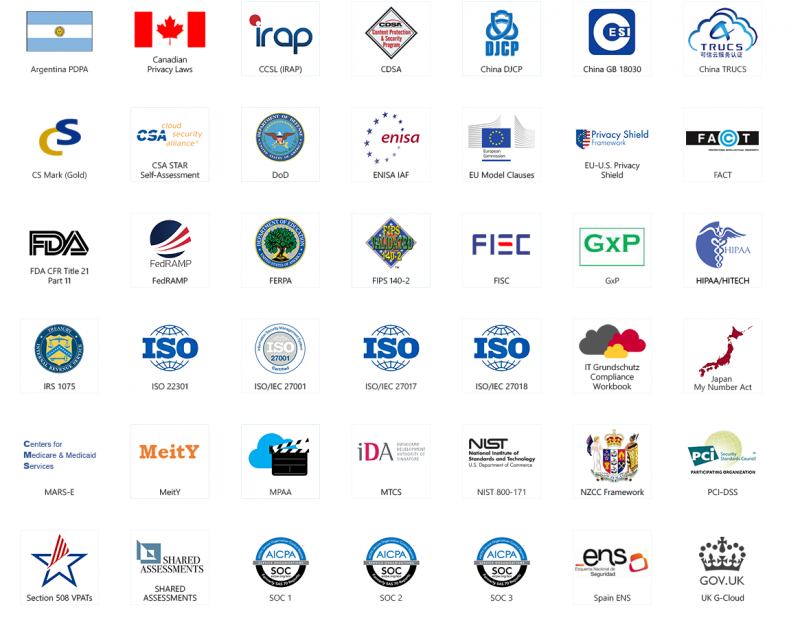 The Best Backup is a Hybrid Backup
Relying on a single backup infrastructure is bad for business. Our solutions can help you deploy a feature-rich hybrid backup solution that leverages on-premises infrastructure and integrated cloud backup for additional redundancy, availability, and business continuity. Our solutions are flexible and fit a wide variety of users and use-cases.
Do you already have backup infrastructure? We can offer you Veeam licenses and a gateway that connects your backup appliance with our enterprise storage in Microsoft Azure cloud.
Do you already have an appliance, a Veeam license, and an Azure account? We can combine them all together with our gateway solution. And our gateway solution can add a number of enterprise features to help you build a secure and reliable backup solution. Examples of enterprise data services include snapshots, replication, deduplication, erasure coding, thin provisioning, and more.
Make the most of your backup solution and deploy hybrid backups with StoneFly's innovative backup technology.  
Deploy a Hybrid Backup Solution for Your Enterprise Workloads Today
1-Click Direct Restore to Azure Cloud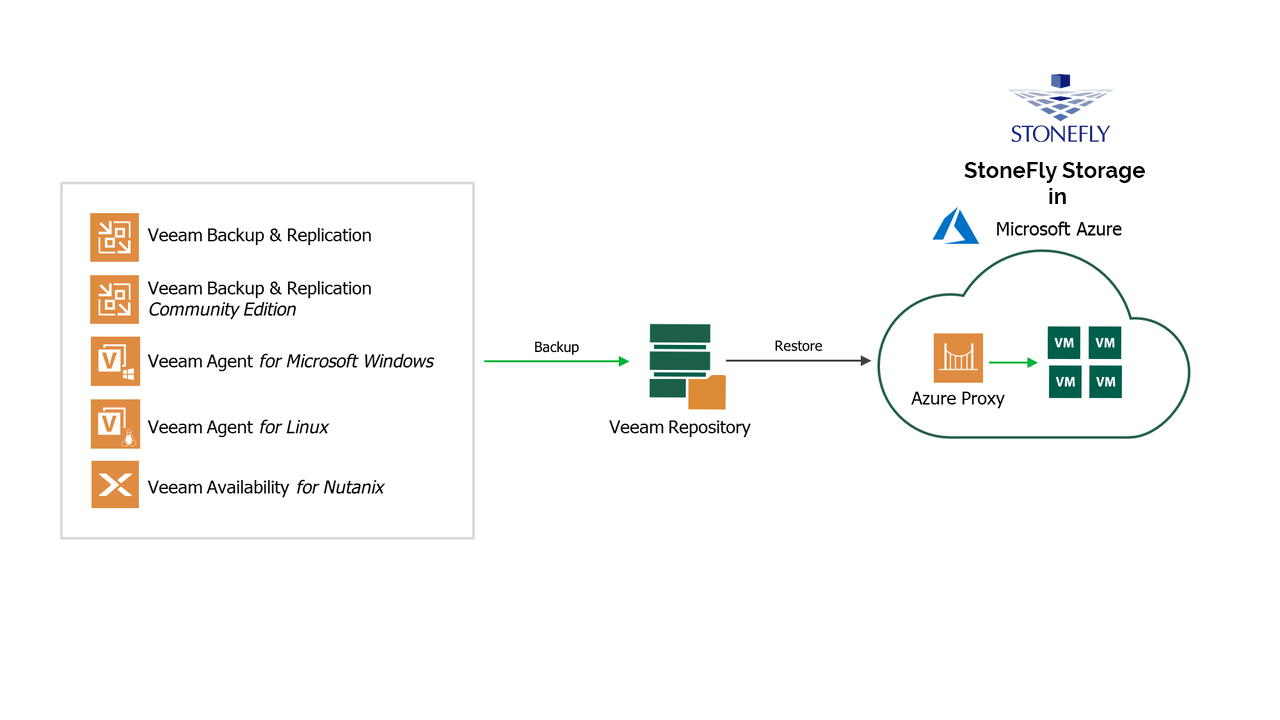 Restore ANY file, folder, application, Virtual Machine (VM), etc. with a single click directly in StoneFly storage provisioned in Microsoft Azure cloud. The powerful combination of the built-in WAN accelerator and StoneFly gateway delivers high speed recovery that limits downtime and reduces Recovery Time Objectives (RTOs) and Recovery Point Objectives (RPOs) to just under 15 minutes.
With a single click, Veeam cloud connect backup to Azure users can recover mission-critical workloads directly in Azure. This enables users to continue working while their primary systems are recovered.
Our complete cloud backup solution delivers 1-click direct restore to Azure cloud feature for NAS, iSCSI SAN, hyperconverged, and cloud-based workloads.
Interested in 1-Click Direct Restore to Azure Cloud?
StoneFly Veeam Cloud Connect Backup to Azure Users Can Choose
Any Azure Data Center Worldwide
Cloud Disaster Recovery Made Simple with Veeam PN
Networking is one of the most challenging part of setting up a cloud disaster recovery solution. Our Veeam cloud connect backup to Azure removes the hassle of figuring out and setting up a VPN (Virtual Private Network). StoneFly customers can leverage built-in Veeam PN (Powered Network) to simplify configuration and make remote data access, management, backup and recovery easy.
Veeam PN leverages OpenVPN and SSL technologies to facilitate Site-to-Site (S2S) and Point-to-Site (P2S) connectivity scenarios. It is specifically designed to compliment the 1-click direct restore to Azure feature of our Veeam backup to Azure solution.
The combination of Veeam PN and StoneFly Veeam cloud connect backup to Azure delivers simplicity and reliability for enterprise IT environments.
Wave goodbye to complicated VPN installations and simplify network configuration with our enterprise cloud backup and disaster recovery solution.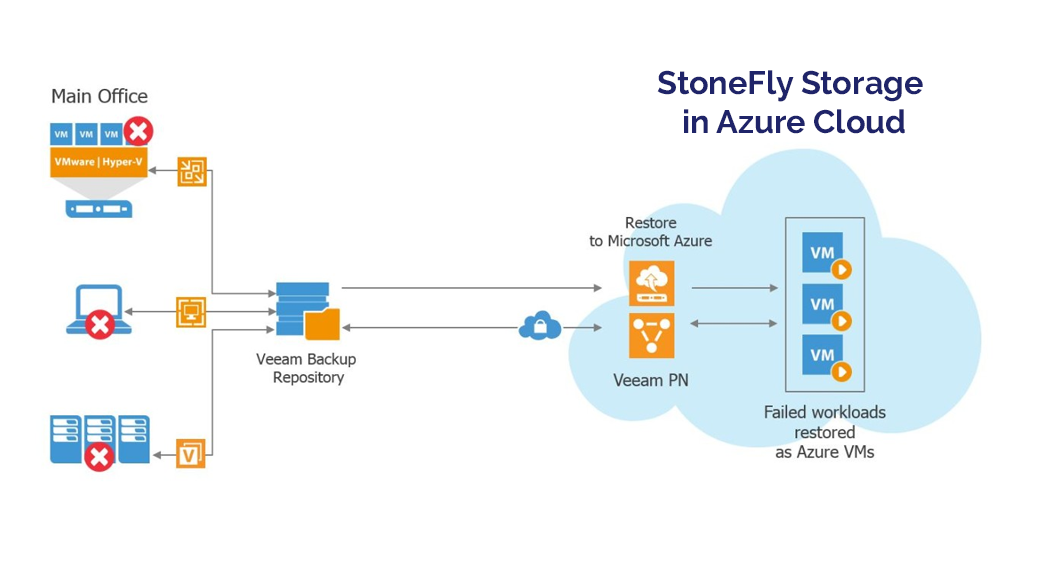 Learn More about Veeam Cloud Connect Backup to Azure
How to Videos – Installation, Setup, Configuraiton
How to Create a NAS Volume in Azure Hot Blob
How to Add Azure Hot Blob or AWS S3 NAS Volume as a Backup Repository for Veeam
How to Directly Restore a VM to Microsoft Azure Cloud
How to Add an Azure or AWS Subscription to Veeam
Frequently Asked Questions (FAQs) about StoneFly Veeam Cloud Connect
Backup to Azure Solution
What is the maximum size of data transfer supported?
The size of the backup can vary from just a couple of GBs to several TBs. There is no limit on the maximum size.
How much bandwidth would be available for the Veeam backup and replication solution?
The backup and replication jobs will use your network bandwidth. For best practices, our solution requires network specifications of 1 Gbps or faster for on-site backup and replication, and 1 Mbps or faster for off-site backup and replication. Bandwidth demand will be high for first time backup to create first full image of backup. Following backups will require smaller bandwidth as they are incremental copies.
What is the subscription model?
Products (listed below) are available with monthly subscription licenses. When the license expires, you must renew the license to continue usage of the product.
Veeam Cloud Connect Backup & Replication
Veeam Backup for Microsoft Office 365
Veeam Agent for Microsoft Windows
Veeam Agent for Linux
Can I use my own Veeam licence?
Yes. You can use your own Veeam license
Are the stored backups encrypted?
Data transmission from your location to our infrastructure is encrypted. You also have the option to enable encryption to encrypt your backups while configuring the backup jobs. If you enable encryption, data at rest will be encrypted. You can set a password which will be used to decrypt the data after restore.
What are the data restore options? 
Veeam Backup & Replication offers a number of recovery options including instant VM recovery, entire VM recovery, VM files restore, 1-click direct restore to Azure,  and guest OS file recovery.
Is there a Graphical User Interface (GUI)?
Yes there is a GUI. You will be using the Veeam Backup & Replication V 9.5 GUI. It is user-friendly and an intuitive interface. You will also have access to a web portal to manage your disaster recovery plans.
In the event of a disaster, will I be able to spin up my Virtual Machines for testing and also for production?
Yes. We will setup replication for you and backed up VMs can be spun up in case of disaster. You can also schedule failover jobs to test your disaster recovery plan.
Looking to Learn More About Veeam and StoneFly and How We Work Together?