Cloud computing is often times regarded as a cure-all for small-to-medium sized businesses (SMBs) and even large enterprises. At other times, you'll find cost comparisons between on-premises and cloud solutions suggesting that since on-premises give better Return on Investments (ROIs) in the long-run, they're the obvious choice for your business. The reality is that there is no one size that fits all.
In this blog post, we'll take a closer look at on-premises vs. cloud solutions, the pros and cons of each, and how to choose the right one for your company.
What is on-premise vs cloud infrastructure?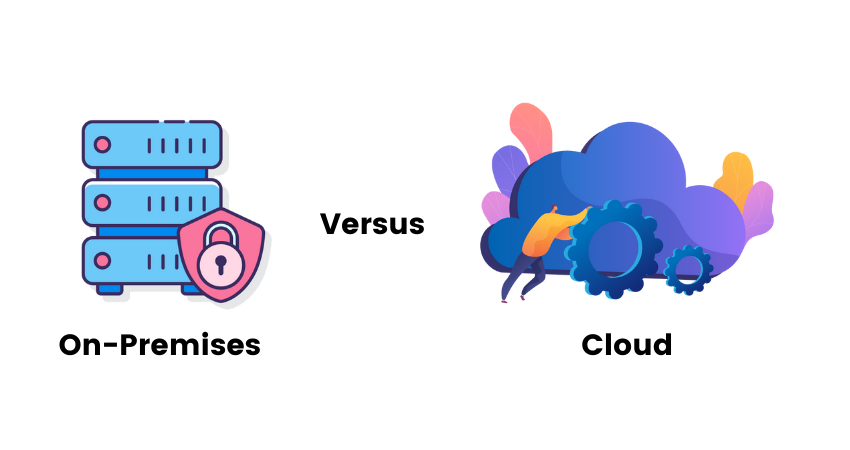 On-premises (On-prem) infrastructure
includes all the hardware in your office's server room such as server(s), network switches, routers, storage arrays, and
backup server
, etc.
Cloud infrastructure includes all the hardware you rent from a cloud provider such as Amazon Web Services or Microsoft Azure combined with an operating system that manages your workloads across multiple nodes in different locations around the world for high availability.
The difference between on-premises vs cloud infrastructure
On-prem is an infrastructure you own and manage yourself. You're responsible for the security, management, backups, hardware refresh schedules etc.
Cloud provides a fully managed solution that includes virtualization (VMs), storage, networking solutions with all software stacks built in e.g., load balancers, monitoring tools etc. The cloud provider takes care of managing it on your behalf while optimizing costs at scale by leveraging economies of scale where they exist or simply absorbing cost increases to ensure your business isn't impacted when prices rise – something traditional IT budgets are not designed to handle effectively. Cloud providers typically offer many different types of Infrastructure as a Service (IaaS) models such as dedicated compute nodes running hypervisors like VMware vSphere or Microsoft Hyper-V, containers on top of shared compute nodes using Docker or Kubernetes etc.
Pros and Cons of On-Prem vs Cloud
The advantages and disadvantages of cloud vs on-premise are not binary or black and white. Whether you can get better results from a predominantly on-premises infrastructure versus cloud infrastructure depends on a number of factors including:
The computing resources your business-critical software, databases, and application(s) require.
The upfront cost (CapEx) your business is willing to invest and the maintenance costs (OpEx) you're willing to put up with.
Data growth and how often you'll need to scale your performance capabilities and storage capacity.
Industry regulation(s) your business has/have to comply with. Examples include HIPAA/HITRUST, CJIS, FedRAMP, etc.
Available network speed and bandwidth.
Pros and Cons of On-Premises Data Center(s)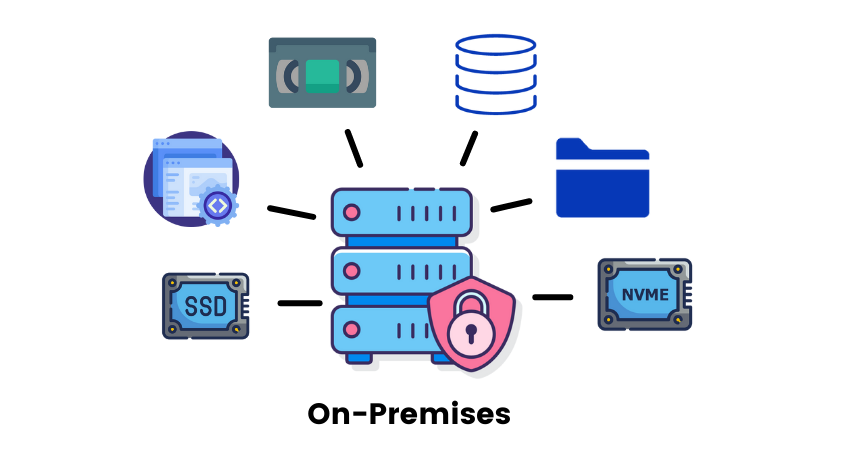 Higher Initial Cost – Better ROIs:
On-prem data centers are designed to meet the specific needs of your organization but comes at a higher initial investment cost and requires more IT personnel to manage it.
However, with storage optimization features such as deduplication, thin provisioning, automated hot/cool storage tiering, and Flash Cache SSD caching, on-premises data center owners can improve storage utilization and reduce ROIs in the long-run.
More Customization and Control
On-prem has the advantage of offering more control and customization that can be tailored to perfectly fit your needs – within your budget.
You can have the hardware you want for your data center, software licenses that won't cost more if you add another server and so on.
Low Latency – Higher Performance for Hot-Tier Workloads
With on-premises infrastructure, IT administrators do not have to worry about low latency affecting performance capabilities. This makes the infrastructure suitable for hot-tier workloads such as databases, CRM and EHR software, data backups of frequently-accessed workloads, etc.
On-Premise Infrastructure Security is Your Responsibility
With better control, comes the responsibility of ensuring server hardware security and making sure that the data processed and stored in your on-premise infrastructure is safe from cyber-threats such as ransomware and virus.
Depending on the scale of your infrastructure, this consumes additional time and money. While the level of data security depends on your in-house IT staff expertise and the chosen vendor's ability to deliver.
The upside is that the data center controls where sensitive data is retained and is able to secure the physical server(s) accordingly – which helps with compliance.
Scalability Can be Challenging
On-premises infrastructure provide a fixed storage capacity. In order to scale storage capacity, you'll need to add storage hardware. This can be in the form of storage drives, if there's room to populate drives in your current hardware or by getting expansion units (EBODs).
Either way, it takes relatively more time to scale on-premises infrastructure than it does with cloud-based solutions.
Pros and Cons of Cloud Infrastructure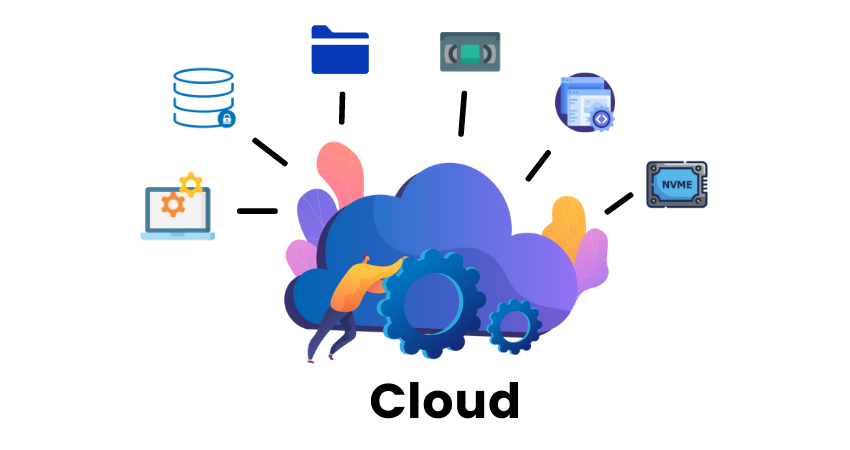 Quick to Scale Up and Down with a Few Clicks
With a cloud infrastructure, scalability is fast and easy. You can add or remove virtual machines/workloads as needed with just a few clicks of your mouse – without having to invest in additional hardware.
Lower CapEx – Costs Increase with Usage:
Cloud might be cheaper in terms of CapEx initially but can grow significantly as you scale up with no increase in staff needed for management since all operations are managed by the cloud provider – something that becomes increasingly critical as you start growing.
Without appropriate optimization and control, the "pay-as-you-go" subscription model leads to the infamous "hidden cost of the cloud".
Latency Concerns and Consequent Performance Challenges
Running your business-critical workloads via the cloud computing model can potentially result in higher latency depending upon where your workloads are running across different geographical regions compared to if they were all hosted locally e.g., cloud provider's data centers around North America vs. Australia or Europe due to network performance benefits closer proximity brings for intercontinental communication links (lower latency).
Cloud Service Provider Ensure High Availability (Not Data Security)
Cloud service provider (CSP) makes sure your data is always available by geo-replicating your data across multiple server(s) and regions. With geo-replication, the CSP can make sure that your data is available even if one of their data center is unavailable.
Most public cloud service providers, such as Azure, AWS, Wasabi, adhere to strict Service License Agreements (SLAs) that ensure high availability of your data.
Note: High availability is not to be confused with data protection. While CSPs make sure your data is available, protecting your data is your responsibility.
For instance, if your data is corrupted, on source-end or during transfer or for any other reason, the cloud will make sure that it's there but it will still be corrupted.
Alternatively, if a ransomware attacks your data, it's your responsibility to make sure that it's protected using data security solutions such as air-gapping, immutable storage, anti-ransomware, etc.
Complex Service Provider Portfolios
Public cloud service providers have an expansive service portfolio. In order to make the right choice and continue to do so as your business needs grow, it's important to on-board an IT expert, or team of experts, familiar with the chosen public cloud service provider's portfolio.
As a result of this complexity, management consumes additional time and money.
How do I choose between On-Premises versus Cloud?
The decision is about knowing what works best for your business based on a number of factors, including cost, scalability, security, compliance requirements and time to market among others.
Is Cloud Computing Truly the Best Fit for SMBs?
In some cases, cloud computing is the best solution for small and medium-sized businesses. However, this does not mean that every SMB should move all of their workloads to public clouds – it depends on your needs and business objectives whether you choose an on-premises or cloud infrastructure.
Here are a few reasons why cloud computing can be a viable option for SMBs:
Lower CapEx – Most SMBs have budget restrictions which makes cloud a suitable option to begin with. Once business operations are up and running, the SMB should re-analyze their requirements and monitor their consumption to make sure that they don't use more than they can spend.
Management – Cloud services providers take care of the majority of the management overhead allowing SMBs to free up IT resources and budget to focus on their core business.
Deployment – Compared to on-premises infrastructure, cloud services can be deployed and integrated quicker.
Scale – With a few clicks, IT administrators can add performance and storage capacity without disrupting day-to-day operations.
Is On-Premises Infrastructure Only Suitable for Large Enterprises?
Due to the upfront cost of the on-premises infrastructure, you'll find cloud evangelists stating that it's not for SMBs and only for large enterprises. However, that's not entirely true. Depending on the business requirements, the CapEx for on-premises infrastructure are worth it and pay-off in the long-run.
Here are a few reasons why on-premises infrastructure works for both SMBs and large enterprises:
Compliance – While cloud services do offer a great deal of security, compliance regulations often require businesses to retain and secure sensitive data themselves – and not share it with third party service providers.
Long-term archiving – Tape arrays and SAS-based disk systems offer better cost savings than cloud archiving solutions. Furthermore, when it's time to retrieve the data, it doesn't take as much time or cost as much.
Low latency and better performance – On-premises infrastructure is more suitable for workloads such as databases and business-critical software responsible for running day-to-day operations because of the shorter feedback loop. In comparison, depending on the network speed and available bandwidth, running hot-tier workloads in the cloud costs more and is susceptible to delay and lag due to latency.
While both cloud computing and on-premises infrastructure come with their share of pros and cons, there is a middle-ground that combines the best of both worlds: hybrid cloud.
Hybrid Cloud – Best of Both On-Premises and Cloud
With hybrid cloud, you can get the performance capabilities and control that you get with on-premises infrastructure along with the scalability of cloud computing.
For a detailed explainer on hybrid clouds, read our blog: A Definitive Guide to Hybrid Cloud Computing.
Conclusion
The decision of whether to go with on-premises or cloud solutions is a big one. No matter what your choice, it will have an impact on the productivity and profitability of your business in both the short and long term. By understanding the difference between these two options you can make sure that you get IT infrastructures customized for your operations so that they support day-to-day tasks while keeping costs under control.
Need help choosing the right infrastructure for your business? We can help. Contact our expert via the website live chat, email [email protected], or call +1 510 265 1616.