Public versus Private Cloud: Which Cloud is Best for Enterprise Backups?
Cloud backup is one of the best use-cases of enterprise cloud storage. With the additional offsite copy in the cloud, enterprises ensure that they always have a way to recover mission-critical workloads. But there are two types of cloud technologies, based on how they're setup and accessed: Public cloud and private clouds.
Enterprises have to make a decision when it comes to selecting which cloud is the best for their use-case either public or private. It tends to be a difficult decision. If you are an IT administrator or CTO trying to figure out which cloud technology is better for your enterprise, this article will help you with your decision.  
In this article we take a closer look at public and private cloud technology to determine which is most suited for enterprise cloud backups.
Wondering what makes cloud backup the best use-case for enterprise cloud storage? We wrote a blog about it. Click here to read more: Best Use-Case of Enterprise Cloud Storage Technology.  
Public Cloud versus Private Cloud: What's the difference?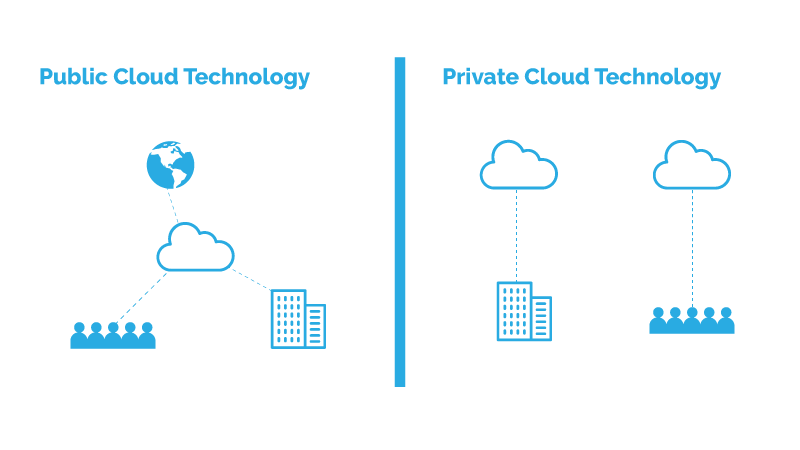 Public Cloud Technology:
Let's use some analogies to clearly draw a line between public cloud and private cloud technologies.
A public cloud is like a public library. Anyone with a library card can access the books, read them, and rent them. This is what the public domain is like.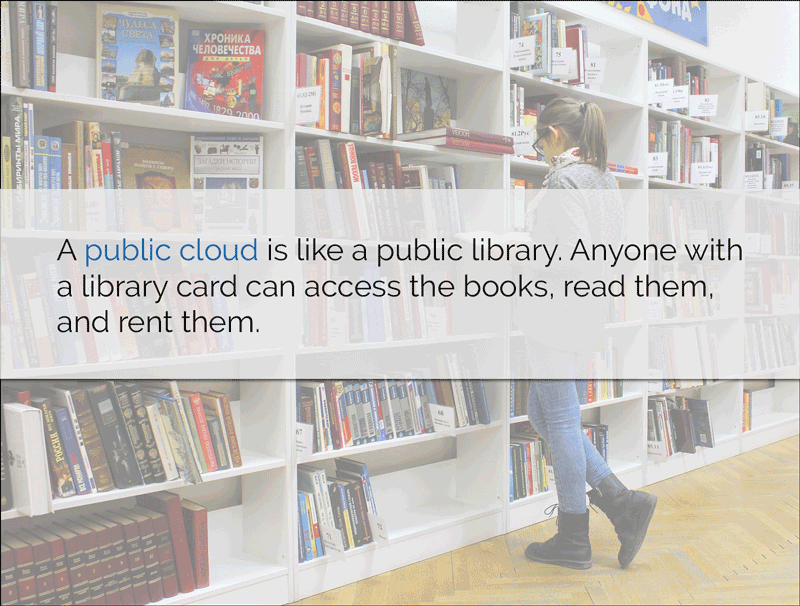 Public clouds, if configured with public access, put everything in the public domain. Anyone with the right credentials can copy them, use them, access them, or manage and edit them at their convenience.
Private Cloud Technology: Considering the above analogy of a public library, in comparison private cloud technology is similar to privately owned bookshelves.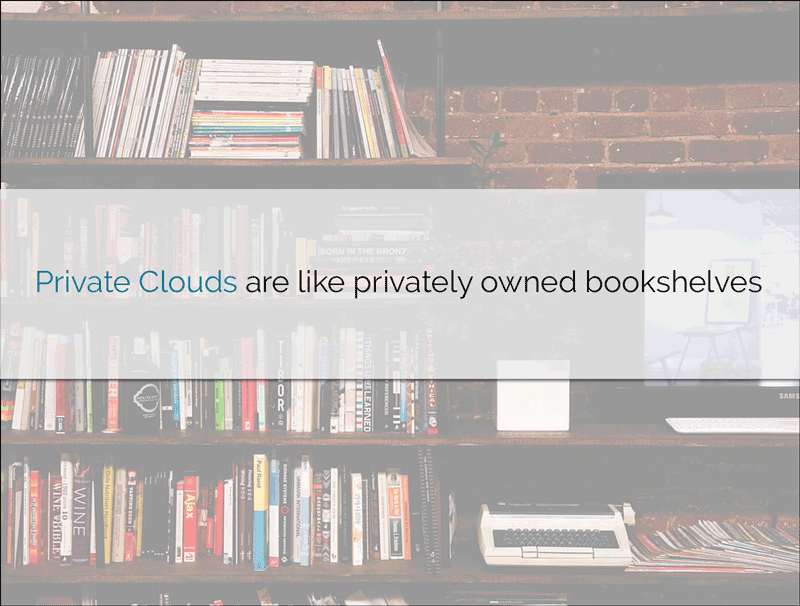 Only the owner of the bookshelf has access to the books in the bookshelf. Similarly, only the people within the house can access it. Therefore, it's a closed space which can only be accessed by a certain group of people.
That's also true for private cloud technology. Private clouds are only accessible with the right credentials, by the owner or a set user-group, through a specific and secure network. Therefore only the authorized people can access it.
Now that we've briefly explored the two cloud technologies, let's take a closer look at both of them in light of enterprise cloud backups.
A Closer Look at Public Cloud Storage Technology: Is it a Good Choice for Enterprise Cloud Backups?
Public cloud is general-purpose in nature. It's meant to be used by a wide array of users with different kinds of requirements and use-cases. Therefore, the public cloud is built to be generally suitable. This makes them unsuitable for use-cases with a specific set of requirements.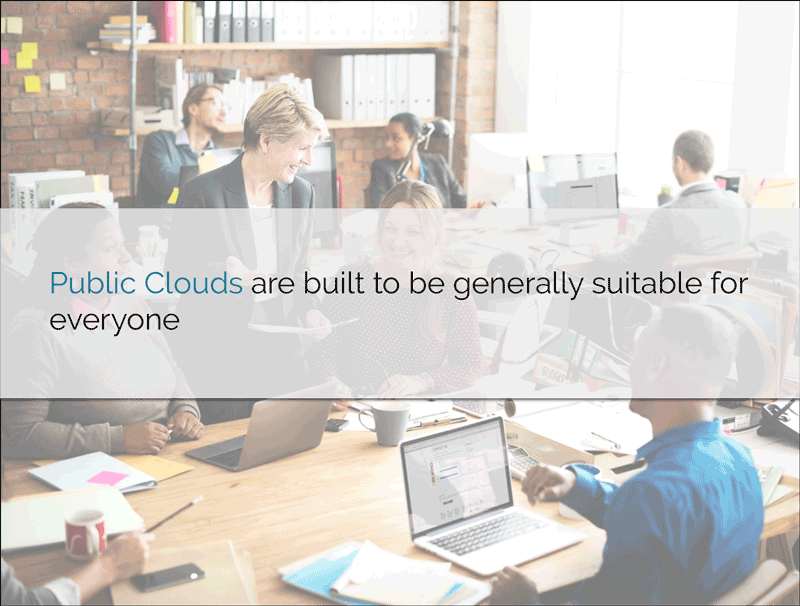 In other words, public cloud technology cannot be tailored or customized to suit a certain application or use-case. On the other hand, since public clouds are meant to be used by multiple tenants, they're built to be secure, reliable and storage efficient.
If you're wondering about the data security of public clouds, we recommend reading our blog about Microsoft Azure Cloud Security for Enterprise Data and Applications.
As we mentioned earlier, public clouds are meant to cater to the requirements of thousands or millions of users. That's why their servers are built to emphasize on endurance. For instance, Amazon offers very high durability. And both Amazon and Azure offer SLAs that guarantee uptime. Other mentionable services include Azure's built-in geo-redundancy.
Azure cloud storage offers high availability by replicating anything stored in their cloud to 6 different locations. This makes sure that even if 5 out 6 of those locations fail, the end user still doesn't feel any disruption or inaccessibility to their data.
Besides the security, uptime, and the general-purpose tools of public clouds, another good use of the technology is long term storage and retention. The storage servers are built to last. Therefore, they're good for year-long archives. For example, medical record storage needs decades long retention. By leveraging public cloud storage, they can have a reliable long term storage with reduced costs.
What to look for when choosing a public cloud storage vendor?
When choosing a public cloud vendor, always go for a vendor who has their solutions deployed in the public cloud. This shows that they have the expertise to guide you through the process.
A vendor with their storage technology in the cloud can make the integration process very simple for the enterprise. They can offer a packaged deal by combining their technology and the public cloud storage. This helps control the cost of the cloud, which can be very tricky at times.
With a packaged deal that charges on a per Virtual Machine (VM) or per workstation or per Terabyte basis, the enterprise doesn't have to deal with "surprise" costs at the end of the month or year.
Speaking of vendors with their technology in the public cloud, did you know that StoneFly storage solutions have been deployed in all Microsoft Azure datacenters? Our cloud storage products can be directly purchased from Azure marketplace.
A Closer Look at Private Cloud Storage Technology: Is it a Better Choice for Enterprise Cloud Backups?
Contrary to public cloud storage, Private cloud is for enterprises that do not want to or should not keep their data in a shared location. For such an enterprise isolated and dedicated cloud storage is the better option as it allows for more control with no noise.
In other words, private cloud offers more room for customization. The user can deploy the private cloud specifically in accordance to their requirements.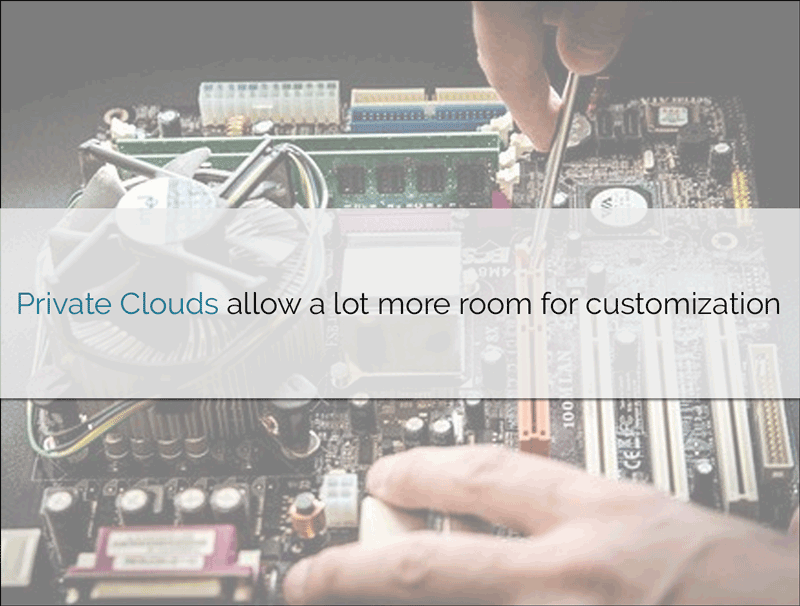 For instance, the IT environments in banks process large volumes of transactional data. This data needs security, and tailored performance. Using a public cloud to cater to these requirements can be very challenging whereas leveraging private cloud storage for this use-case improves the user experience and delivers as per their requirements.
Similarly, any use-case where the user has specific requirements, and needs to maintain control at all times, is most suited for private cloud storage technology than public cloud storage technology.
What to look for when choosing a private cloud storage vendor?
If you're looking for a private cloud storage solution, then that means you have specific cloud storage requirements. Then it's very important to choose a vendor who has the right tools to cater to these requirements.
For instance, if you're looking to leverage private clouds for cloud backups and faster data recovery, then their solution should have data services like synchronous replication, delta-based snapshots, granular file recovery, among many others.
Conclusion
Both public and private clouds are good options. The best one depends on the requirements and purpose of the enterprise.
The best vendor of public cloud storage or private cloud storage is one who has the expertise and the tools to cater to the requirements of the enterprise.
Looking for More Insights on Public and Private Cloud Storage Technology?
This blog is an extract from "StoneCaast", the weekly podcast where we invite the Founder and CEO of StoneFly Inc. Mo Tahmasebi, to discuss enterprise data storage, backup and disaster recovery, archiving, and hyperconverged storage challenges and solutions.
If you're looking for more insights on similar topics, we recommend following our podcast:
We're on SOUNDCLOUD: https://soundcloud.com/stoneflypodcast
You can also find us on PodBean: https://stoneflypodcast.podbean.com/
Questions?
We'd love to answer your queries and help you with your cloud storage requirements. We have enterprise cloud storage solutions in public clouds like Azure, AWS, and other S3 compatible clouds. And we also offer StoneFly private cloud for users looking for private cloud storage.
Contact us for more information.
You can call us at: +1 (510) 265 1616
You can also send us an email at: sales@stonefly.com
Stay Connected with Us. You can Find Us on Several Social Media Platforms:
Twitter: @stoneflyinc
Linkedin: https://www.linkedin.com/company/stonefly-networks
Facebook: https://www.facebook.com/stoneflyinc