Offsite Backup & Replication with Veeam Cloud Connect as a Service
Enable business continuity with backup & replication of your IT environment into StoneFly's cloud. Instantly spin up your virutal machines or restore backups for individual files, entire VMs and application items in minutes.
Backup, Replication and Disaster Recovery as a Service
Veeam Backup and Replication to StoneFly Cloud helps you achieve 24.7.365 availability for all your workloads including virtual Microsoft Hyper-V and VMware vSphere environments, as well as physical and cloud-based workloads. You can manage flexible, fast and reliable backup, replication and recovery of all your data and applications.
What Makes StoneFly Best in the Market
StoneFly has been in the forefront of the backup and storage industry for more than 18 years. Beginning with its registration of the iSCSI.com Internet domain name, StoneFly shipped its first iSCSI storage appliance in 2002 and subsequently made iSCSI into the established storage standard which today is used by IT professionals around the world. This same expertise is applied to our Veeam Backup and Replication services as we develop, maintain, support, and provide upgrades all under the same roof. StoneFly is a Veeam Software Technology Alliance Partner (TAP) and a Cloud Solution Service Provider. We are the only Veeam Cloud Service Provider that offers Cloud Connect backup in the Microsoft Azure Government Cloud and supports all Microsoft Azure datacenters around the world.
StoneFly Solutions Are Trusted By Customers Worldwide
Stonefly Veeam backup & replication Features List
Storage Snapshots
Achieve higher level of availability by creating replicas and backups from storage snapshots – even during work hours – without impacting your production environment.
Ease of Replication
Get replicas off-site without the complexity and cost of building and maintaining a DR site; secure and fast cloud based disaster recovery as a service (DRaaS).
Built-in Deduplication
Veeam Backup and replication provides the tools for you to recover faster with built-in deduplication and compression, Direct Storage Access, and unlimited scale-out Backup Repository.
End-to-End Encryption
End-to-End encryption secures your data during backup and at rest in the StoneFly Cloud.
Automated Data Protection
Our experienced engineers help you deploy run and test everything for you!
On-demand DR plan
We help you create your own on-demand business continuity and disaster recovery plan based on your specific IT environment.
Recovery Assurance
Restore the backups to on-premise or spin up backed-up VMs in the StoneFly cloud and alternate production between sites.
Flexible Cloud Repository
Scale up/down your backup repository anytime your business demands it!
Exceptional support
You are not alone! Our support team is available 24×7 by phone and email with certified experts to address all your questions.
simplified management
Manage all your backup & DR jobs from the intuitive Veeam Backup & Replication console.
Fast and secure
Get backups offsite up to 50x faster with built-in WAN acceleration and save bandwidth.
Availability for ALL workloads
We protect all virtualized workloads including VMware vSphere, Microsoft Hyper-V and Nutanix AHV.
StoneFly Private Cloud Infrastructure
Reduce the time, cost and complexity of deploying and operating an offsite cloud infrastructure while meeting your data needs. StoneFly brings a secure, trusted, scalable, and reliable private cloud to customers to transform their business and reduce costs of offsite backup, replication and disaster recovery services. Some details about the StoneFly Cloud:
  200,000 square feet
3000 Cabinets
70 Internet Networks and 2 Internet Exchange Points (SFMIX and AMS-IX Bay).
Custom designed video surveillance of every cabinet
Veeam Backup & Replication Single-Click VM Recovery
You can immediately restore a virtual machine (VM) with instant VM recovery, by running the VM directly from the backup file in StoneFly's Cloud. Instant VM recovery helps minimize disruption and downtime of production VMs and improve recovery time objectives (RTO).
Veeam Backup & Replication to StoneFly Cloud Architecture
Veeam Backup & Replication components are deployed at the customer end. At StoneFly, Cloud repository is provisioned against the customer Veeam Backup & Replication instance. StoneFly is added as a service provider (SP) to the customer Veeam console on-premise, and all the SP details including the cloud repository from StoneFly appear at the customer side. The customer uses the Cloud repository as a target for the backup and replication jobs.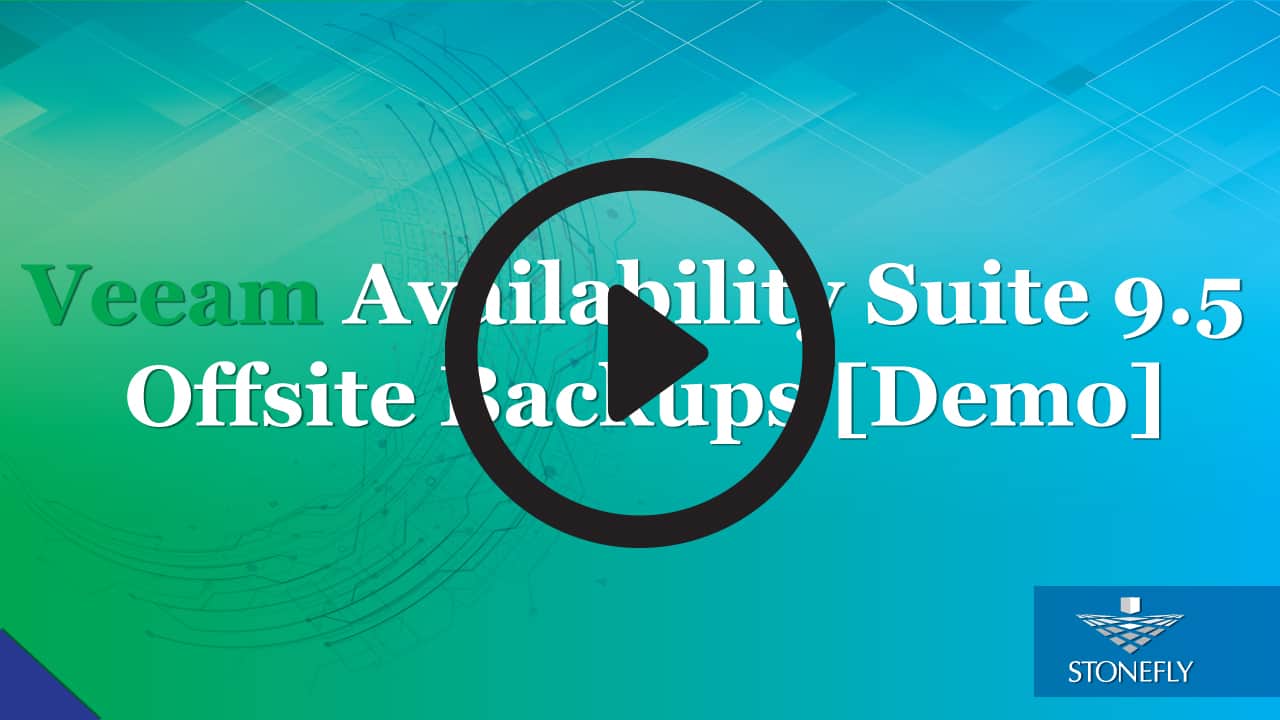 StoneFly has been delivering enterprise-grade solutions for over a decade. Our expertise enables us to effectively address the requirements of all kinds of businesses (ranging from SMBs/SMEs to large enterprises).
Sign up for a free trial of StoneFly's solution for Veeam Cloud backup and Replication
Loading…
Fill the form below to get a Veeam Cloud Backup Free Trial (1TB)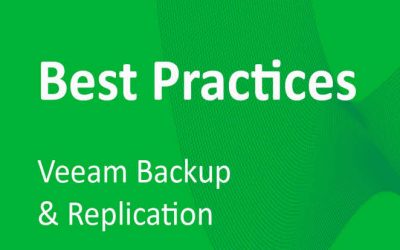 Veeam Backup & Replication has a scale out architecture, in which multiple components (both for data processing and control) work together in a coordinated fashion. This blog provides a brief overview of these components and provides the best practices for the deployment of these components. Veeam Backup Server, Backup Proxy and Backup repository deployment best practices are discussed in this article.
What is the maximum size of data transfer supported?
The size of the backup can vary from just a couple of GBs to several TBs. There is no limit on the maximum size.
How much bandwidth would be available for the Veeam backup and replication solution?
The backup and replication jobs will use your network bandwidth. For best practices, our solution requires network specifications of 1 Gbps or faster for on-site backup and replication, and 1 Mbps or faster for off-site backup and replication. Bandwidth demand will be high for first time backup to create first full image of backup. Following backups will require smaller bandwidth as they are incremental copies.
What is the subscription model?
Products (listed below) are available with monthly subscription licenses. When the license expires, you must renew the license to continue usage of the product.
Veeam Cloud Connect Backup & Replication
Veeam Backup for Microsoft Office 365
Veeam Agent for Microsoft Windows
Veeam Agent for Linux
Can I use my own Veeam licence?
Yes. You can use your own Veeam license
Are the stored backups encrypted?
Data transmission from your location to our infrastructure is encrypted. You also have the option to enable encryption to encrypt your backups while configuring the backup jobs. If you enable encryption, data at rest will be encrypted. You can set a password which will be used to decrypt the data after restore.
What are the data restore options? 
Veeam Backup & Replication offers a number of recovery options including instant VM recovery, entire VM recovery, VM files restore and guest OS file recovery.
Is there a Graphical User Interface (GUI)?
Yes there is a GUI. You will be using the Veeam Backup & Replication V 9.5 GUI. It is user-friendly and an intuitive interface. You will also have access to a web portal to manage your disaster recovery plans.
In the event of a disaster, will I be able to spin up my Virtual Machines for testing and also for production?
Yes. We will setup replication for you and backed up VMs can be spun up in case of disaster. You can also schedule Failover jobs to test your disaster recovery plan.