Cloud storage gateways enable you to modernize your IT frameworks and infrastructure by integrating scalable, high performance and affordable cloud-based storage repositories (S3 or blob). With enterprise data services such as snapshots, deduplication, replication and more, cloud storage gateways enhance your storage experience and deliver great value-for-money.
What is a Cloud Storage Gateway?
Cloud storage gateway act as an intermediary between on-premises (or local) systems and cloud-based storage repositories. The virtual appliance or hardware gateway translates protocols so that on-premises NAS, SAN or HCI systems can communicate with standard cloud object storage protocols (usually S3).

The storage gateway makes the cloud look like a NAS filer, a block-storage array or SAN storage, HCI system, a backup target storage or an offsite archiving target; as required by the user.
Typically cloud storage gateways are available as:
Virtual storage appliances that can be deployed on industry standard hypervisors as a Virtual Machine (VM)
Hardware appliances with support for cloud caching.
When to Use a Cloud Storage Gateway
Cloud storage gateway isn't always needed. At times, it's the go-to solution and at other times, it's unnecessary. For instance, you don't need a cloud storage gateway to access any Software-as-a-Service (SaaS) already deployed in the cloud. On the other hand, if you're looking to migrate your SaaS application from your servers to a cloud storage repository, then you do need a cloud storage gateway.
To give you a better idea of when a cloud storage gateway should be used, here's a brief list of the typical use-cases we've observed for our Smart Cloud Gateway solution:
Local S3 object storage provisioning for backup software such as Veeam, Rubrik, Commvault, Veritas, etc.
Data Archiving in cost-effective public cloud storage tiers
Medical record storage, retention and archiving (PACS archiving)
Video surveillance data storage
Block-level storage for relational databases such as MySQL, PostGreSQL, and NoSQL, and applications such as SAP HANA etc.
Backup target storage provisioning in Azure, Amazon S3 or any other S3 compatible cloud
Remote and Branch Office (ROBO) file storage, sharing and collaboration
Why Use Cloud Storage Gateway for S3 Object Storage Provisioning for Backup Software?
If you use backup software with built-in cloud connect, you might be thinking: "it already connects to the cloud, I don't need a gateway for that". That's right and not exactly right at the same time.
Backup software with built-in cloud connect only use the cloud as a backup target storage repository. The data that's stored there cannot be accessed or used in any other way. If you need to use it, you have to download it to your on-premises using the same backup software.
However, cloud storage gateway gives you the ability to really use this backup data. You can access the data in a similar way to how it's stored on your local / on-premises systems. So you can use it for analytics, dev and test environments, testing out disaster recovery plans and more.
In other words, if you're looking to really make use of your backup data, you should use it in conjunction with a cloud storage gateway. But if you're only looking to offload your on-premises backup systems or backup target storage, then the built-in cloud connect is enough for your use-case.
Did you know? StoneFly Smart cloud storage gateway lets you provision cloud storage repositories that can be used in a similar way as your local on-premises systems. Test out the virtual gateway appliance in your environment by getting a free trial (no credit card needed).
Now that we've established:
What is cloud storage gateway?
When to use cloud storage gateway?

And why should you use cloud storage gateway for backup software with built-in cloud connect?
Let's discuss what makes StoneFly Smart cloud gateway one of the best cloud storage gateway solutions in the market.
5 Strengths that Make StoneFly Smart Cloud Storage Gateway the Best in the Business
Here are five exclusive StoneFly Smart cloud storage gateway features that differentiate our technology from the rest of the options in the market:  
#1 – Cloud Storage Gateway that Supports NAS, SAN & HCI
StoneFly Smart cloud gateway provides a single solution that is compatible with standard protocols for NAS and SAN volumes and HCI workloads.
The supported protocols include:
NAS: NFS & CIFS/SMB
SAN: iSCSI & Fibre Channel
For Virtual Machines (VMs) running on Hyperconverged Infrastructure (HCI), the cloud gateway supports the following hypervisors:
VMware
Hyper-V
KVM
Citrix (or XenServer)
Our cloud storage gateway can be deployed as a VM on these hypervisors to provide the full appliance experience with cloud integration. The hardware gateway appliance also connects seamlessly with HCI appliances running the aforementioned hypervisors (or virtualization environments).
#2 – Cloud Storage Gateway with High Speed Data Access
The StoneFly Smart cloud storage gateway is built to improve your read-write speeds and enhance the data access experience for users and integrated applications.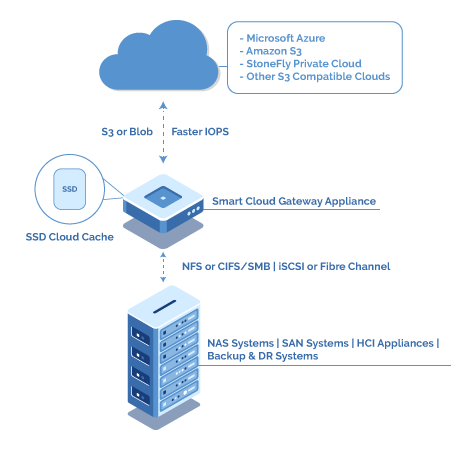 The cloud gateway appliance (hardware) comes with support for Flash Cache or SSD caching. With flash on-premises local cache, the read-write speeds between the cloud repositories and on-premises systems are accelerated; making them very suitable for tier 0 or hot tier data. The SSD caching also improves backup and recovery speeds when used for backup & disaster recovery purposes.
#3 – Cloud Storage Gateway that Simplifies Management
Nobody wants to use one tool to manage storage, go to another to check cloud storage repositories, and then another one to monitor hardware resource usage; but typically they have to. However, that's not the case with StoneFly smart cloud gateway.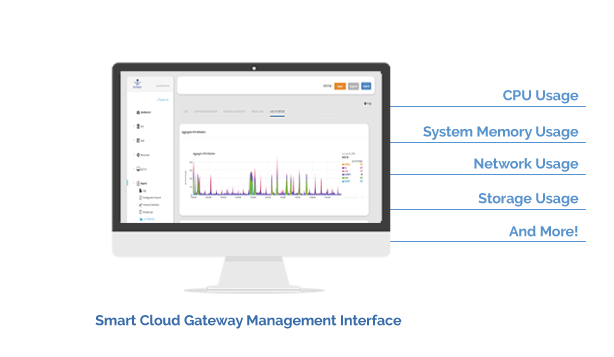 We know management is necessary and your time is important. It cannot be wasted on complex or multiple management systems. Therefore we've equipped our Smart cloud gateway with an easy-to-use centralized management interface that runs on standard browsers and provides real-time graphical reporting of several variables such as CPU usage, network usage, storage space consumption, etc.  
#4 – Cloud Storage Gateway with Built-in Advanced Data Protection
StoneFly Smart cloud storage gateway is equipped with advanced data protection features and data services that secure business-critical workloads from malicious access, ransomware attacks, human errors and other similar disasters.
Following is a brief list of the built-in data protection features of StoneFly Smart cloud gateway:
Built-in anti-ransomware, anti-virus and anti-malware.
WORM (Write-Once Read-Many) Storage Provisioning
Immutable Delta-Based Snapshots
Advanced Encryption for data-at-rest & data-in-transit
Note: These features are supported by the virtual cloud storage gateway and the hardware gateway appliance.
For a detailed list of features, visit StoneFly Smart cloud gateway page or contact StoneFly sales.
#5 – Cloud Storage Gateway that Does NOT Lock You in to One Vendor
Conventionally, Cloud Service Providers (CSPs) offer cloud storage gateways that allow integration with their own cloud, hence locking you in to one vendor. The Smart cloud storage gateway lets you integrate your choice of cloud storage.
Using the Smart cloud storage gateway, users can integrate the following clouds with their on-premises servers:
Microsoft Azure (with support for Azure Government)
Amazon S3
StoneFly Private Cloud
Any other S3 compatible cloud
The ability to leverage multiple clouds also facilitates you to setup multi-cloud and hybrid-cloud environments for additional redundancy, high availability and a variety of other use-cases.
Summary
Cloud storage gateways enable you to leverage the Infrastructure-as-a-Service (IaaS) model effectively and provide the "full-appliance" experience without the hardware.
You can integrate cloud repositories with your existing infrastructure for a variety of use-cases such as backup target storage, affordable long term data storage and retention, file storage and collaboration, dev and test environment setup, disaster recovery plan testing, and more.
StoneFly Smart cloud storage gateway is one of the best cloud gateway solutions in the market because:
It supports multiple protocols including NFS, CIFS/SMB, iSCSI, Fibre Channel and VMware, Hyper-V, KVM and Citrix (or XenServer) for HCI workloads
With SSD Caching, the gateway appliance enables users to effectively utilize available bandwidth and optimize read-write speeds in cloud storage repositories.
Management is easier, simple and centralized using a single management interface
Business-critical data is protected with advanced data protection features such as immutable snapshots, WORM storage provisioning, encryption, anti-ransomware, and more.
No more vendor lock-in. Integrate the cloud of your choice and setup multi-cloud and/or hybrid-cloud environments
Get Started Today – Get a Free Trial (No Credit Card Needed)
Test out the full-featured virtual cloud storage gateway appliance in your environments with a free trial. To get the free trial, click here and fill out the form. Our sales representative will contact you and guide through the process.
Looking for a hardware cloud storage gateway appliance? Get in touch with our sales team to get the hardware specifications of our hardware gateway appliance.
Be sure to connect with us on Linkedin, Twitter & Facebook, to stay up to date on our enterprise data management solutions.