All you need to know about StoneFly's Hyper-converged Infrastructure
Do you require easy management and storage scaling for your growing data? If yes, then hyper-convergence is a reliable choice for you. Hyper-convergence is a software architecture that combines compute, store and virtualize resources in a single system. Hyper-converged system permits integrated technologies to be managed in a single system through a common tool set. It can be expanded through addition of nodes to base units. Most hyper-converged systems need a minimum of 3 hardware nodes for high availability.
StoneFly offers physical hyper converged systems and software based hyper-converged solutions are also available; these can be installed on the buyer's hardware. Most hyper-converged systems need a minimum of three hardware nodes for high availability.
Hyper-convergence is a combination of:
Software-Defined Storage.
Hypervisor for Virtualized Computing.
Virtualized Networking.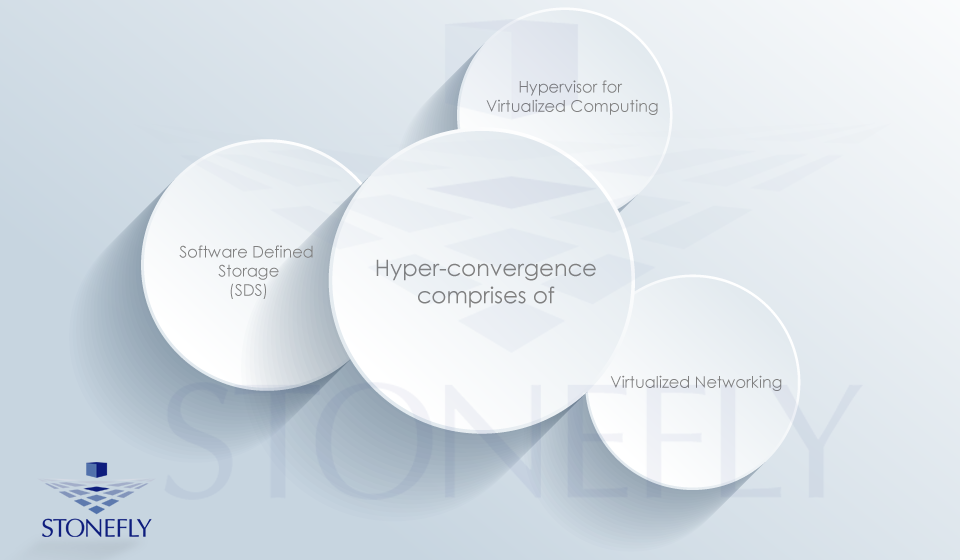 This combination is kept in a single system; this reduces data center complexity and increases scalability and performance. Multiple nodes can be clustered together to create pools of shared compute and storage resources; these can be designed for suitable consumption.
Hyper-convergence and converged:
Hyper-convergence mostly grew out of the concept of converged infrastructure. Hyper converged infrastructure means vendors provide storage, server, networking hardware and software in a single chassis. This is done to minimize compatibility struggles and simplify management.
The use of commodity hardware, supported by a single vendor, yields an infrastructure that's designed to be more flexible and simpler to manage than traditional enterprise storage infrastructure.
Benefits of Hyper-converged Infrastructure:
The benefits include:
Simplified management.
Easier and faster Scalability.
Flexibility and Compatibility.
Improved Efficiency.
Optimized Performance.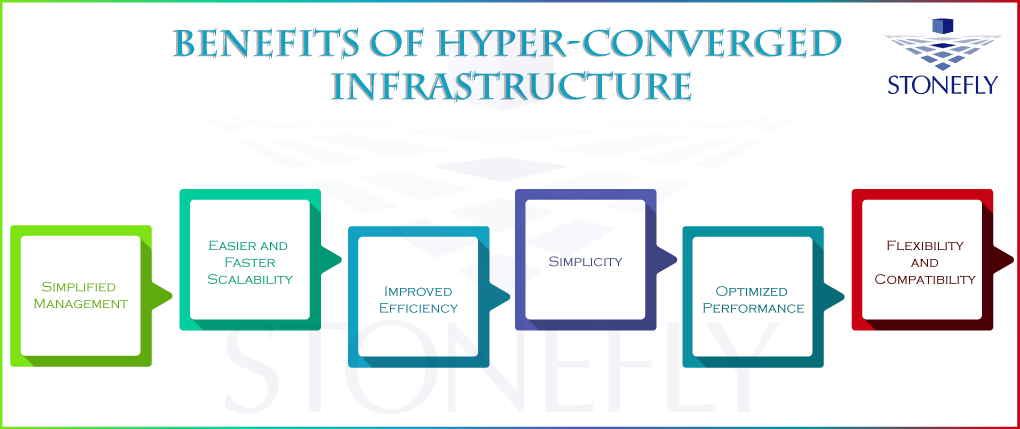 Which workloads are best suited for hyper-convergence?
Mainly hyper-convergence is most suited for virtual desktop infrastructures. Forrester found that the common workloads that run the hyper-converged systems are: database, such as Oracle or SQL server (cited by 50%); file and print services (40%); collaboration, such as Exchange or SharePoint (38%); virtual desktop (34%); commercial packaged software such as SAP, Oracle (33%); analytics (25%); and Web-facing workloads such as LAMP stack or web servers (17%).
Exclusive Services Offered by Stonefly's Hyper-Converged Infrastructure:
Data deduplication.
Thin provisioning.
Data protection.
WAN optimization.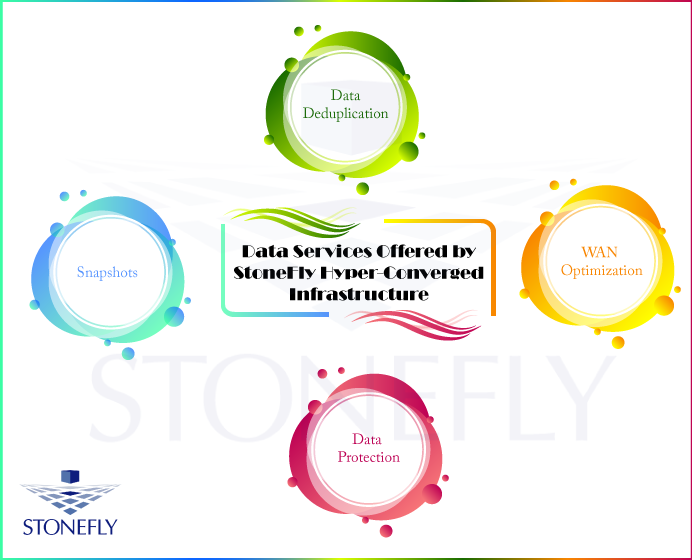 Hyper-converged infrastructure converts your server and storage systems into one easy to manage appliance. This allows considerable reduction in power and cooling costs. StoneFly's hyper-converged infrastructure includes NAS and SAN. StoneFly's hyper-converged appliances include SCVM™ Virtual Storage Appliance, Unified Storage & Server Appliances and SAN Gateway Appliances.