What is Hyperconverged Infrastructure (HCI)?
Hyperconverged infrastructure is a unified system that houses compute, storage, and networking technologies in a single system. And to effectively integrate & utilize multiple hardware layers, hyper converged systems leverage the combination of virtualization using hypervisors, such as VMware, Hyper-V, KVM & Citrix (formerly XenServer), and SAN management controllers or SAN controllers.
A hyper converged system can be a fully integrated hardware appliance or it can also be purchased as a standalone software that can be installed on x86 servers. Business owners can get the full features of hyper converged technology from both types of solutions. The main difference is the cost and the deployment options. 
Hyperconverged Infrastructure Architecture
A typical hyperconverged infrastructure can be divided into the following parts: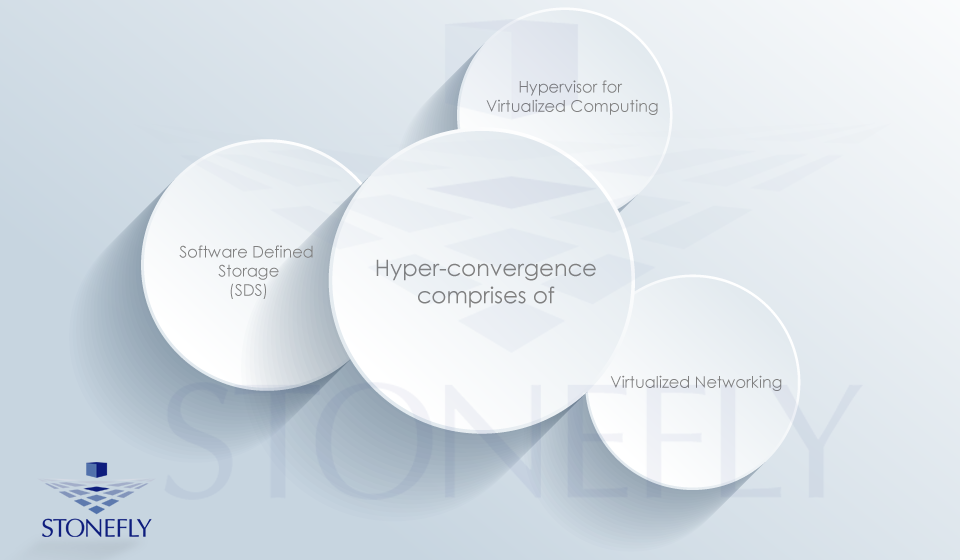 How Hyperconverged Infrastructure Works
Hyperconvergence unifies and tightly integrates the compute, network and virtualization replacing complex legacy infrastructure hardware with turnkey platform and industry standard x86 servers capable of starting small & scaling seamlessly one node at a time. 
The virtualization in a hyper converged system effectively abstracts available storage resources and the SAN management controller efficiently allocates them to applications running on Virtual Machines (VMs) or containers.  
Hyper-convergence and converged:
Hyper-convergence mostly grew out of the concept of converged infrastructure. Hyper converged infrastructure means vendors provide storage, server, networking hardware and software in a single chassis. This is done to minimize compatibility struggles and simplify management.
The use of commodity hardware, supported by a single vendor, yields an infrastructure that's designed to be more flexible and simpler to manage than traditional enterprise storage infrastructure.
Benefits of Hyperconverged Infrastructure
Flexibility
Keep up with the dynamic digital world of today by scaling seamlessly and evolving along with demanding applications & complicated use-cases.
Simplicity
Simplify virtual NAS, SAN & object storage provisioning, storage usage, & effectively control storage infrastructure. 
Cost-Effectiveness
Reduce your data center footprint & the cost implications of acquiring & maintaining traditional hardware infrastructure. Get better TCO & ROIs with hyper-converged technology.
Unified Storage
Combine the experience of purpose-built NAS, SAN & object storage in a single easy-to-manage system that's just as capable as the dedicated storage systems. 
Agility
Quickly provision storage, spin up workloads, & accelerate the performance of mission-critical applications like MySQL, NoSQL, & other relational databases. 
Cloud-Friendly
Integrate the cloud of your choice (Azure, Amazon, other S3 compatible clouds) with StoneFly hyper-converged technology & build a cloud-native hyper-converged system.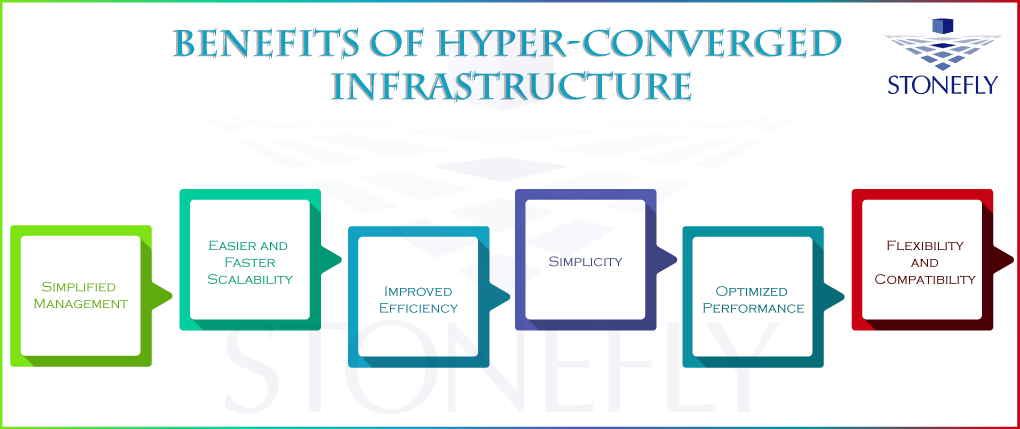 Differentiating Hyperconverged Infrastructure & Converged Infrastructure
The fundamental difference between hyperconverged infrastructure and converged infrastructure is that the former is software-defined whereas the latter is hardware-focused. 
Hyper-converged technology relies on virtualization (or abstraction) of existing resources to deliver greater flexibility and scalability than converged infrastructure; since its components are software-defined. 
Comparatively, converged infrastructure takes advantage of existing hardware keeping the storage, server, networking, and management independent of each other. That way, individual components can be used specifically and for separate purposes. 
It goes without saying that hyper-converged infrastructure does not replace converged infrastructure. Both have unique capabilities and are capable of facilitating different kinds of enterprise requirements. 
Hyperconverged Infrastructure & the Cloud
Today's enterprise work environments need the flexibility and operational efficiency that clouds, such as Azure and Amazon S3 etc.provides. Hyperconvergence delivers users the ability to combine on-premises infrastructure with the capabilities of the cloud and build a unified hybrid system.
Which workloads are best suited for hyper-convergence?
Mainly hyper-convergence is most suited for virtual desktop infrastructures. Forrester found that the common workloads that run the hyper-converged systems are: database, such as Oracle or SQL server (cited by 50%); file and print services (40%); collaboration, such as Exchange or SharePoint (38%); virtual desktop (34%); commercial packaged software such as SAP, Oracle (33%); analytics (25%); and Web-facing workloads such as LAMP stack or web servers (17%).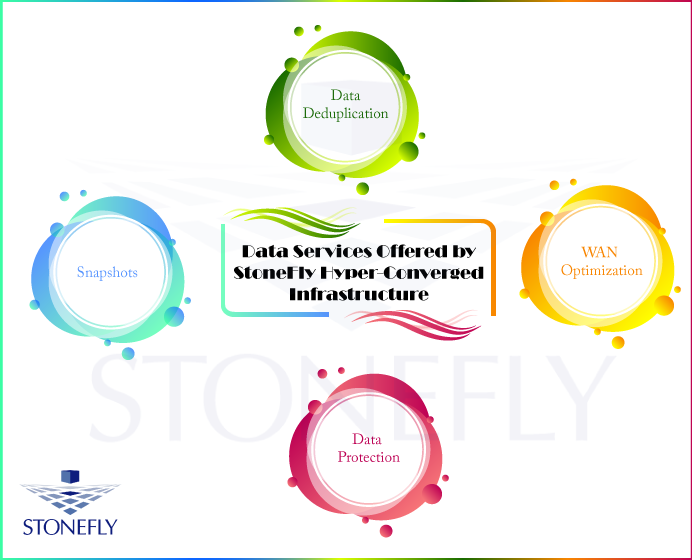 Exclusive Services Offered by Stonefly's Hyper-Converged Infrastructure:
Data deduplication.
Thin provisioning.
Data protection.
WAN optimization.
Hyperconverged infrastructure converts your server and storage systems into one easy to manage appliance. This allows considerable reduction in power and cooling costs. StoneFly's hyper converged infrastructure includes NAS and SAN. StoneFly's hyperconverged appliances include SCVM™ Virtual Storage Appliance, Unified Storage & Server Appliances and SAN Gateway Appliances.