Data is the most vital business asset and it plays an increasingly critical role in business. It is exceeding the limits of traditional data storage. According to Patrick Cheesman data is increasing each year with fast pace and it is predicted that till the year 2020 Fifty Thousand Exabytes of data will be created. The following graph shows the growth of structured and unstructured data over the past decade.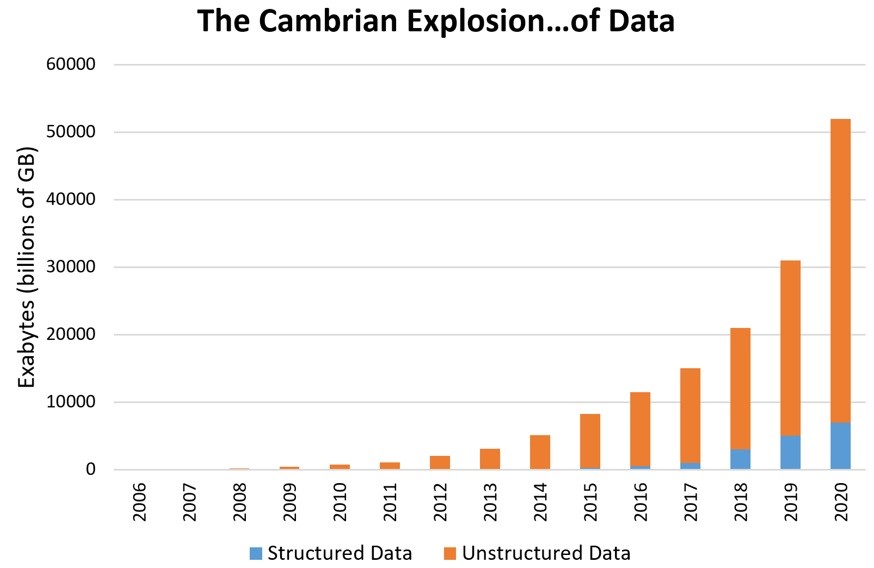 With this increase in data, the traditional ways of data storage have failed to answer the data storage requirements of the enterprises. Enterprises require a solution with efficient expertise in data storage. Cloud based solutions provide scalable storage. Cloud storage is found to be cost effective, easy to manage, scalable and customized. This makes the companies move towards the cloud, where there are no hidden costs and you see everything up front.
According to the survey by Right Scale, 96% of the respondents are using cloud; Public cloud adoption increased to 92 percent in 2018 from 89 percent in 2017 and Private cloud adoption increased to 75 percent in 2018 from 72 percent in 2017. Cloud provides you a scalable solution for your storage with simplicity, fine management and low cost.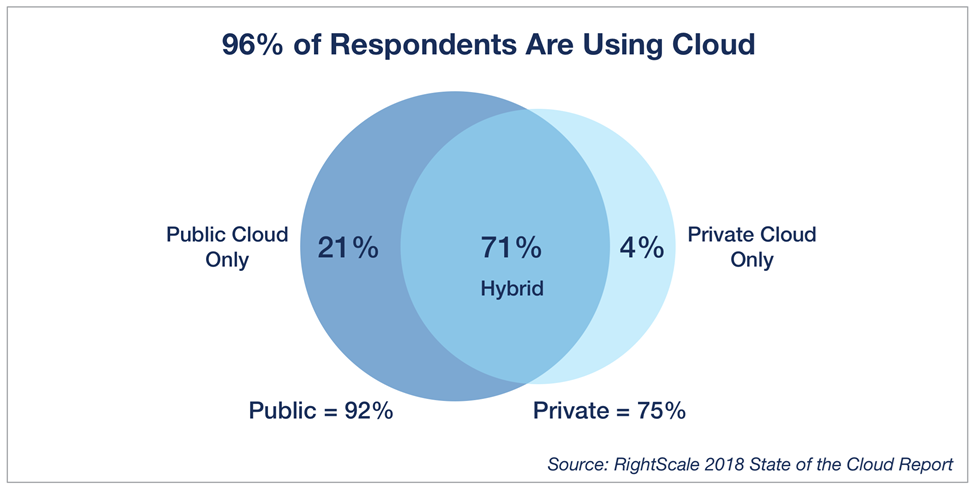 -There are many cloud based solution providers which provide customized solutions for all enterprises. Data storage or data backup alone are not enough to save your data. If any of your data is lost or compromised, the resulting costs and impact can be severe. Every enterprise wants to ensure business continuity and prevent any failure or unplanned downtime. We are often told that backing up data can save the company from data loss. To some extent it is right but, backing up alone can't save your data. With backups, you have to ensure that you can recover your data in the case of any disaster.
StoneFly Affordable Storage Solution with surplus features of backup and disaster recovery:
StoneFly is a smart option for your storage needs. In order to answer your storage requirements you need to have a cloud based solution which fulfills your demands and provides you with the best storage, options for scalability. It also provides backup and disaster recovery options (if needed). SCVM™ is an enterprise hybrid cloud storage solution that creates a virtual network storage appliance using the existing resources of your virtual server. You don't require to have multiple storage providers for your data storage, backup and disaster recovery needs, SCVM™ is an ALL-IN-ONE solution that covers all.
StoneFly's Disaster Recovery Features:
StoneFly's Business continuity features:
Valued clusters
No single point of failure
Mirroring
Campus Mirroring
StoneFly's SCVM Virtual Storage Appliance ALL-IN-ONE solution:
StoneFly's SCVM is an enterprise cloud storage which is ALL-IN-ONE solution which consolidates storage infrastructure, automates data management across the enterprise, accelerates disaster recovery, improves compliance and enhances IT agility to support core business.
Solve Your Growing Data Needs with StoneFly SCVM
Growing data is creating challenges with your current data storage strategy. Managing data storage on-premises is too expensive and complicated, and public cloud services don't give you the performance you need. Your production data is also constantly changing and cloud vendors only offer offline data migration options, increasing downtime and slowing migration projects. You can move petabytes of data to the cloud with StoneFly SCVM. You can use it to migrate live production data to the cloud, keeping application data changes synchronized, so you can move to the cloud at your own pace without downtime or expensive migrations.
Reduce RTOs with SCVM:
The StoneFly SCVM Virtual Storage Appliance lowers operational data-center costs. It provides replication and snapshots for your backup and disaster recovery. It provides a quick RTO (Return to Operation) in the event of a local site failure. In essence, the StoneFly SCVM gives you the ability to create your own "DR Site in a box".
Cost-Effective Appliance:
StoneFly SCVM is a virtual appliance that runs on any hardware VMware and Hyper-V, so you can choose the price-performance level of the underlying storage or extend your legacy file servers without compromising on capabilities.
Multiple Cloud Storage Options with StoneFly SCVM™
The StoneFly SCVM™ is a Virtual IP Storage Software Appliance that creates a virtual network storage appliance using the existing resources of your virtual server. This virtual SAN storage platform for VMware vSphere ESX/ESXi, VMware vCloud and Microsoft Hyper-V environments provides an advanced, fully featured iSCSI, Fibre Channel SAN and NAS within a virtual machine to form a Virtual Storage Appliance.
You can use SCVM as a:
Enjoy enterprise-class NAS/SAN with Stonefly SCVM, combining access to on-premises and public cloud storage with S3-compatible object storage or Azure Blob connectivity while layering on rich NFS, CIFS/SMB, and iSCSI file services.
Create NAS in the cloud and share access with multiple hosts with multiple data services like Online volume migration, Encryption, Snapshots, Unlimited storage volume creations, Active Directory Integration and many more.
Enterprise SAN in the Cloud (Cloud Block Storage)
iSER, iSCSI, and Fibre Channel for Cloud Block Storage. Create SAN volumes in the cloud with multiple data services like deduplication, encryption, Snapshot and much more with 10x faster performance.
Virtual Storage Appliance (SAN + NAS) in the Cloud
Create iSCSI targets on the cloud and assign them to hosts or create NAS in the cloud and share access with multiple hosts. Enjoy all features of the SCVM including volume encryption, snapshot, deduplication, volume replication and many more.
StoneFly has a huge range of products and services providing quality on-premises and on the cloud; storage, backup and data recovery (DR).
Stonefly is also the trusted partner of Microsoft, Veeam, VMware and Amazon. Stonefly has been in the business of manufacturing servers and service provision for over 17 years.  You can learn more about why you should choose StoneFly as your cloud service provider? With our expertise, we offer customized solutions to ensure enhanced business continuity and enterprise productivity. Get hands on the professional services we provide. Contact Us now or sign up for free trial.