It is challenging to effectively store, analyze, and leverage unstructured big data. Often times, the ability to do so is the key difference between a market leader and a struggling competitor. Seeing as how 70% of GDPs worldwide will digitally transform by 2022, big data is only going to grow. This adds to the importance of cost-effective and seamless big data storage.
But that begs the question: how does one manage enormous volumes of unstructured data and what's the best way to store it without affecting data security and availability?
With the explosion of technology, machine-generated data, such as network and server log files, and data from sensors, industrial equipment, IoT, genome research, video streaming, etc., has become an integral part of every enterprise. Consequently, big data challenges are even larger in scale and more important than ever before.
Enterprises, big and small, are turning to scale out NAS solutions to overcome big data storage challenges. In this blog, we'll discuss what is big data, what are big data storage challenges, and what makes scale out NAS a good solution to overcome them.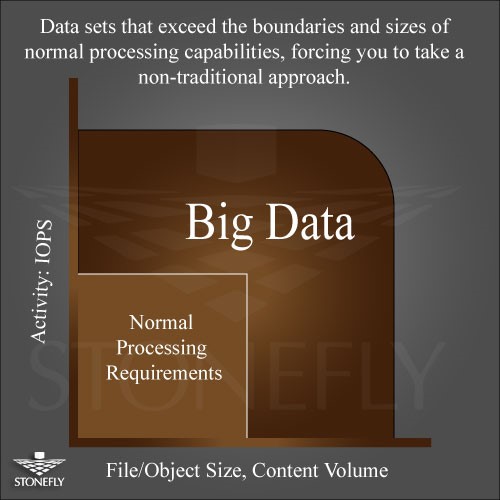 Big data analytics is instrumental for enterprises to gain valuable insights and make informed decisions. But, with the massive amount of data, it is critical to have a scalable storage solution that can meet both performance and capacity requirements.
Big Data Storage Challenges
As big data grows exponentially, storage requirements stretch the limits of what existing solutions can handle. Enterprises must find ways to efficiently store vast amounts of unstructured data without compromising on performance, availability, or cost-effectiveness.
As the industries that generate big data are diverse, big data can exceed the boundaries on multiple fronts. You may have to deal with data sets with an exceedingly large number of random IOPS, or you could just be storing massive amounts of data.
Big data has become an integral part of enterprise businesses resulting in a myriad of challenges for IT experts.
IT experts have to deal with the following daily because of continuous data growth:
How to deal with the growth of structured and unstructured data at an optimal cost?
How to maintain scalability with the increasing data velocity?
How to have enough storage capacity without exhausting real estate space?
How to automate storage management and optimize the operational efficiency of the data center?
How to optimize the performance to cater to real-time data change?
As big data grows, it is crucial to keep up with the integrity and velocity of data. This calls for a high-performing storage solution that not only performs but scales the capacity and performance according to changing data.
There is also a need to contain the management costs, manage and optimize data placement, and have detailed reporting and analysis of storage to refine and optimize your storage infrastructure.
Big Data & Traditional Storage – Is it Still Practical?
Big data brings in more volume than traditional storage can handle and requires more performance than traditional servers can provide. Using traditional storage infrastructure for big data will not only be expensive but will also have a larger energy footprint than necessary.
It is very common for big data to outgrow the storage capacity and performance capabilities of traditional storage. Traditional storage solutions are physically limited to how much they can scale. They can be scaled up by adding more drives to their maximum storage capacity. However, increasing storage capacity only accounts for the volume; not for the performance. As a result, the larger the stored data, the slower the throughput because the performance capabilities do not change.
Furthermore, traditional storage is known to be underutilized. The average utilization rate of traditional storage lies within 50% to 55% range. This implies that 45% to 50% of footprint energy and management time ends up dedicated to empty spinning disks.
Enterprise IT Storage Requirements
Enterprise IT infrastructure today is built to support a diverse array of workloads by leveraging virtualization and cloud computing in a consolidated environment with integrated data security measures against cyber-threats such as ransomware. Storage infrastructure, built for big data, needs to compliment this environment rather than replace it or be a dedicated silo by itself.
An effective big data storage solution should be able to:
Store large volume of data without bottlenecks.
Scale storage capacity and performance at the rate at which the data is generated, collected, and processed.
Scale out without forklift upgrades and disruption.
Protect critical unstructured data from ransomware, data breaches, and virus.
Support integration with industry-standard virtualized environments such as VMware, Hyper-V, KVM, and Citrix (formerly XenServer).
Support high IOPS (Input / Output Per Second) with reduced latency.
Centralized data management across all storage nodes with real-time graphical performance and resource consumption monitoring.
Why Choose Scale Out NAS Storage for Big Data
Scale out NAS storage is the best solution to overcome big data storage challenges. Built for flexibility and scalability, NAS storage can provide the storage capacity and performance needed to host big data.
As opposed to scale up, scale out NAS not only adds more storage capacity but also proportional performance capability by adding more nodes instead of expansion arrays. Each node multiplies the performance and processing capabilities of the storage infrastructure.
For example, if you start with three NAS nodes, then the initial processing capability is 3x. Adding another node to this system increasing the performance to 4x and so on.
Furthermore, as opposed to traditional storage, which is difficult to scale and complex to manage as it grows, scale out NAS can scale up and scale out seamlessly without forklift upgrades.
In a scale out NAS solution, the unstructured big data is aggregated and distributed dynamically across each node. This improves performance and prevents bottlenecks due to parallel processing and execution. And with features such as clustering and erasure coding, the scale out NAS infrastructure ensures high availability even when a number of drives or node fails.
Why Choose StoneFly Super Scale Out (SSO) NAS Storage
StoneFly Super Scale Out (SSO) NAS provides highly scalable, ransomware-proof, file storage powered by StoneFly's patented storage virtualization engine (StoneFusion ™) with integrated data services and cloud connect.
Our SSO NAS appliances come with all of the abovementioned capabilities of scale out NAS and more. Here's a brief list of features and capabilities StoneFly SSO NAS provide:
StoneFly's NAS storage is capable of:
Scale Up and Scale Out: Start small and scale out to virtually unlimited number of NAS nodes. Each NAS node can support up to 256 drives* with expansion arrays in addition to the ability to scale out. In other words, while you can scale your NAS to store petabytes of unstructured big data per node, you can also add more storage capacity and performance by adding more nodes.
* depending on the appliance series and model. For details, contact StoneFly sales.
Military-Grade Data Protection: Protect Personally Identifiable Information (PII), Personal Health Information (PHI), and other confidential information of your customers and employees, in addition to backups, snapshots, and replicas of your critical workloads from ransomware using features such as anti-ransomware, optional Veeam NAS backups, encryption, Write-Once Read-Many (WORM) volumes, immutable delta-based snapshots, file lockdown, and more.
High Performance Computing (HPC): Support IOPS intensive workloads efficiently by distributing them across a number of SSO NAS nodes. Get storage capacity and performance in multiple and increase it seamlessly, when necessary, by adding more nodes.
Four Tiers of Storage: Customize your StoneFly SSO NAS to support hot-tier, cold-tier, and archival data using NVMe SSDs, SAS, and cloud, respectively. In addition to the four storage tiers, StoneFly SSO NAS facilitate storage administrators to automate transfers between the storage tiers by defining policies.
For instance, retain files on hot-tier for a week, then transfer them to cold-tier and retain them for a month, and then transfer them to the cloud where they are archived for months or even years.
Failover NAS Cluster(s) with Automated Failover and Failback: Set up high availability clusters with automated failover and failback, using StoneFly dual-node shared nothing NAS appliances, to ensure business continuity. In the event that one NAS appliance is unavailable, you can failover to the secondary NAS in the cluster and continue to operate without disruption or delay.
NAS Backup and DR: StoneFly NAS comes with optional integrated support for Veeam NAS backups. In addition to Veeam backup support, the SSO NAS appliances also support mainstream backup software such as Commvault, Veritas, Zerto, and more.
Simplified Storage Management: Effortlessly manage performance and resource consumption with real-time graphical monitoring using a single global namespace for the NAS storage pool.
Conclusion
In this data-driven world, enterprise data is exploding at unprecedented rates – and not just from one source. A unified storage system that can intelligently and efficiently scale across a diverse mix of storage needs and workloads is critical to keeping things moving smoothly. StoneFly SSO NAS provides the scalability and flexibility you need to make the most of your unstructured big data.
Looking for a scalable storage infrastructure for big data? We can help, talk to StoneFly sales today!