A Million Reason to Consider the DR365™ in your Disaster Recovery Plan!
Disaster recovery planning is a technology-based process that ensures client solutions will return to normal performance as soon as possible after a major event. It is a strategy to keep vital data safe and accessible even in the worst of situations.
Disaster recovery ensures that applications stay online continuously to prevent loss of business and ensures the continuity of service for your clients so your good reputation remains intact.
Who should consider disaster recovery planning?
In reality, disaster recovery planning should be important to all businesses with an online presence. It is vital for those mission-critical applications and crucial for those businesses that store their client's data.
A good disaster recovery plan should include the following:
Managed backups. Managed backups are set at regular intervals so, in the case of disaster, files and applications can be quickly restored.
Off-site backups. For organizations storing vital and historical information, off-site backups can add a further level of resilience to the disaster recovery solution. Should disaster affect the primary location, your data is accessible and safe at all times via the second location.
A business continuity platform. This plug-in and go service ensures that even in the most trying situations your solution remains up, running and ready to do business.
DR365: the ultimate disaster recovery solution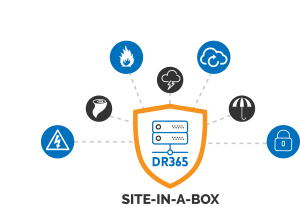 The DR365 disaster recovery appliance empowered by StoneFly ensures your business has continuity no matter what happens. Our solution includes backup and failover of any virtual and physical server with automated-business continuity on-premises to any remote data center, public or private cloud. You can manage all your backup-operations for your datacenter with a single central management-console.
Your data is always 256-bit encrypted throughout the entire backup process for security. It would take a billion years to hack your encrypted data. This level of security meets federal mandates like HIPAA and SOX.
If you have local software or hardware problem, your systems can failover to the appliance and be up and running again in minutes. You then have all the time you need to address the original problem and can fail back to the original or replace the server when convenient for you.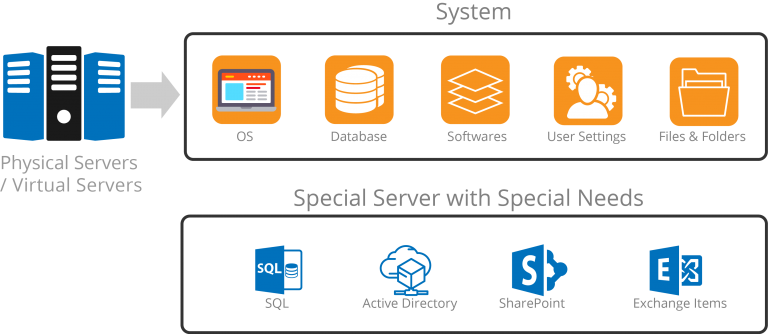 In the event of a disaster, you can be up and running your entire office in the cloud with minimal backup delay. When your facilities are available again you can failback to your own server at a time that is convenient for you with no downtime to your business. What's more, you can recover your folders, files, volumes or the entire system from any point in time.
With the StoneFly DR365, you can migrate physical servers into virtual servers(P2V) and then host them to consolidate your datacenter. You can spin up replica or backup VMs at mirror or remote site for DR testing or compliance.
Best price, best solution
An included Backup-Agent License used exclusively for the DR365 allows for agentless-backups of all Virtual Machines including SharePoint, Exchange, SQL, and Active Directory servers running directly on the DR365 appliance at no extra cost.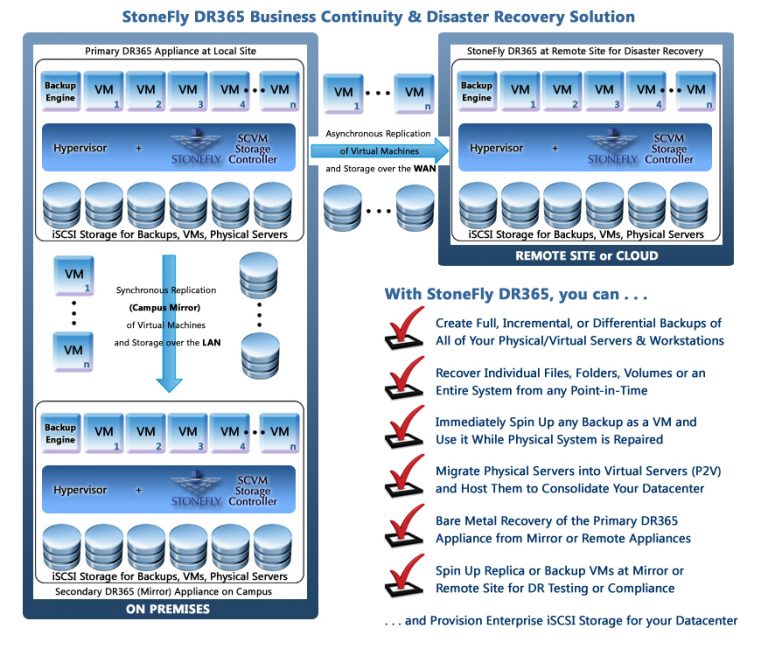 By reducing storage capacity, organizations will enjoy related cost-reductions in areas including storage management, storage licensing, power, cooling, and datacenter floor-space. Data deduplication makes it much more affordable to store, manage, analyze and house your data with the DR365.
StoneFly's DR365 is the first business continuity and disaster recovery appliance that supports dual data deduplication engines on the market.
Each DR365 Node can provide anywhere from few Terabytes up-to 2.5 Petabytes of storage and backup capacity for your business.
With current deployments in the fields of Construction and manufacturing, telecommunication, medical and others, the StoneFly DR365 certainly applies to any industry within the market today.