The rise of virtualization has enormously improved primary storage and ultimately server utilization. However, protecting the created virtualized environments as well as the ever growing amounts of structured and unstructured data being created, still requires a composite, on-premise secondary storage model that imposes high infrastructure costs and heavy administrative overhead.
In many modern IT offices, the virtualization, storage and application teams have become frustrated with conventional backup and now use the native point products available to them.
An organization's data protection and disaster recovery (DR) strategy often consists of many disparate recovery and backup "solutions," which may or may not be compatible with each other. As a result workloads are often isolated and it becomes difficult to be migrated across systems and geographies, leaving organizations at risk of failing to meet data security needs and losing business continuity.
The core issues
With the increasing difficulty comes a lack of visibility and control, consequently some IT teams end up not even knowing how much data is in store on their servers. Without the clear knowledge of the actual size of data, whether due to inadequate or disparate protection solutions, effective management becomes much more complex.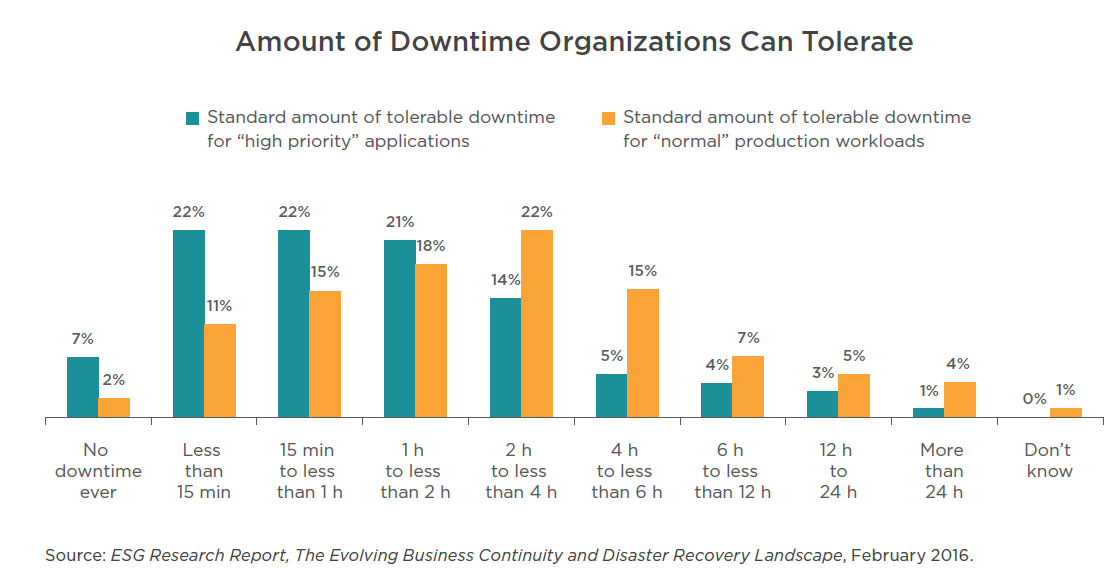 Cloud Backup and Recovery for virtual environments
The increasing pressure on IT operations team to maintain information governance and business continuity is changing how organizations are viewing long-term data retention and infrastructure resiliency. Organizations today are looking to the cloud as an alternative to traditional backup and disaster recovery strategies to provide a viable, cost-effective solution.
The following defines five real-world business reasons why should IT teams and company leaders migrate their disaster recovery, archival data and backups to the cloud:
One benefit of the cloud based backup and recovery is that the infrastructure is hosted completely offsite. This means there is no expensive hardware to acquire and no software to keep up to date. Cost effective, reliable, fast and durable data recovery can therefore be enabled to the enterprise through a multi-region cloud infrastructure. System downtime can be reduced to merely minutes with virtual machines (VMs) replicated offsite in the cloud.
Enhanced business agility
A cloud-based data management approach enables fast recovery in the case of disaster (otherwise know as failover) with recovery time and point objectives (RTPOs) in minutes. The cloud also enhances the speed as you replicate and move VMs across regions for development and testing (dev/test) and regulatory needs. Organizations can backup VMs from on-prem to the cloud and recover individual files or entire VMs as needed. Efficiency and cost-effectiveness are achieved by saving storage footprints, with no additional infrastructure required.
The cloud enables the VMs to be configured with immediate replication and failover for DR or dev and test needs. In the cloud, workloads can be geographically spread for easy data replication and recovery when disaster strikes. Disaster recovery in the cloud eliminates the need for businesses and organizations to store complete copies of their production systems in a secondary company managed datacenter. VMs can be geo-replicated to any global location and spun up any time for simple and efficient recovery.
A cloud based backup strategy management is considerably easier than on-premise deployments:
DR and server backup policies can be monitored globally from anywhere removing the complex burden of networking.
Data tiering ensures efficient usage of resources. Based on the requirement, data can be stored in the cold, hot or warm tiers – reducing expenses and optimizing availability.
Cloud native solutions provide VMware administrators analytical tools to better understand potential data and compliance risks across multiple data sources.
Significantly Lower CapEx and OpEx
Besides eliminating the costly hardware appliances, datacenters, reducing administration overheard, a cloud based model can provide a unified approach to analytics, archiving, backup, and disaster recovery, significantly reducing the costs created by data silos. Integrated with automation, the cloud provides an ever incremental data collection model, avoiding large information volumes stored on legacy models.
To learn more about the subject line, download the following StoneFly white paper.