Software-defined storage (SDS), as purists argue, is any storage product that requires software to manage underlying hardware and control. The marketing term, software-defined storage is however, commonly associated with software products that run on server hardware to enable cost savings over traditional Storage Area Networks (SANs) and Network Attached Storage (NAS) systems.
The capabilities of SDS vary and depend on the product. This brings us to StoneFly's innovative software-defined storage solution: SCVM – Storage Concentrator Virtual Machine™.
StoneFly's decades' worth of experience is effectively exhibited with this solution. There's so much that can be done with this software defined storage that it's difficult to enclose it in a single article, but I will try to cover most of its capabilities.
A closer look at StoneFly's Software-defined storage: Storage Concentrator Virtual Machine (SCVM)
SCVM delivers enterprise level data services that facilitate cost effective and efficient data storage and protection. With SCVMTM, enterprises can effectively leverage their data.
SCVM delivers a wide range of data services; the brief list is as under:
SAN and NAS volume provisioning
Network and I/O Encryption
Remote Geo Replication
Geo replication on local volumes
Cloud Cache appliances
Cloud Connect to Microsoft Azure and Amazon Web Services (AWS)
Easy to use GUI (Graphical User Interface)
Active-active failover and failback
Backup and Disaster Recovery
Scale out to thousands of node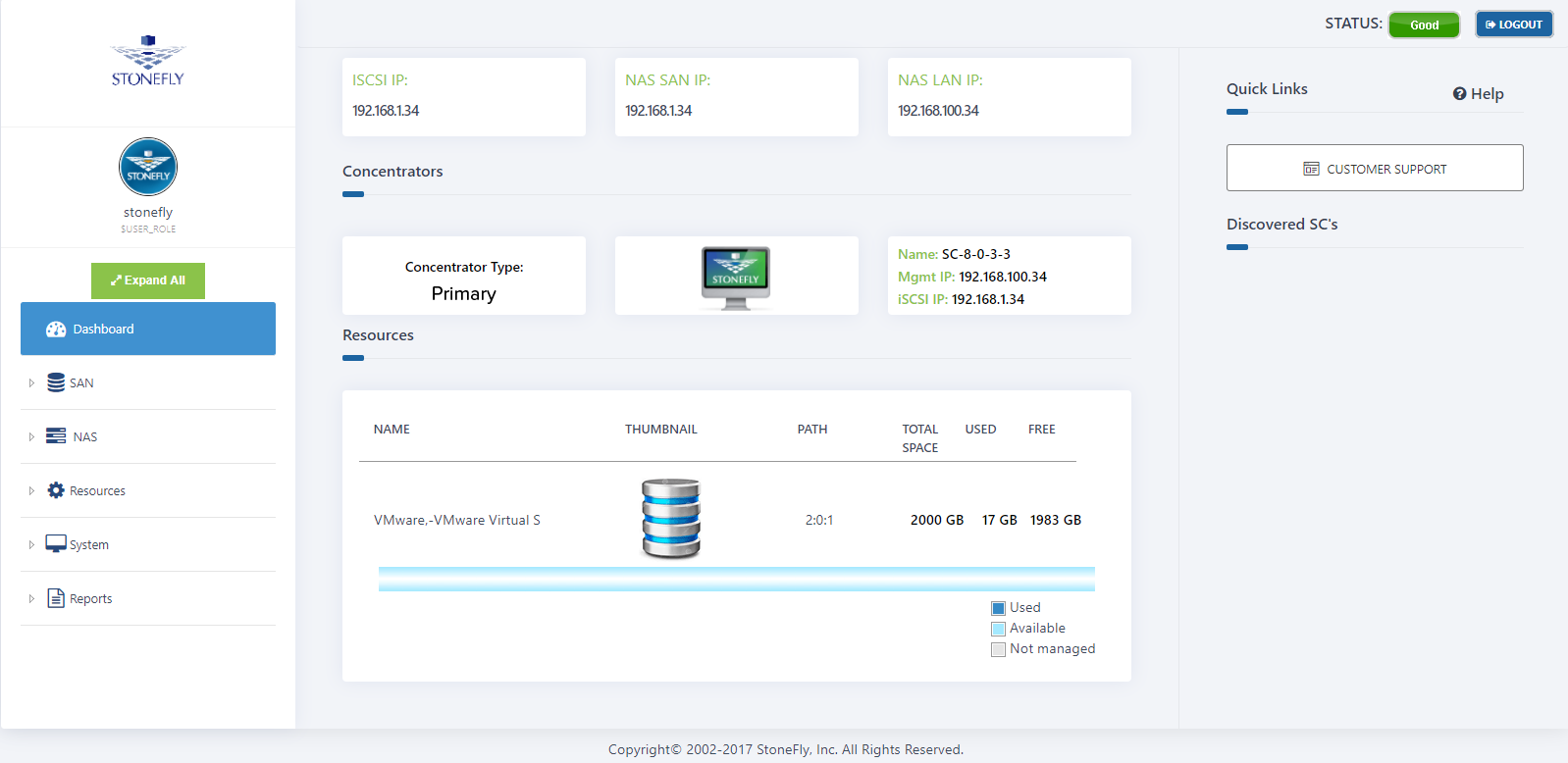 Additional Features of SCVM
1.      Data Redundancy with Distributed Volumes
The software defined storage delivers distributed volumes which spreads files across nodes. You get distributed sync mirroring and distributed asynchronous mirroring; you can choose to disperse your data in on-premises appliances and the cloud for geo-redundancy or you can distribute it between different public storage clouds.
You can opt to disperse your data across multiple physical nodes, physical and virtual nodes or between multiple virtual nodes. This is for a reliable redundancy layer that makes sure that if one or multiple nodes crash or fail; your data is still there for you to work with.
Besides the distributed volumes, another feature of SCVM™ is the optional Erasure coding and hardware RAID.
If you're intrigued by erasure coding, you should read our point of view about its role in data protection and disaster recovery.
2.      Data Accessibility irrespective of nodes
Each server client enables access to data stored in any node. A single IP is used for all nodes and exclusive access can be configured to one or multiple clients using a separately configured IP node.
If you're configuring a virtual NAS appliance using SCVM on an enterprise network, you can make it so that it's accessible via authorized credentials. The storage space is shared within a specific department or team, ensuring efficient data flow while restricting unwanted access.
3.      Automated Tiering for Cost Effective and Efficient Data Storage
With SCVM you can configure data you wish to assign for fast storage such as SSDs; for instance frequently accessed data and data which you wish to assign to cheaper storage solutions; for instance cold or backup data.
As SCVM enables cloud connect to Azure and AWS, you can use the Azure or AWS's infrequent access storage tiers. With these cloud-computing models, you can effectively leverage your storage space and reduce cost on data storage.
SCVM is compatible with Azure cloud, AWS cloud, StoneFly's private cloud and any other public or private storage cloud.
Use cases of StoneFly's Software-defined storage: Storage Concentrator Virtual Machine (SCVM)
Here are some of the things you can effectively use SCVM for:
1.     Setup Network Attached Storage (NAS) in the Cloud
You can setup your NAS in the cloud and share the stored data with multiple hosts with services like Online Volume migration, encryption, snapshots, unlimited storage volume creation, Active directory integration and more.
StoneFly's NAS storage on the cloud can be easily acquired and setup from the Azure marketplace.
Unstructured data is a hassle in any enterprise work environment. However, if you use NAS storage to effectively store the data; you can use tools like data analytics etc. to leverage this data. You can opt to have an on-premises NAS appliance or enterprise NAS storage on the cloud or hybrid NAS solution. Whichever service suits you.
2.     Setup Storage Area Network (SAN) in the Cloud (Cloud Block Storage)
You can setup your Storage Area Networks (SAN) in the cloud and use it for block level storage. This storage service is accompanied by data services like deduplication, encryption and faster data transfer rate; approximately 10x faster than conventional means of data transfer.
You can deploy dev and test environments on the cloud and you don't have to worry about compute capacity issues. Storage area networks (SAN) are also good for backup and disaster recovery.
3.     Setup Storage Area Networks (SANs) and Network Attached Storage (NAS) in the Cloud
Instead of creating a Storage Area Network (SAN) or a Network Attached Storage (NAS) separately, you can also deploy a combination of both, in the cloud with SCVM. Then using the Software defined storage, you can assign hosts or create NAS in the cloud and share access with multiple hosts. This combination of SAN and NAS comes with data services like volume encryption, snapshot, deduplication, storage replication and more.
What else can you do with StoneFly's Software-defined Storage: Storage Concentrator Virtual Machine (SCVM)
Besides the never ending list of enterprise level data services that SCVM delivers and the innovative use cases, SCVM can deliver more. What else does SCVM offer?
1.      Data Center Consolidation
If you have a data center with a lot of servers with mission critical data, it's hectic to keep track of where each file is. This process is strenuous and consumes quite a bit of time. SCVM simplifies this process by combining it into an all in one appliance. You get a complete hybrid cloud storage solution.
You can retain your existing data in your local infrastructure and extend it to the cloud with cloud connect services.
2.     Local Synchronous Mirroring
SCVM enables volume mirroring from one physical appliance to another or from one appliance to many or from many appliances to a single appliance; basically it facilitates any combination and you're not restricted to physical appliances either. You can mirror the data between physical and virtual appliances as well.
This real time mirroring delivers optimum performance, reliability and high availability for critical applications. This means simplified disaster recovery and reduced downtime.
3.     Campus Synchronous Mirroring
The only difference between local synchronous mirroring and campus synchronous mirroring is that, the latter enables volume mirroring across the campus or town.
The remaining services remain the same. Campus synchronous mirroring also supports any combination of appliance to mirror from and to; one to many, many to one, etc.
The same applies to the simplified disaster recovery and reduced downtime.
4.     Remote Asynchronous Replication
Instead of real time mirroring, you can also replicate your volumes asynchronously. You can schedule replication jobs and integrate automation or you could do it manually but that's just allowing room for human error and data loss.
This feature also supports all kinds of replication like one to many, many to one, one to one and more.
As you are still replicating your data, you get simple but effective disaster recovery service which ensures downtime reduction.
Leveraging Existing Infrastructure with StoneFly's Software-defined Storage: Storage Concentrator Virtual Machine (SCVM)
Our surveys indicate that, there are several enterprises that still rely on on-premise storage appliances. These storage appliances are probably battle tested and reliable but their usual drawback is that they do not deliver cloud connect services. This means that the enterprise cannot access the cloud computing models available via these appliances.
In order to rid the enterprises from this drawback and allow them to continue using their favorite storage appliances, StoneFly's SCVM enables cloud connect services. It acts as a cloud gateway appliance for the legacy infrastructure.
Instead of changing their existing infrastructure, the enterprise can simply setup StoneFly's SCVM and tap into cloud storage that they need.
This article is only a brief description of StoneFly's SCVM features, capabilities and data services. In order to learn more about the appliance, you can schedule a demo with our solutions expert and understand what it's capable of and how can you use it.