HyperScale USO-HA™ High Availability Cluster
NAS + SAN + Object Appliance
If you are looking for high availability and greater scalability in powerful Storage solutions, you are in the right place. Distributed parallel file system supporting thousands of clients scalable to thousands of nodes.
The USO HA series were developed considering the requirement many of our customers have for a powerful Storage solution, inexpensive, Scale Out, high performance.
14,000 nodes deployed by one of most popular silicon valley social media company .
Server Virtualization, Large-scale hosting, Backup and Archive, Big Data, Cloud Computing, Media and entertainment, Life sciences, Oil gas, research and High-performance Applications.
StoneFly USO-HA™ High Availability Cluster Appliance
StoneFly's USO-HA™ Storage Appliances deliver unprecedented performance, scalability, and high-availability as a Scale Out NAS and fully featured SAN (iSCSI and optional Fibre Channel), Swift S3 object all in one easy to manage modular appliance. The StoneFly USO-HA series of appliances were designed for customer's requiring a powerful Storage solution that can Scale Out Storage capacity while scaling up performance. Active-active cluster nodes coupled with Storage subsystems featuring active-active hot-swappable RAID controllers, hot-swappable disk drives and power supplies provide the utmost in high-availability.
The Scale Out NAS feature of the USO-HA allows you to "Scale Out" as your business grows by adding nodes without losing performance. With the USO-HA High-Availability Cluster you can expand one or more volumes across multiple USO-HA Cluster nodes using no metadata and a single namespace. Usable bandwidth increases as new nodes are added. Best of all, you can manage multiple nodes with just a single user interface.
Featuring active-active components for appliance redundancy, business continuity and increased system performance, the USO-HA offers full RAID protection and requires no down time for Storage expansion. Its architecture enables customers to start smaller and then scale up to 3600 drives via expansion arrays and expansion units per cluster. For added flexibility, configurations can be mixed and matched according to customer need with any combinations of nearline 7200RPM SAS, enterprise 10k or 15k SAS, and SSD drives.
The USO-HA can be used as SAN storage and/or NAS storage for both conventional workstations and servers, as well as virtualized machines. The USO-HA supports a wide range of virtual server environments including VMware, Citrix XenServer, and Microsoft Hyper-V. It was designed to deliver exceptional performance at an economical price point. The USO-HA Clusters are ideal for enterprise customers in need of a robust SAN offering both high availability and versatility for primary and secondary Storage applications.
The cornerstone of USO-HA High Availability Cluster Appliances is StoneFly's patented Storage virtualization engine running the award winning StoneFly StoneFusion SAN operating system. StoneFusion provides iSCSI block-level provisioning as well as centralized Storage management and advanced Storage features including synchronous campus mirroring and 2520 delta-based snapshots per subsystem. Optional features include asynchronous replication, thin provisioning with space reclamation, hardware-enabled AES 256 block level volume encryption, optimized data deduplication for efficient Storage utilization, Fibre Channel SAN target and Volume Shadow Copy Service (VSS) agents for quiescing databases.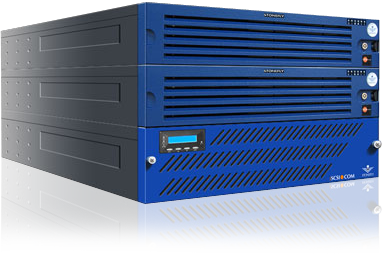 INTERESTED? CLICK HERE TO GET IN TOUCH WITH US TODAY!
What is Scale Out NAS?
Scale Out NAS is a distributed file system that can scale to several petabytes all while handling thousands of clients. It functions as a distributed data overlay, polling together Storage building blocks over TCP/IP, aggregating disk resources and managing data in a single global namespace. The unified platform handles blocks, files, objects and big data.
Scale Out NAS solves enterprise Storage requirements, including:
Enterprise-wide file sharing with a single access point across data Storage locations.
Nearline Storage for infrequently accessed data that needs to be online.
Rich media (audio and video) content distribution with petabyte-scale Storage and high-read performance requirements.
High-performance Storage for bandwidth-intensive applications like weather prediction and oil and gas exploration.
Centralized Storage-as-a-service to enterprise applications.
Backup target and archive for on-site or off-site data protection.

Leverage our storage solutions for your business.
Start today!
Remote iSCSI Boot & Global Scale Out Storage for OpenStack – Cinder, Swift, Glance
StoneFly's USO-HA and USO-FC "Unified Scale Out" Cluster SAN + Scale Out NAS Storage Appliances fully support OpenStack. Not just for backend Storage, USO-HA and USO-FC appliances can also be used as a remote iSCSI boot device for diskless OpenStack nodes.
Bootable iSCSI volumes can be created within the StoneFly iSCSI Storage pool on the USO-HA/USO-FC Cluster appliance and used to implement diskless OpenStack nodes (and diskless physical server nodes as required). Rapidly and easily increase the quantity of Nova compute nodes or any other OpenStack nodes by adding diskless blade servers to your OpenStack Cloud environment using StoneFly remote iSCSI boot.
Diskless OpenStack nodes will enjoy the numerous benefits of StoneFly iSCSI including delta-based snapshots, mountable read-write snapshot volumes, and real-time synchronous mirroring. Robust optional iSCSI features include thin provisioning, hardware-enabled block level AES 256 volume encryption, optimized data deduplication, VSS support and asynchronous replication all combine to make StoneFly the most advanced Storage solution currently available for any OpenStack environment.
A common limitation when using Cinder is that although volumes can be added to increase Storage, those volumes cannot be expanded. With StoneFly Scale Out NAS, volumes for Cinder Block Storage can easily be expanded by adding either bricks (drives) or additional Scale Out NAS nodes. Since volumes can be easily expanded across multiple USO-HA or USO-FC Scale Out NAS appliance nodes, the volume for OpenStack will expand readily and expansion is nearly limitless.
Key advantages of using StoneFly USO-HA and USO-FC for OpenStack shared Storage and remote iSCSI boot:
Cost-effective alternative to using local Storage.
Increased reliability since StoneFly USO-HA and USO-FC feature high-availability active-active cluster nodes with failover and failback, active-active hardware RAID controllers with battery-backed cache, hot-swappable disk drives and redundant hot-swappable power supply modules. You do not lose access to your data if a compute node goes down (in OpenStack environments running multiple compute nodes).
Reduces CapEx and OpEx since OpenStack nodes no longer need dedicated physical OS drives when using StoneFly remote iSCSI boot. Node reliability and availability increases since they are no longer at risk of disk failure.
Remote iSCSI boot allows OpenStack nodes to enjoy the built-in benefits of StoneFly iSCSI including snapshots and mirroring. Optional StoneFly iSCSI features such as data deduplication, encryption, asynchronous replication, and more provide for an even more feature-rich solution for diskless OpenStack nodes.
Makes it possible to share Storage for other purposes beyond OpenStack (NAS or iSCSI Storage for regular physical and virtual servers in your datacenter).
Ability to scale/expand and increase the performance of a particular volume since you are not limited by the number of disks in a single physical machine.
Management and recovery of compute nodes running Nova is much easier because you do not have to maintain their state. Since Storage is not tied to another node, compute nodes can just be restarted as a new instance.
The award-winning StoneFusion® Network Storage Platform (NSP), StoneFly's patented storage networking operating system architecture, brings in block level storage intelligence to the IP network core. Featuring iSCSI, Fibre Channel and Scale Out NAS technologies, StoneFly delivers all the benefits of enterprise managed SANs.