TurnKey Scale out NAS Appliance
Leverage the latest Enterprise Scale out NAS storage technology and Advance data services, Scale out NAS  provides performance, Scalability, and reliability with easy to use GUI and management. 

Scale Out from Terabytes (TBs) to Petabytes (PBs) Data Storage Capacity
Single, Dual cluster or as many as  Scale out Nodes your performance, Capacity and fault tolerance requires.
Enjoy the unprecedented read and Write Speeds for Enterprise Workloads with All-Flash
Backup & disaster recovery, documents Videos, Images, IoT, analytics,

Genometic, machine dataa, any Unstructured and other types of files.
Manage All Storage Resources with a Single Centralized GUI Management Interface
Secure Stored Data with Enterprise-Grade Data Services like Snapshots, Encryption, Remote, and cloud Replication, Tiering  & More
Choose any combinations of  Disk, Hybrid, all Flash and Public/Private cloud
Support for 10,40,100G with advance Network features
Built-in Cloud Storage Gateway Technology to Azure, AWS, Google, StoneFly, and Other Public Clouds
Ensure Highly Availability for Business Data with Syn & Async Replication
Integrated  Optional Backup and DR such as Veeam, Acronis, Commvualt, Veritas
Optional Global Data Ingest from nay data source with advance  Dataflow workbench
File Storage requirement is grwoing 15X fasster than any block storage.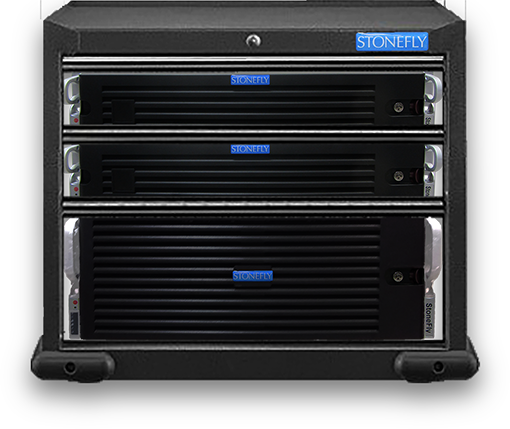 Appliance Model Information
StoneFly SSO Series "Scale Out" Nodes
NAS Storage Ports
Internal Drives
Storage Capacities per Chassis

Form Factor Dimensions (HxWxD)

Hardware RAID
Controller
Power Requirements (per node)

SSO "Super Scale Out" Storage Appliance Nodes – 2.5″ Disk Drives

SSO-2404X

Standard: Dual Bonded 10Gb RJ-45 (Backwards compatible with 1Gb)

Optional: Up to 4x10Gb RJ-45, CX4, SFP+, SR, LR Optical

Twenty-Four 2.5" Drives

900GB, .2TB, 1.8TB, 2.4TB 10k SAS

600GB, 900GB 15k SAS

400GB, 800GB, 1.6TB, 3.2TB SSD

12Gb SAS 10k RPM: Up to
57.6TB

12Gb SAS 15k RPM: Up to
21.6TB

12Gb SSD: Up to 76.8TB

2U Rackmount

3.5″ x 17.2″ x 24.8″

(89 x 437 x 630mm)

Optional Upgrade

0, 1, 3, 5, 6, 10, 30, 50 and 60
with RAID Cache battery backup

Supports up to 256 Drives for Max Capacity of 819 TeraBytes per Node

Redundant 920W Power Supply

80-PLUS® Platinum certified high efficiency hot-swappable
power supply

Dual Power Cords

100-240V, 50-60Hz, 11-4.5A

SSO "Super Scale Out" Storage Appliance Nodes – 3.5″ Disk Drives

SSO-804

Standard: Dual Bonded 10Gb RJ-45 (Backwards compatible with 1Gb)

Optional: Up to 4x10Gb RJ-45, CX4, SFP+, SR, LR Optical

Eight 3.5" Drives

4TB, 6TB, 8TB, 10TB, 12TB, 14TB 7200RPM SAS

900GB, 1.2TB, 1.8TB, 2.4TB 10k SAS

600GB, 900GB 15k SAS

400GB, 800GB, 1.6TB, 3.2TB SSD

12Gb SAS 7200RPM: Up to
112TB

12Gb SAS 10k RPM: Up to
19.2TB

12Gb SAS 15k RPM: Up to
7.2TB

12Gb SSD: Up to 25.6TB

2U Rackmount

3.5″ x 17.2″ x 25.5″

(89 x 437 x 648mm)

Optional Upgrade

0, 1, 3, 5, 6, 10, 30, 50 and 60
with RAID Cache battery
backup

No External Expansion

Redundant 740W Power Supply

80-PLUS® Platinum certified high efficiency hot-swappable
power supply

Dual Power Cords

100-240V, 50-60Hz, 9-3.5A

SSO-1204

Standard: Dual Bonded 10Gb RJ-45 (Backwards compatible with 1Gb)

Optional: Up to 4x10Gb RJ-45, CX4, SFP+, SR, LR Optical

Twelve 3.5" Drives

4TB, 6TB, 8TB, 10TB, 12TB, 14TB 7200RPM SAS

900GB, 1.2TB, 1.8TB, 2.4TB 10k SAS

600GB, 900GB 15k SAS

400GB, 800GB, 1.6TB, 3.2TB SSD

12Gb SAS 7200RPM: Up to
168TB

12Gb SAS 10k RPM: Up to
28.8TB

12Gb SAS 15k RPM: Up to
10.8TB

12Gb SSD: Up to 38.4TB

2U Rackmount

3.5″ x 17.2″ x 25.5″

(89 x 437 x 648mm)

Optional Upgrade

0, 1, 3, 5, 6, 10, 30, 50 and 60
with RAID Cache battery
backup

Supports up to 256 Drives for Max Capacity of 3.5 PetaBytes per Node

Redundant 920W Power Supply

80-PLUS® Platinum certified high efficiency hot-swappable
power supply

Dual Power Cords

100-240V, 50-60Hz, 11-4.4A

SSO-1604

Standard: Dual Bonded 10Gb RJ-45 (Backwards compatible with 1Gb)

Optional: Up to 4x10Gb RJ-45, CX4, SFP+, SR, LR Optical

Sixteen 3.5" Drives

4TB, 6TB, 8TB, 10TB, 12TB, 14TB 7200RPM SAS

900GB, 1.2TB, 1.8TB, 2.4TB 10k SAS

600GB, 900GB 15k SAS

400GB, 800GB, 1.6TB, 3.2TB SSD

12Gb SAS 7200RPM: Up to
224TB

12Gb SAS 10k RPM: Up to
38.4TB

12Gb SAS 15k RPM: Up to
14.4TB

12Gb SSD: Up to 51TB

3U Rackmount

5.2″ x 17.2″ x 25.5″

(132 x 437 x 648mm)

Optional Upgrade

0, 1, 3, 5, 6, 10, 30, 50 and 60
with RAID Cache battery
backup

Supports up to 256 Drives for Max Capacity of 3.5 PetaBytes per Node

Redundant 1000W Power Supply

80-PLUS® Titanium certified high efficiency hot-swappable
power supply

Dual Power Cords

100-127V, 50-60Hz, 66.7-0A

200-240V, 50-60Hz, 83-0A

SSO-2404

Standard: Dual Bonded 10Gb RJ-45 (Backwards compatible with 1Gb)

Optional: Up to 4x10Gb RJ-45, CX4, SFP+, SR, LR Optical

Twenty-Four 3.5" Drives

4TB, 6TB, 8TB, 10TB, 12TB, 14TB 7200RPM SAS

900GB, 1.2TB, 1.8TB, 2.4TB 10k SAS

600GB, 900GB 15k SAS

400GB, 800GB, 1.6TB, 3.2TB SSD

12Gb SAS 7200RPM: Up to
336TB

12Gb SAS 10k RPM: Up to
57.6TB

12Gb SAS 15k RPM: Up to
21.6TB

12Gb SSD: Up to 76.8TB

4U Rackmount

7″ x 17.2″ x 26.5″

(178 x 437 x 673mm)

Optional Upgrade

0, 1, 3, 5, 6, 10, 30, 50 and 60
with RAID Cache battery
backup

Supports up to 256 Drives for Max Capacity of 3.5 PetaBytes per Node

Redundant 1000W/1280W Digital Power Supply

80-PLUS® Titanium certified high efficiency hot-swappable
power supply

Dual Power Cords

1000W Output @ 100-140V, 50-60Hz, 12-8A

1280W Output @ 180-240V, 50-60Hz, 8-6A

SSO-3604

Standard: Dual Bonded 10Gb RJ-45 (Backwards compatible with 1Gb)

Optional: Up to 4x10Gb RJ-45, CX4, SFP+, SR, LR Optical

Thirty-Six 3.5" Drives

4TB, 6TB, 8TB, 10TB, 12TB,14TB 7200RPM SAS

900GB, 1.2TB, 1.8TB, 2.4TB 10k SAS

600GB, 900GB 15k SAS

400GB, 800GB, 1.6TB, 3.2TB SSD

12Gb SAS 7200RPM: Up to 504TB

12Gb SAS 10k RPM: Up to
86.4TB

12Gb SAS 15k RPM: Up to
32.4TB

12Gb SSD: Up to 115TB

4U Rackmount

7″ x 17.2″ x 27.5″

(178 x 437 x 699mm)

Optional Upgrade

0, 1, 3, 5, 6, 10, 30, 50 and 60
with RAID Cache battery
backup

Supports up to 256 Drives for Max Capacity of 3.5 PetaBytes per Node

Redundant 1000W/1280W Digital Power Supply

80-PLUS® Titanium certified high efficiency hot-swappable
power supply

Dual Power Cords

1000W Output @ 100-140V, 50-60Hz, 12-8A

1280W Output @ 180-240V, 50-60Hz, 8-6A
StoneFly 12Gb SAS Expansion
SAS Ports
Internal Drives
Storage Capacities per Chassis
Form Factor
Dimensions (HxWxD)
Power Requirements
StoneFly 12Gb SAS Expansion – 2.5″ Drives

24 x 2.5″ 2U 12Gb SAS Expansion Unit

12Gb SAS host port & 12Gb SAS port for cascading expansion

Twenty-four 2.5" Drives

900GB, 1.2TB, 1.8TB, 2.4TB

12Gb SAS 10k RPM

600GB, 900GB 12Gb SAS
15k RPM

400GB, 800GB, 1.6TB, 3.2TB
SSD

12Gb SAS 10k RPM: Up to
57.6TB

12Gb SAS 15k RPM: Up to
21.6TB

12Gb SSD: Up to 76.8TB

2U Rackmount

3.5″ x 17.2″ x 24.8″

(89 x 437 x 630mm)

Redundant 920W Power Supply

80-PLUS® Platinum certified high
efficiency hot-swappable power supply

Dual Power Cords

100-240V, 50-60Hz, 11-4.5A

StoneFly 12Gb SAS Expansion – 3.5″ Disk Drives

12 x 3.5″ 2U 12Gb SAS Expansion Unit

12Gb SAS host port & 12Gb

SAS

port for cascading

expansion

Twelve 3.5" Drives

4TB, 6TB, 8TB, 10TB, 12TB,
14TB 7200RPM SAS

900GB, 1.2TB, 1.8TB, 2.4TB
10k SAS

600GB, 900GB 15k SAS

400GB, 800GB, 1.6TB, 3.2TB
SSD

12Gb SAS 7200RPM: Up
to 168TB

12Gb SAS 10k RPM: Up to
28.8TB

12Gb SAS 15k RPM: Up to
10.8TB

12Gb SSD: Up to 38.4TB

2U Rackmount

3.5″ x 17.2″ x 25.5″

(89 x 437 x 648mm)

Redundant 920W Power Supply

80-PLUS® Platinum certified high
efficiency hot-swappable power supply

Dual Power Cords

100-240V, 50-60Hz, 11-4.4A

16 x 3.5″ 3U 12Gb SAS Expansion Unit

12Gb SAS host port & 12Gb

SAS

port for cascading

expansion

Sixteen 3.5" Drives

4TB, 6TB, 8TB, 10TB, 12TB,
14TB 7200RPM SAS

900GB, 1.2TB, 1.8TB, 2.4TB
10k SAS

600GB, 900GB 15k SAS

400GB, 800GB, 1.6TB, 3.2TB
SSD

12Gb SAS 7200RPM: Up
to 224TB

12Gb SAS 10k RPM: Up to
38.4TB

12Gb SAS 15k RPM: Up to
14.4TB

12Gb SSD: Up to 51TB

3U Rackmount

5.2″ x 17.2″ x 25.5″

(132 x 437 x 648mm)

Redundant 1000W Power Supply

80-PLUS® Titanium certified high
efficiency hot-swappable power supply

Dual Power Cords

100-127V, 50-60Hz, 66.7-0A

200-240V, 50-60Hz, 83-0A

24 x 3.5″ 4U 12Gb SAS Expansion Unit

12Gb SAS host port & 12Gb

SAS

port for cascading

expansion

Twenty-four 3.5" Drives

4TB, 6TB, 8TB, 10TB, 12TB,14TB 7200RPM SAS

900GB, 1.2TB, 1.8TB, 2.4TB 10k SAS

600GB, 900GB 15k SAS

400GB, 800GB, 1.6TB, 3.2TB
SSD

12Gb SAS 7200RPM: Up
to 336TB

12Gb SAS 10k RPM: Up to 57.6TB

12Gb SAS 15k RPM: Up to
21.6TB

12Gb SSD: Up to 76.8TB

4U Rackmount

7″ x 17.2″ x 26.5″

(178 x 437 x 673mm)

Redundant 1000W/1280W Digital Power Supply

80-PLUS® Titanium certified high
efficiency hot-swappable power supply

Dual Power Cords

1000W Output @ 100-140V, 50-60Hz, 12-8A

1280W Output @ 180-240V, 50-60Hz, 8-6A