StoneFly Composable Fabric Infrastructure
Truly Customizable – Highly Scalable – High Performance Composable Infrastructure Platform
Build One Infrastructure For All Enterprise Workloads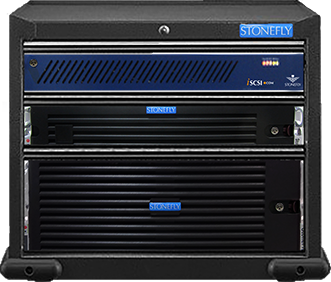 One For All Composable Infrastructure –
Powerful

,

Flexible

&

Agile

Architecture

Don't limit your IT environments with Fixed Compute and Storage in a Box – Compose Storage Infrastructure the Way Your Business Needs it
StoneFly composable infrastructure enables businesses to combine disaggregated and heterogeneous compute, storage, and network resources into one composable infrastructure and manage everything with a single centralized interface. Businesses can leverage StoneFly's innovative solution to scale out or scale up as needed and store up to Petabytes (PBs) of data.
StoneFly composable infrastructure uses NVMe-over-Fabric architecture to enhance compute and storage utilization, system performance, and agility. StoneFly composable infrastructure platform can be configured to enable data sharing between applications, or to deliver storage to applications and programs regardless of location.
Create Your Composable Infrastructure with Any Combination of Compute & Storage Today

Resource Provisioning  
In Minutes
Provision storage and / or compute to programs in minutes. Orchestrate and assign needed resources with a single, easy-to-use API. Make the most of StoneFly composable infrastructure and provision resources for all kinds of business workloads.

Scale Compute & Storage
without Disruption
Dynamically add compute and / or storage resources without disrupting operations. No need to overprovision your infrastructure. Effortlessly scale when needed with StoneFly's modular and hot swappable infrastructure.

Management Friendly  
Centralized Interface
Orchestrate, consolidate, provision, automate, and manage storage with a single management interface. Dynamically allocate resources to applications and programs with StoneFly StoneFusion – a patented and awarded software-defined storage solution.
StoneFly Composable Infrastructure Platform – Dynamically Configure & Reconfigure Resources As Needed
Fixed hardware and static storage solutions are a hindrance for business IT environments. Today's fast-moving world requires dynamic allocation of resources for the next generation of application in AI, IoT, cloud computing and more.
With StoneFly composable infrastructure platform, businesses can consolidate disaggregated resources into one solution. Users can choose resources that they need for specific applications and programs and the allocation is dynamic, quick and disruption-free.
It's easy to purpose and repurpose resources. As business needs change, StoneFly composable infrastructure and resources can adapt accordingly. This truly empowers IT environments and facilitates productivity.
Is StoneFly Composable Infrastructure the Right Choice for Your Workloads?
StoneFly Composable Infrastructure Platform – Data services


Cloud Connect to Azure, AWS, and StoneFly cloud

Automated Storage Tiering


AES 256-bit Encryption & SSL/TLS Tunneling

Synchronous & Asynchronous Replication


StoneFly Composable Infrastructure Platform – Hardware Options
Network Port

Dual Bonded 10/25/40/100Gb RJ-45 (Backwards Compatible with 1Gb)

Optional Upgrades: Up to 4, 6, 8 x 10/25/40/100Gb RJ-45, CX4, SFP+, LR Optical Ports.

Internal Drives

2.5" drives:
10k SAS, 15k SAS, and 12Gb SSDs.

3.5" drives:
7200 RPM SAS, 10k SAS, 15k SAS, and 12Gb SSDs.

Hardware RAID Controller

RAID Levels:
0, 1, 3, 5, 6, 10, 30, 50, and 60 with RAID Cache Battery Backup

Form Factors

2U 24-bay (2.5" drives)
2U 24-bay (2.5" drives)
2U 8-bay (3.5" drives)
2U 12-bay (3.5" drives)
3U 16-bay (3.5" drives)
4U 24-bay (3.5" drives)
4U 36-bay (3.5" drives)

Drives per Chassis

Support up to 256 drives for up to Petabytes (PBs) of storage capacity per appliance.

Note: Appliance has to be pre-configured with Hardware RAID Controller
Got Questions about StoneFly Composable Infrastructure Platform?
Why Buy From StoneFly?
StoneFly has been a part of the storage market for over two decades. Partnered with VMware, StoneFly storage solutions deliver optimized data storage to over 2000+ businesses worldwide. With extensive development empowering them, StoneFly solutions are battle-tested and support a diverse range of enterprise-level workloads.
All StoneFly storage solutions leverage StoneFly StoneFusion – StoneFly's patented and awarded solution that makes storage consolidation, management and control easier for the enterprise.
Your Business Data is Important. Don't Risk it. Let StoneFly's Decades of Experience in Storage Technology Take Care of Your Data Storage Requirements For You.
StoneFly Customers Worldwide