Cloud Backup Connect For Backup & Replication
Azure File and Object Storage – Page Blob – Hot Blob – Cool Blob
Amazon Object Storage – S3 – Glacier
Google – Object storage Nearline Storage and Coldline
Install on-perm, Datacenter and what you write to our Cloud Connect gateway. can be written or tiering to your favorite cloud(s). Data should be stored in more than one location. But many users have only one Datacenter. StoneFly's Cloud Backup Connect, change that. An easy and affordable way to connect your existing backup to any private and public cloud anywhere. Begin storing your valuable server and workstation backups in the cloud.
Scale Out Storage Gateway is a hybrid storage Repository that enables your on-premises or datacenter applications to seamlessly use Storage in Azure, AWS or Google. You can use the service for backup and archiving, disaster recovery, cloud bursting, storage tiering, and migration. Your applications connect to the service through a gateway appliance using standard storage protocols, such as NFS. CIFS and iSCSI. The gateway connects to Public Cloud storage services, such as Page Blob, Hot Bob, Cool Blob, Amazon S3, Amazon Glacier, and Amazon EBS, Google Bucket providing storage for your unstructured and structured data. The service includes a highly-optimized data transfer mechanism, with bandwidth management, automated network resilience, and efficient data transfer, along with a local cache for low-latency on-premises access to your most active data. Enterprise Data Service such as Snapshot, Encryption, Tiering, Geo Replication, Active directory are part of Gateway list of features.
StoneFly Cloud Backup Connect empowers organizations to fully utilize their existing backup software or existing backup appliance's disaster recovery features, enabling organizations large and small to implement offsite backup inexpensively.
Compatible with any existing enterprise backup software or backup appliance you might be already using (Symantec Backup Exec, Acronis, Commvault, Veeam, Quest Raid recovery, Dell Quest AppAssure, HP StoreOnce, EMC Avamar, etc.), StoneFly provides a backup connector to your choice of a private, hybrid or public cloud.
Implement a quick and simple disaster recovery plan while storing your backups off-site in Microsoft Azure, VMware vCloud, VMware vCloud Air, StoneFly Cloud Business Center, or your remote private or hybrid cloud.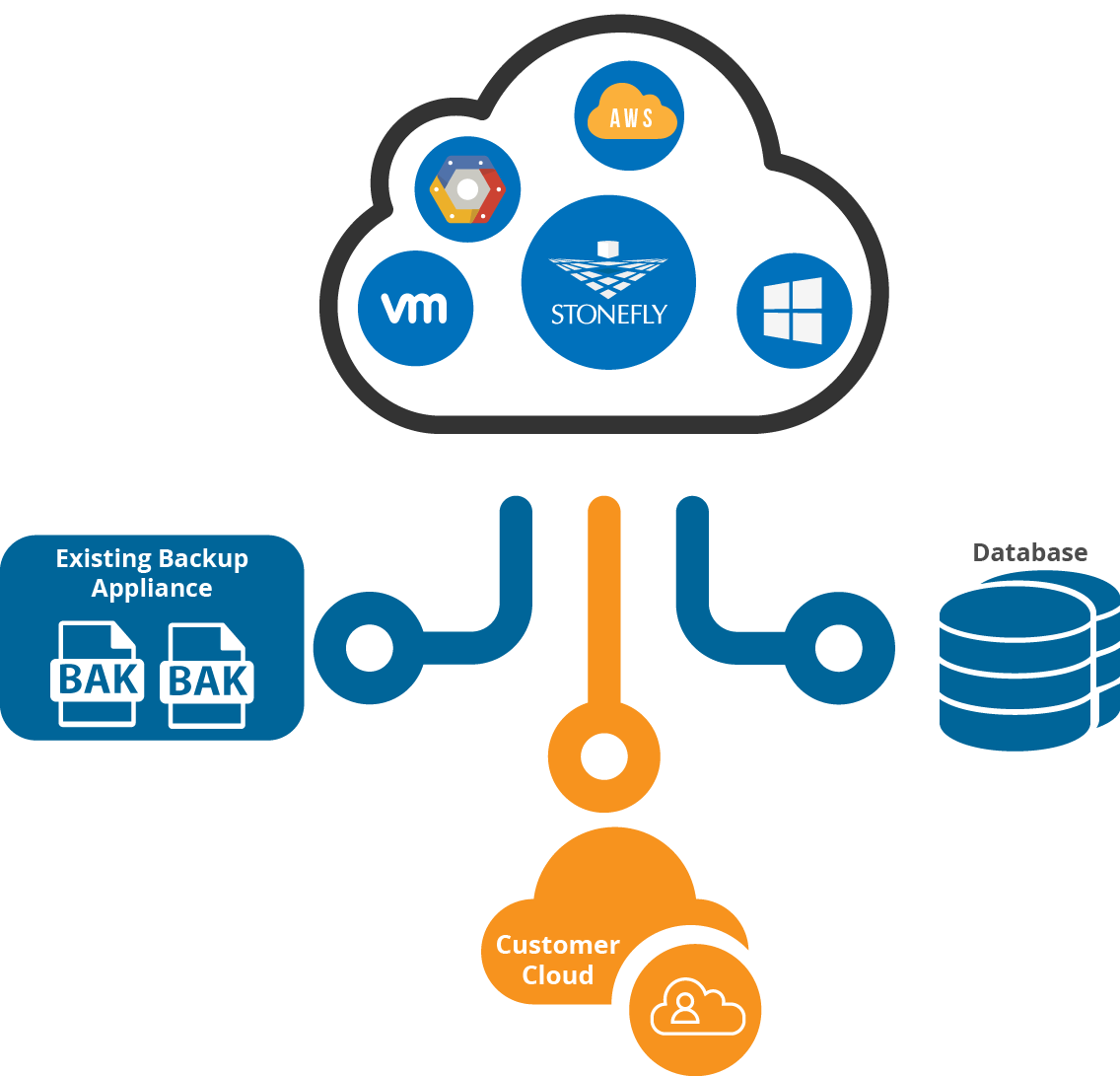 The File Gateway configuration offers on-premises servers and applications a network file share via a CIFS, NFS connection. File data is cached on the File Gateway for local performance and converted to objects stored Azure, AWS, Google. You can protect and archive your objects through native tools or our snapshot.
The Volume Gateway configuration connects to on-premises servers and applications as a local disk using iSCSI. Data in these volumes can be transferred into Azure, AWS, Google cloud storage and accessed through the Volume Gateway. Store data locally for the highest performance (with snapshot backups to the cloud), or blend latency and scale by storing frequently-accessed data locally with "cooler" data in the cloud (with snapshots for protection as well).
StoneFly Cloud Connect Scale out Gateway can be used for Backup and Replication supports any existing software – Partial list of some of the supported backup software and appliances.
Included features for StoneFly Cloud Backup Connect
Compatible with all Major Enterprise Backup Utilities & Software Applications
Supports Cloud Storage in Microsoft Azure, Aws, Google, VMware vCloud, VMware vCloud Air, StoneFly Cloud Business Center, and Customer's Private or Hybrid Cloud
Graphical Performance and Utilization Reporting
Logical Volume Creation and Patented Advanced Storage Virtualization Services
Volume-Level Access Control and Dynamic Volume Management
Automated Online Volume / Storage Expansion
Support for SNMP Traps and Call Home
Optional advanced enterprise storage management features*
StoneFly Real-Time Synchronous Mirroring of Cloud Volumes
StoneFly Asynchronous Replication (One-to-One, One-to-Many, Many-to-One)
StoneFly Optimized Data Deduplication for Increased Storage Efficiency
StoneFly AES256 Volume Encryption
Tiering of SATA, SAS, SSD, Azure, AWS, Google ..etc
StoneFly Thin Provisioning with Space Reclamation
StoneFly Snapshot Services with up to 2520 Delta-Based Snapshots
Mountable Read-Only or Read-Write Snapshot Volumes
Snapshot Schedule Utility
Easy Active Directory Integration
Scale Out using a Single Name Space to Scale Capacity and Performance
Multi-Cloud Volume Campus Mirroring, Spanning and Central Management System
Disk Space Quota Management for Directory & Volume Usage

Request a call back to learn more about Cloud Backup Connect.
Get in touch today!
StoneFly Cloud Drives – Features
Included features for StoneFly Scale Out NAS Enterprise Cloud Drives in Microsoft Azure
Supports NAS Protocols: CIFS/SMB and NFS
Easy Active Directory Integration
Bypass Azure's Inherent 1TB File Size Limitations
Multi-Appliance Campus Mirroring and Spanning
Central Management System with Web-Based GUI
Disk Space Quota Management for Directory & Volume Usage
Graphical Performance and Utilization Reporting
Logical Volume Creation and Patented Advanced Storage Virtualization Services
Volume-Level Access Control and Dynamic Volume Management