StoneFly Live VM Migration
Certified VMware Plugin & DTD Appliances
One-time Migration Utility for Live VM Migration to Secondary / Remote Sites, or Public / Hosted Clouds with Data Transfer Device (DTD) Support
Get Started Today
intro What is Live VM Migration?
Live VM migration enables you to migrate your Virtual Machines (VMs) from your primary hyperconverged infrastructure (HCI) to target secondary or remote sites or public / hosted clouds without any interruption or downtime.
With Live VM migration, your VMs are migrated while your end users, applications and projects continue to use them, write on them and read from them.
There is no interruption, the process is seamless and all newly created data is synced and transferred.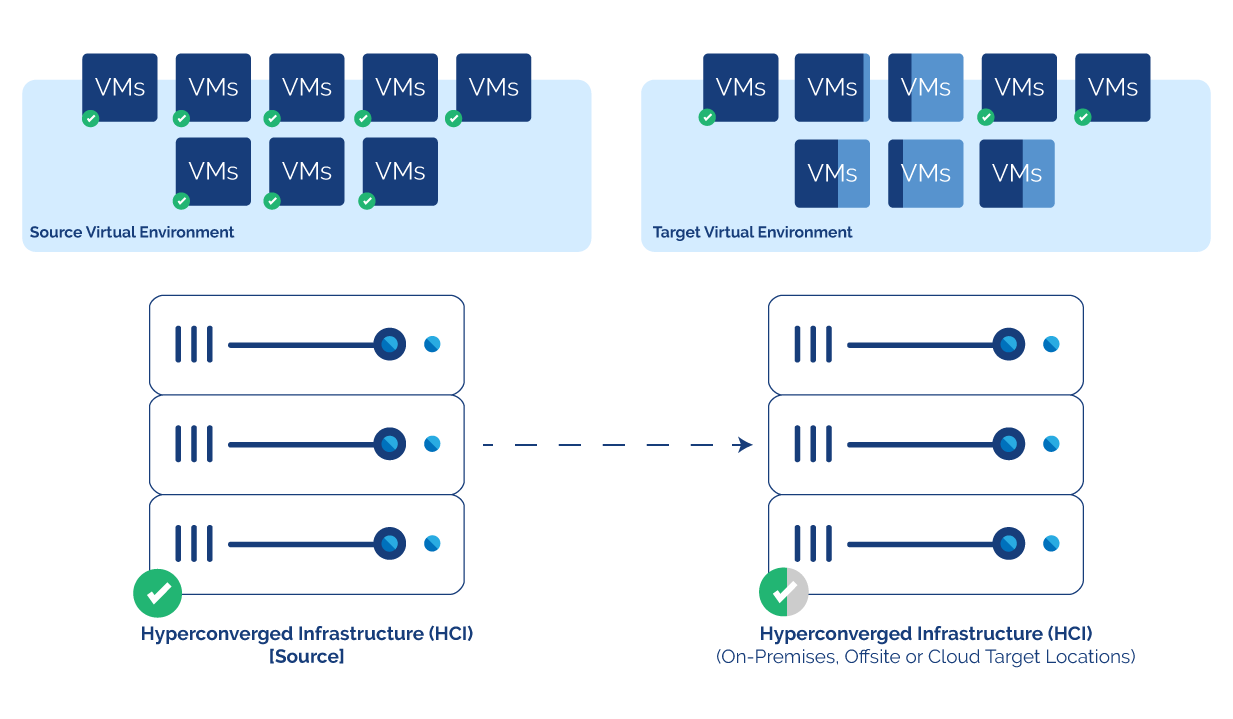 StoneFly Live Migration – Virtual Machine Migration Software 2
StoneFly Product Overview
Affordable & Seamless VM Migration
Conventional VM migrations involve a backup and restore process. Such processes are disruptive and interrupt operations until the migration process is incomplete.
Our live VM migration services make sure that your VMs are migrated without any interruption.
StoneFly live VM migration services enable you to migrate individual VMs and bulk or groups of VMs to remote sites. The migration software leverages the IO filter based on the VMware vSphere APIs for IO (VAIO) filter.
This implies that our product is VMware certified and it enables you to leverage the live VM migration capability whether you are using VMFS, NFS, or vSAN for your data stores.
Certified
VM Migration DTDs
Offload your VMs to a physical device (Data Transfer Device) for transportation to target site and re-hydrate newly written data at the target site over the wire.
StoneFly DTDs enable you to overcome your network, bandwidth and file size limitations while securely migrating your critical VMs without disruption.
The VM migration software captures "newly" edited or created data after the data copy using the IO filter. Once the DTD completes offloading at the target site, the VM migration software reconciles and syncs the "new" data over the network.
Benefits of StoneFly Live VM Migration
Seamless Integration
StoneFly Live Migration seamlessly integrates with VMware vSphere and it supports any storage – VMFS, NFS and Virtual SAN (vSAN) to help with a variety of enterprise use-cases
Secure VM Migration
The VM migration process, whether it's done on the wire or using StoneFly DTDs, is secured with state-of-the-art advanced encryption technology to prevent malicious access and data loss
Flexible Migration Options
Our VM migration services offer you the choice to migrate your VMs to offsite / remote locations or to public / hosted clouds seamlessly.
Brief Overview
Key Features of

VM Migration

Software
Fault-Tolerant
In the event of an incomplete migration or interruption (due to network issues, host failure, or any other reason) the migration process is resumed from the point of interruption instead of starting from the beginning.
Migration Time Estimation
Run the migration software in "observation mode" prior to the migration and estimate how long it will take for you to migrate your VMs to the target location.
Orchestration & Automation
Automate individual VM migration to and startup at the destination site. Independent VMs can be migrated and then started as a group with administrative control of the change-over.
One-Time Migration Utility
Once your VM migrations are completed, you can remove all "migration components" and clean up your virtualization environments.
Effective Control & Ease-of-Use
The VM migration engine can be installed through a plug-in within the vSphere client. The plug-in puts you in control of your VM migrations (network-based & DTD migrations) delivering all the functionality including throttling, scheduling and more.
Supported Datastore Types
You can move VMs and their data from any VMware-supported storage SAN, NAS, Virtual Volumes, Virtual SAN or other HCI.
Get Involved
Let Us Show You How StoneFly Live Migration Works
VM Migration

DTD Appliances
Hardware Specs
Enterprise-Tier VM Migration DTD Appliances
High-end processors
10Gb network connections
Dedicated NVMe SSD for Operating System (OS)
Optional 4TB System memory support
Redundant power supplies
Built-in high performance RAID controllers
And more!
Download Enterprise DTD Hardware Catalog
Hardware Specs
Value-Tier VM Migration DTD Appliances
Optional 8-Core 9th Gen Intel i7 processor(s)
1Gb & 10Gb network connections
Dedicated NVMe SSD for Operating System (OS)
Optional 32GB System memory support
Redundant power supplies (8-bay and higher)
Built-in high performance RAID controllers
And more!
Download Value-Tier DTD Hardware Catalog
Start Today
Get an affordable & reliable DTD for your VM migrations
Supported Live VM Migration Deployment Options
Option
Physical-to-Physical (P2P)
Migrate live VMs running on your physical VMware HCI to a target on-premises or offsite VMware HCI without turning them off.
Option
Physical-to-Cloud (P2C)
Offload your physical VMware HCI by migrating live VMs to the cloud of your choice with our live VM migration software.
Option
Cloud-to-Cloud (C2C)
Migrate your live VMs running in the cloud to another cloud of your choice. StoneFly Migration supports multi-cloud and hybrid cloud deployments for enterprise use-cases.
Option
Cloud-to-Physical (C2P)
Migrate your live VMs running in the cloud to an on-site or offsite VMware HCI without disruption. Move mission-critical VMs from any cloud to any storage server with VMware.
Proud Partner of Market leaders
StoneFly Products are Trusted By Enterprises Worldwide