With increase in data usage around the world, storage in the cloud is now needed for intact backup and replication solutions on-premise and off-site. Veeam provides these solutions with specialization in backup and replication for on-premise based VMware and Microsoft Hyper-V environments.
Workings of the Veeam Cloud Connect in Amazon AWS
Veeam and Amazon AWS link provides a much clearer picture as to how the data is not only securely sent, but also made sure that the data remains safe for as long as the user requires

Veeam data center has an entire production environment set up from where the Veeam backup and replication travels to the Amazon AWS cloud. The VTL gateway through which the data travels are secure to make sure that the data is protected from all kinds of threats.
The cycle of backup and cloud disaster recovery has been put into place to ensure secure data movement. Users have the ability to store their data inside a public cloud which is provided by Amazon AWS.
Amazon AWS can easily be accessed by the customers as it only requires an internet connection. As a customer, you will be rid of all the costs and risks associated with the placement and maintenance of data. Your work will be cut short by Amazon AWS who provides storage as a service in the public cloud.
Users can either opt for Simple Service Storage (S3) or Glacier Storage. S3 provides the users with speed of access to the data which is used frequently, while glacier storage is storage for the likes of archived data for longer periods of time.
Cloud Based Backup: A Step Higher Than What You Desire
As a user, you will be looking for various reasons as to store the data in the cloud by using the likes of the true innovators of iSCSI, StoneFly. Compared to the traditional storage methods, StoneFly provides the users with flexibility, durability and ease of management. We dive into the details of the services which are provided.
The user is at ease with full management in the hands of the partnership between StoneFly and Amazon AWS. You do not have to worry about the what, where and how of the storage; you just have to tell service provider about your needs.
Unlike the traditional ways of storage, cloud storage as a service gives you extra flexibility with no storage capacity. For instance, AWS gives you the ability to store virtually unlimited amounts of data; just a limitation on the size of the object (5 Terabytes). Users are at ease with increased demands of scalability being met.
The partnership of Veeam Cloud Connect in Amazon AWS alongside StoneFly on one side, provide the service of versioning. It is the method of keeping different versions of the same object at different time periods. Safety of data is ensured as the users can retrieve data readily within a matter of minutes with just a few clicks.
Cloud Storage Services Provide Improved Business Recovery Plans
With increases in attacks on data in various forms like Ransomware, it has become a need that the data is always secure from threats. Users are looking for plans which provide with business recovery.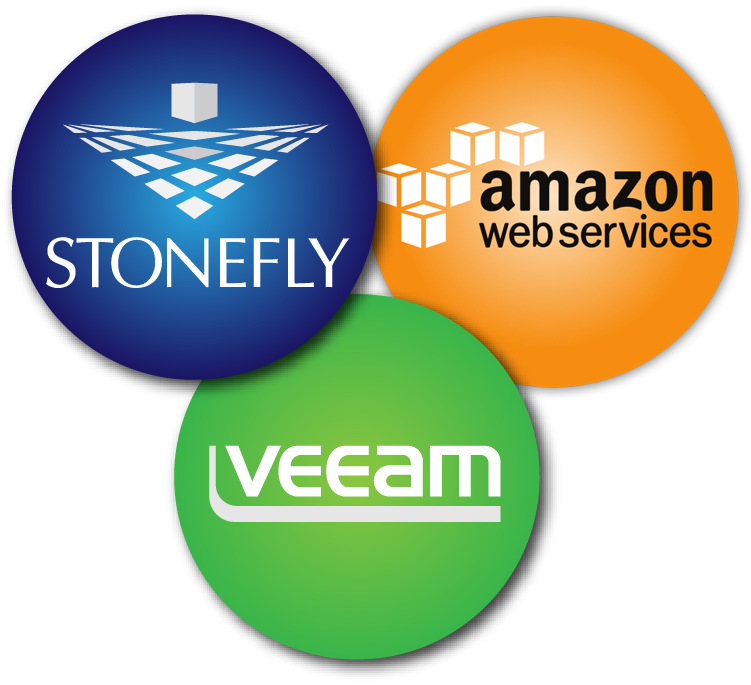 Customers are now provided with added services of data protection. The partnership provides customers with control lists which are to be accessed only by authorized personnel; also providing greater levels of security with end-to-end encryption.
With data increases at rapid growth rates, users are in search of storage options which can increase with more and more data ingestion. Flow of work needs to be maintained and a handsome amount of users ask for increased storage capacity.
StoneFly has looked at the needs of the customers and provides the customers with services of Web-scale storage capacity and performance for web applications.
Cloud backup To AWS provide levels of durability which are a necessity nowadays. Service of ingestion point for big data applications is provided which makes sure that there is greater durability. This makes it easier to store log files, perform backups and keep active archives.
In today's dynamic world, big data is becoming the source of progress and advancement. The internet of things is taking the world by storm and assurances as to speed are becoming a dire need of every big corporation in the world.
Cloud storage as a service ensures that the speed of processing large amounts of data is high. Hundreds of Terabytes of data are moving easily which give the added benefit of faster communication. Veeam and StoneFly makes use of storage acceleration to further ensure that the rate at which data travels is extremely high.
Users are always looking to maintain data records for legal purposes or for their own use later on, so archiving becomes a need for users. StoneFly ensures that there is effective and inexpensive cloud archive storage. Log files maybe kept for longer periods of time for compliance. StoneFly also gives added options of deleting the archived data after a certain amount of time.
Not only has storage as a service fixed the problems related to keeping huge records of data, but has ensured that customers can now easily monitor, track, save and reuse data.