Data is increasingly at the core of any business or organization, and is fueling new digital transformation initiatives. Data runs nearly every aspect of a company, from customer and employee engagement, to product and service development, to operations. Underlining the strategic importance of data, a recent IDC global study of 800 organizations revealed that 47% had a chief data officer.
To remain competitive in today's disruptive business climate, organizations must break down data silos and provide data services to achieve faster insights, business value and oversight; especially as data becomes more distributed, dynamic and diverse. With data at the center of business operations, data availability has never been more essential. Data availability is one of the several elements in an effective and holistic data management strategy.
StoneFly and Veeam have a strategic partnership to deliver Intelligent Data Management for the Hyper-Available Enterprise. The Veeam Availability Suite provides enterprise scalability for backup and replication of mission-critical workloads for data and applications running on StoneFly Cloud storage & on-premise appliances. Customers can create image-based backups with little to no impact on production for all data and applications in Microsoft Hyper-V and VMware vSphere environments.
Business value of a combined approach for Backup and disaster recovery
IDC interviewed organizations supporting data backup and disaster recovery environments with availability software and storage hardware to understand the value of a combined approach. The results show that a combined approach makes data backup and disaster recovery operations substantially more effective, thereby limiting the business and operational risks associated with data related incidents.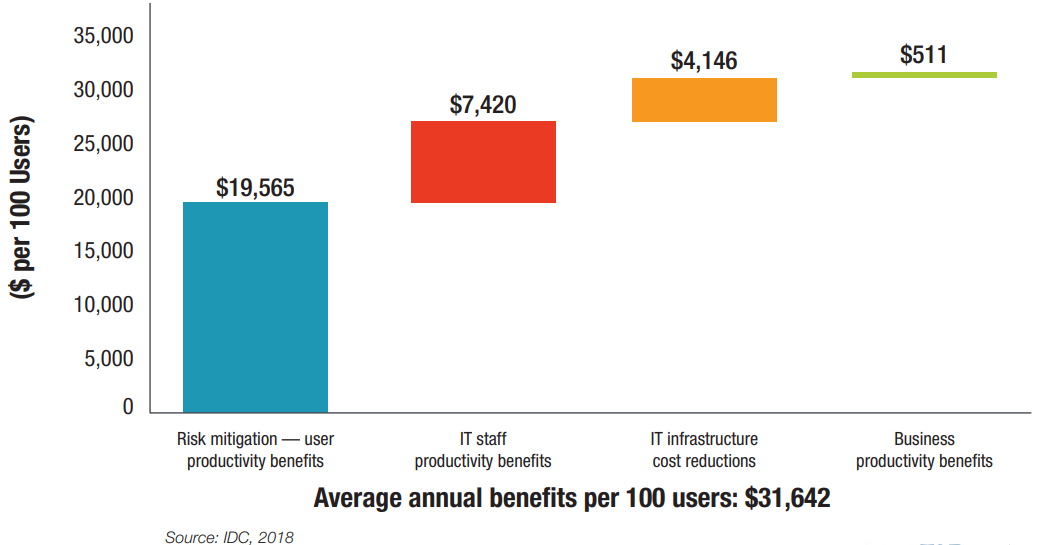 Using Veeam software with StoneFly storage enables customers to reduce risk associated with data backup and recovery activities. This is done by compressing backup windows and speeding up recovery times as well as reducing the duration and frequency of impactful data related interruptions to business operations. Furthermore, the Veeam and StoneFly combination is proving cost-effective, both from the perspective of maximizing the value of customer investments in storage hardware and in terms of staff time required to manage and support extensive and often growing data environments. IDC's analysis shows that these benefits translate into significant value for organizations, which IDC quantifies at an average of $31,642 per 100 users per year, i.e. $2.32 million per organization (an ROI of 286%) over five years in the following areas:
Risk mitigation: reducing performance degradation related to data backup and disaster recovery activities and the frequency of outages means higher employee productivity and most of all less revenue loss. IDC puts the value of higher revenue and productivity at an annual average of $19,565 per 100 users, i.e. $1.43 million per organization.
Staff productivity benefits. Enabling robust and fast data backups and recovery efforts frees up time for IT staff, while the combined Veeam and StoneFly solution requires less time to manage and support. IDC quantifies the value of these staff efficiencies at an average of $7,420 per 100 users per year, i.e. $543,100 per organization.
Reduced IT infrastructure costs. Extending life spans of organizations' data backup and recovery hardware through more efficient use reduces costs associated with building and running these environments. IDC calculates these savings at an average of $4,146 per 100 users per year, i.e. $303,500 per organization.
Increased business productivity. Increased confidence in the stability of the backup and disaster recovery environments is enabling organizations to better focus on addressing business opportunities, resulting in additional revenue that IDC estimates will have an average value of $511 per year per 100 users, i.e. $37,400 per organization.
Further, leveraging StoneFly storage plus Veeam backup & replication solution makes IT environment more cost-effective to deploy and operate. Many organizations are taking advantage of the integration to support operations such as development, which has not traditionally been associated with backup and recovery environments. This result in a strong value from investment in StoneFly and Veeam backup and disaster recovery solutions. The benefits include:
Enabling more effective and timely data backup and recovery efforts to reduce risk and cost associated with these activities.
Reducing the cost of data related outages in terms of loss to user productivity and revenue.
Minimizing the staff time required to manage and support data backup and recovery environments
Optimizing the cost of storage hardware through longer lifespans and improved data deduplication and compression capabilities.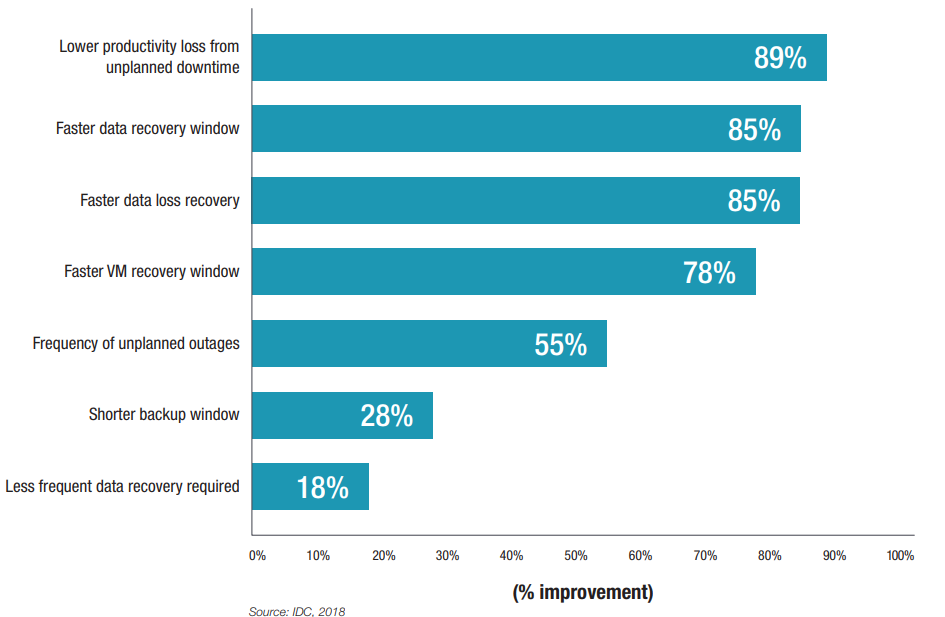 Improving the availability and usability of Data with backup and disaster recovery
By running data backup and disaster recovery operations on StoneFly and Veeam, customers perform these operations in less time, more effectively, and with more agility. This not only limits risk related to backup and recovery, but also helps ensure business continuity and reduces operational costs associated with data backup up and recovery.
With the combination of StoneFly & Veeam, organizations have a greater number of restore points, which enables access to previous data states as needed. In addition, storage snapshot functionality allows for more frequent and regularly scheduled backups. Fast backup and replication enables a much faster recovery of VMs and data when compared to other solutions of backup and disaster recovery. The ability to add VMs to backup optimizes the recovery process. The capability of live restore eliminates the need for organizations to take systems offline during recovery efforts.
Conclusion
For any organization, data is the lifeblood. In today's disruptive and competitive business climate, organizations must continue to innovate by leveraging data in strategic ways. More importantly, data availability has never been more essential. Data availability is one of the several elements in a holistic and an effective data management strategy. Together, StoneFly and Veeam are providing data availability solutions via proven backup and disaster recovery on-premise appliances or cloud solutions.