Data protection is a paramount concern in the modern business landscape, particularly within backup and disaster recovery (DR) environments. These systems play a vital role in preserving critical data and ensuring the resilience of organizations in the face of potential data loss or disruptions.
Within this context, volume deletion protection emerges as a crucial safeguard, providing an additional layer of security to protect against unauthorized deletions and maintain the integrity of essential data.
Volume deletion protection plays a vital role in ensuring the integrity and security of backup and disaster recovery (DR) environments. This essential feature is specifically designed to prevent accidental or intentional deletions of critical data volumes.
By implementing volume deletion protection, organizations can enhance their data protection strategies, defend against ransomware attacks, mitigate the risk of malicious insider actions, and avoid the potential consequences of accidental deletions.
In this blog, we will explore the importance of volume deletion protection in backup and DR environments and how it acts as a crucial defense mechanism against data loss and unauthorized access.
Understanding Volume Deletion Protection
What is Volume Deletion Protection?
Volume deletion protection is exclusive to StoneFly systems, specifically designed to prevent accidental or intentional deletions of critical data volumes. It acts as a robust defense mechanism, ensuring the integrity and availability of important data.
When enabled, this feature prevents volume deletion, providing a unique layer of security against data loss and unauthorized access.
With volume deletion protection in place, even backup administrators are unable to delete the protected volumes, adding an extra level of data protection. It plays a vital role in safeguarding against malicious actions or potential ransomware attacks.
By preventing unauthorized deletion attempts, volume deletion protection ensures that hackers or ransomware actors cannot compromise the protected volumes, preserving the data's integrity and mitigating the impact of potential security breaches.
The volume deletion protection feature ensures that critical data stored within volumes cannot be deleted without following a stringent protocol. This protocol involves multiple layers of verification and authorization, such as contacting support, validating requests with authorized personnel, and generating a unique code to disable the protection.
Importance of Volume Deletion Protection in Preventing Data Loss or Unauthorized Deletions
The significance of volume deletion protection cannot be overstated in backup and disaster recovery environments. It is a powerful safeguard against the potential risks associated with accidental data deletions or malicious actions.
By implementing volume deletion protection, organizations can mitigate the chances of irreversible data loss, maintain data integrity, and prevent unauthorized modifications to critical volumes. This helps ensure the recoverability of data and enhances the overall data security of your storage, backup and DR, hyperconverged, and cloud infrastructure.
Benefits of Implementing Volume Deletion Protection
The implementation of volume deletion protection brings several key benefits, including:
Data Integrity: Volume deletion protection ensures the integrity of critical data volumes, preventing accidental or unauthorized deletions that can compromise data availability and recovery.
Risk Mitigation: By restricting the ability to delete volumes, this protective feature reduces the risk of accidental data loss, minimizing potential disruptions to business operations and ensuring data reliability.
Ransomware Protection: Volume deletion protection acts as a defense mechanism against ransomware attacks that specifically target backup and DR systems. It helps prevent threat actors from compromising data by deleting critical volumes, reducing the impact of such attacks.
Regulatory Compliance: Implementing volume deletion protection assists organizations in meeting regulatory requirements by maintaining data integrity and protection against unauthorized modifications or deletions.
How to Set Up Volume Deletion Protection for Critical Data/Backup/Snapshot Storage Repositories
Before you can setup volume deletion protection, you will need the StoneFusion™ for Baremetal or Storage Concentrator Virtual Machine (SCVM™) installed on VMware, Hyper-V, KVM, Citrix (XenServer), or StoneFly Persepolis.
Enabling volume deletion protection is a seamless process that ensures the safety of critical data within the StoneFly appliance. Our team of experts guides customers through the installation and configuration, and recommend enabling volume deletion protection for every critical volume.
During volume creation, the backup administrator simply needs to check the "Volume Deletion Protection" checkbox. With a click on the "Submit" button, the volume is created and protected with volume deletion protection.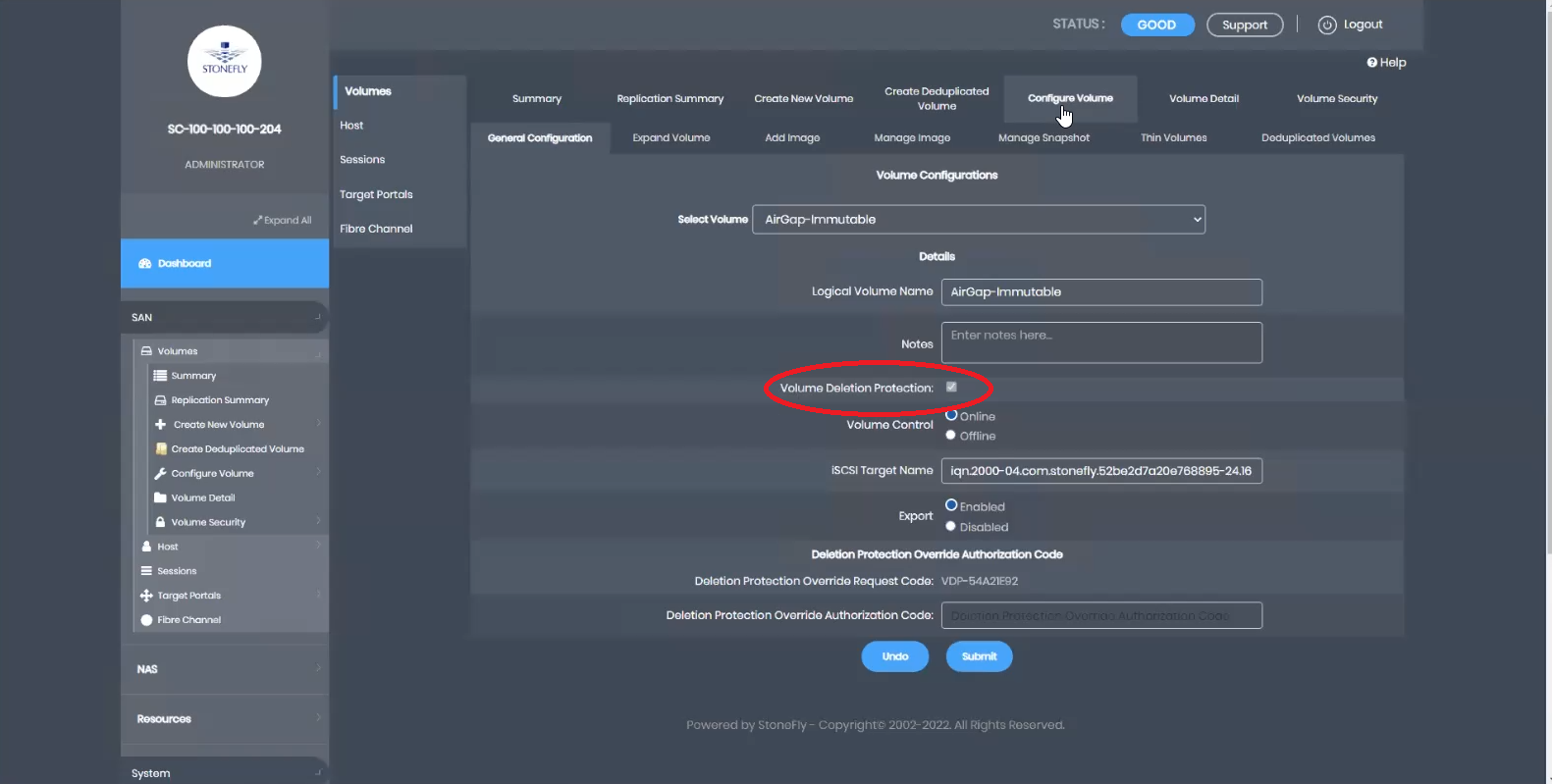 Once enabled, a volume with deletion protection becomes impervious to deletion. Even backup administrators with full administrative rights are unable to delete these volumes. This means that even if an unauthorized individual gains access to admin credentials, they are unable to tamper with or delete these protected volumes. As a result, critical data stored in these volumes, including backups, snapshots, and other vital information, remains secure.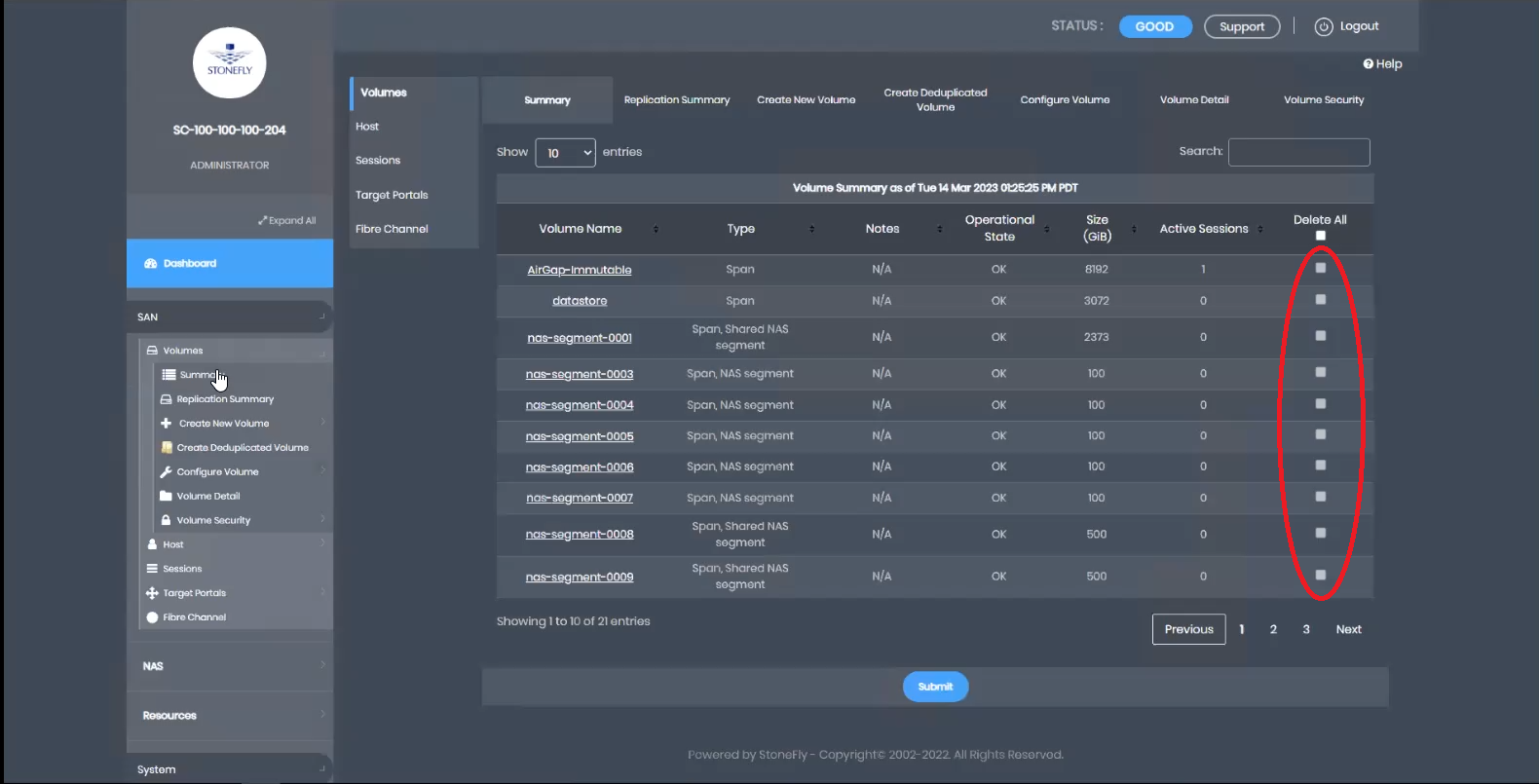 In the provided screenshot, the volume summary clearly indicates the volumes with volume deletion protection enabled. The "Delete" checkbox is disabled, ensuring these repositories cannot be inadvertently or intentionally deleted.
Disabling the Volume Deletion Protection
Disabling volume deletion protection requires a secure and stringent protocol to ensure the integrity of the data. To initiate the process, backup administrators must reach out to StoneFly support for assistance.
Upon contacting StoneFly support, a verification procedure is initiated, involving two authorized personnel who must confirm the disable request. This verification step adds an extra layer of security to prevent unauthorized or accidental changes.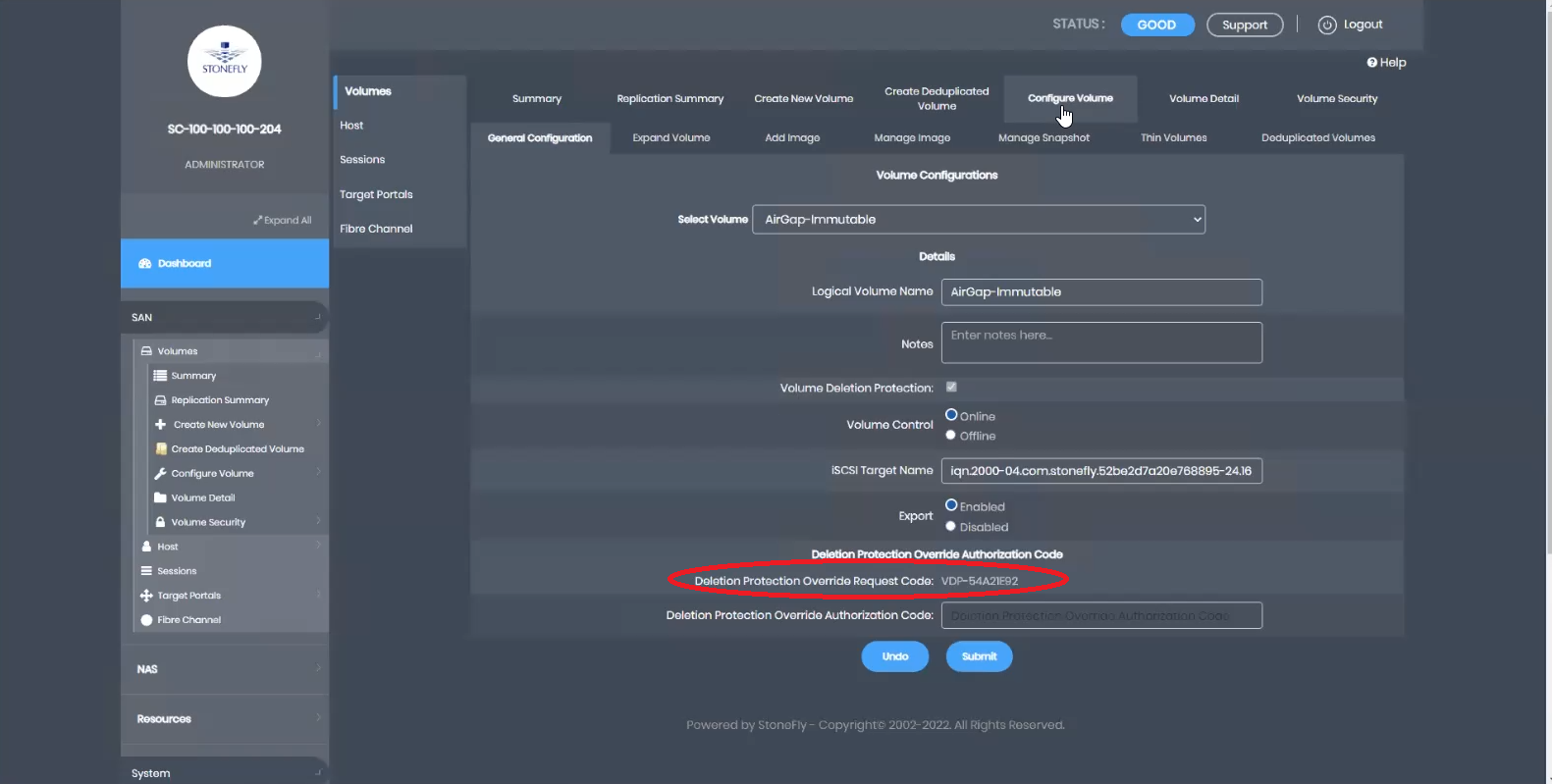 Once the disable request is confirmed, the StoneFly support team provides an essential "Deletion Protection Override Code". Backup administrators then input this code into the designated field, followed by clicking the submit button.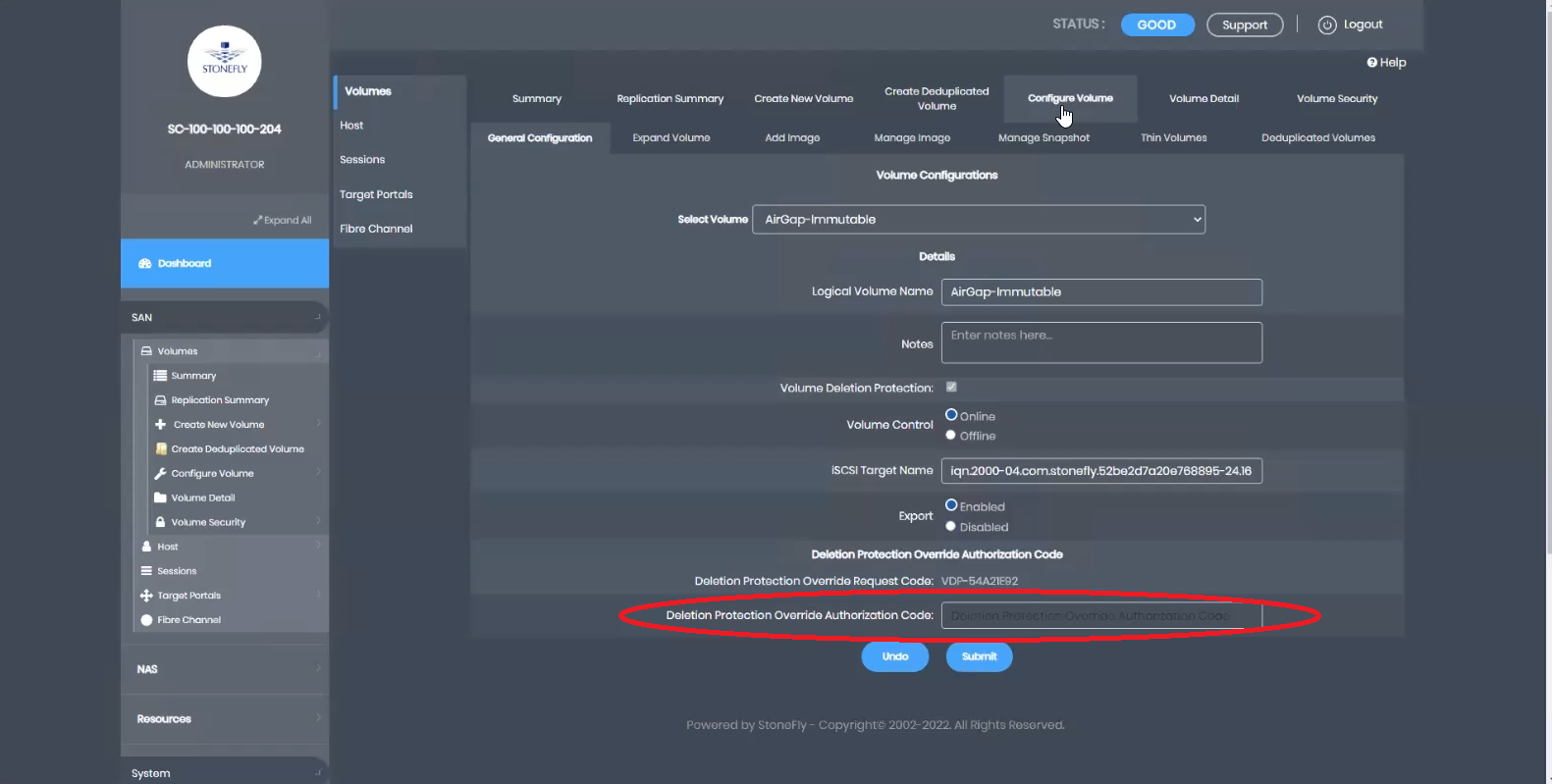 By completing this procedure, the volume deletion protection for the specified volume is successfully disabled.
The Impact of Volume Deletion Protection
Volume deletion protection has a profound impact on data security and business continuity, providing organizations with essential safeguards to protect critical data and maintain uninterrupted operations. Let's explore its significance in more detail.
Protecting Against Data Loss and Cyber Threats
Volume deletion protection acts as a robust defense mechanism against accidental deletions, malicious actions, and ransomware attacks. By preventing unauthorized access and minimizing the risks of data breaches, organizations can ensure the confidentiality, integrity, and availability of their critical volumes. This protection ensures that valuable data remains intact, even in the face of evolving cyber threats.
Strengthening Business Continuity Efforts
Maintaining seamless operations is crucial for business continuity. With volume deletion protection, organizations can minimize downtime by preventing accidental deletions that can disrupt workflows. In the event of a ransomware attack or other data loss incidents, the protected volumes remain secure, enabling swift recovery and minimizing the impact on productivity and customer service.
By implementing volume deletion protection, organizations take proactive measures to defend their data, mitigate risks, and ensure the resilience of their business operations.
Conclusion
To ensure the utmost protection of your valuable data, it is imperative to prioritize volume deletion protection in your storage, backup and DR, hyperconverged, and cloud infrastructure.
With StoneFly solutions, you gain access to cutting-edge ransomware-proof storage, backup and DR, hyperconverged, and cloud solutions that integrate comprehensive volume deletion protection capabilities, providing you with the peace of mind and confidence to navigate the ever-evolving threat landscape.
Don't wait until it's too late. Take charge of your data protection strategy and leverage the power of volume deletion protection to safeguard your critical volumes and maintain the resilience of your business operations.
Contact StoneFly to discuss your project(s) today!
Related Products