The 8th Generation of the StoneFly DR365 Backup and Disaster Recovery Appliances is the latest update of the StoneFly comprehensive data protection and disaster recovery solutions. The 8th generation of StoneFly DR365 appliances include an update to our award-winning StoneFusion software at the base level, combined with industry-leading backup software like Veeam or Acronis for recovery assurance.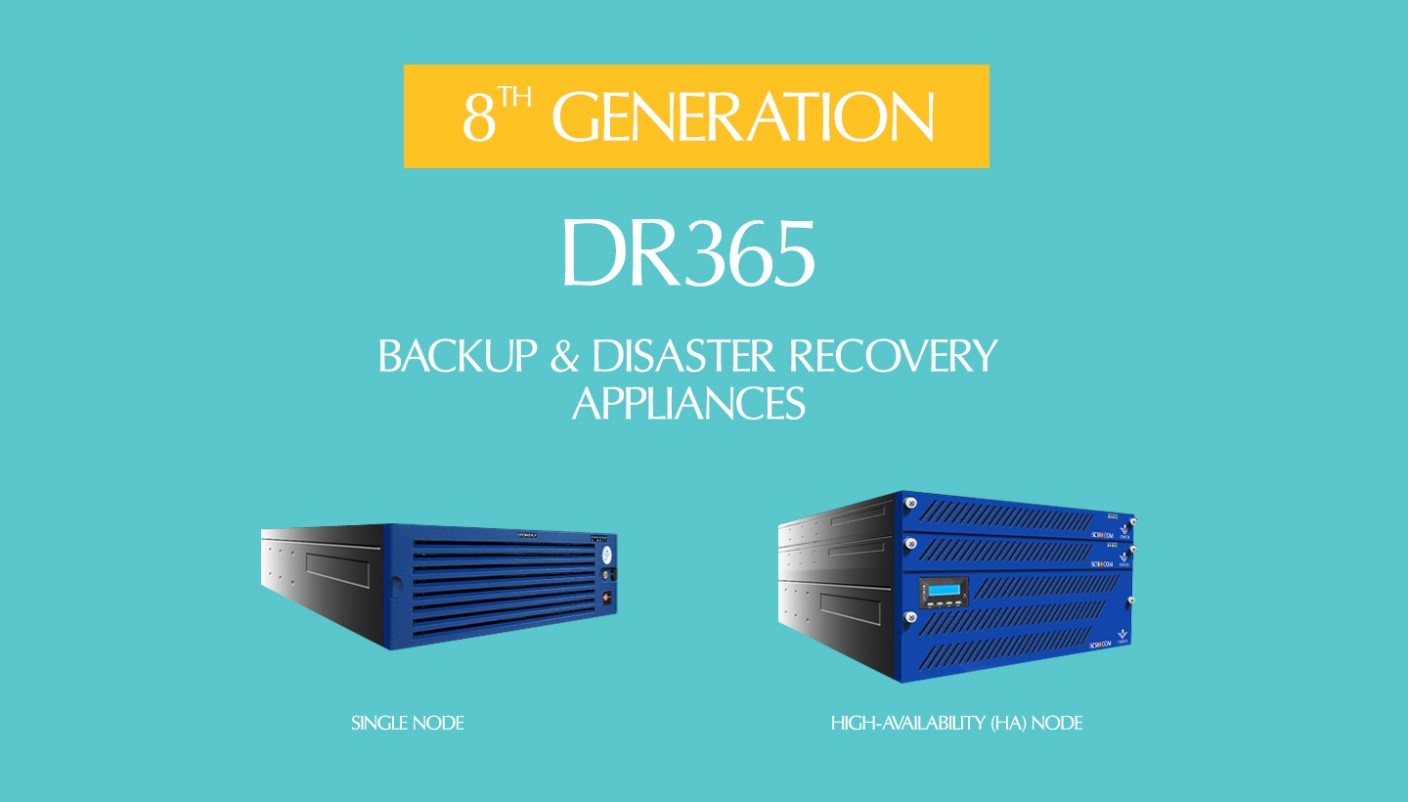 The flexibility of backup software enables customers to utilize the backup software they are comfortable with while leveraging the StoneFly innovative storage technology. Users of the new generation of StoneFly DR365 will be able to experience many new enhancements. Many of these can be categorized into three primary buckets:
The 8th Generation of the StoneFly DR365 appliances have been designed with a brand new user experience specifically designed for busy IT and virtualization admins. It has been built from the ground up to be radically easy to use and to increase the efficiency of IT.
The 8th Generation of StoneFly DR365 supports an even broader set of environments. In addition to VMware vSphere, Hyper-V, Citrix XenServer, Red Hat Virtualization, Linux KVM, Oracle VM Server the 7th Generation supported, 8th Generation DR365 Appliances now support Nutanix environments. 8th Generation DR365 appliances also support backup and recovery for Windows, Linux, Windows PC and Mac physical servers as well as Office365, Microsoft Azure and any public or private cloud.
StoneFly DR365 appliances have now been enhanced to support tiering and fast recovery. The 8th Generation delivers RTO of 15 seconds by starting your backup directly from storage and the cloud connect delivers offsite backup, replication and archival to Private Cloud or Public Cloud including Azure and AWS.
All New User Interface
From a user's perspective, usability is important because it can be the difference between performing a task accurately and completely or not and the difference between enjoying the process of using a piece of software or being frustrated by the experience. From a management point of view, software with poor usability can reduce the productivity of an IT staff. In all cases lack of usability can cost time and effort and can greatly determine the success or failure of business continuity for the organization. The last thing you need during a crisis is to have to reference a manual to try and figure out the state of your protected environment or to figure out how to recover critical data or systems.
Backup should be radically simple. With an easy to use and efficient user experience, the necessary tasks of backup and verifying recoverability are addressed so effortlessly that they slip into the background. This allows IT more time to spend in projects that support their core business and be able to recover more than just data but also be able to recover your confidence in your environment, recover your control over your work and even be able to recover your weekends and evenings.
The new Generation of StoneFly DR365 appliances come with a new user interface and new user experience completely redesigned keeping in mind today's busy, multitasking IT professionals. The new user experience all starts with a new dashboard. The dashboard gives the user an instant top-level view of what is going on in their environment. Using dashboard quickly provides backup summaries, shows scheduled and actively running jobs and other useful information and insight regarding what you are protecting. It allows users to instantly recover heterogeneous environments both virtual and physical systems on-premise, at secondary sites and in the Cloud. To increase efficiency the new interface reduces click count when compared to competitive solutions for all tasks including installations, backups, file and system recovery, monitoring, troubleshooting and reporting. The new UI also provides simplified management for thousands of machines with the ability to see status over time for all your backups and backup copies.
Every panel is enabled to provide more information simply by clicking into it. For instance, users can dive deeper into the backup view and see what backups may have experienced issues at some point in the last seven days. If you see one that has an issue you can dive deeper into the root cause. The solution is also loaded up with numerous reports in order for you to get real-time analytics to help you efficiently maintain your backups.
Guaranteed recovery of every application, file or server any time
Being able to recover at the required level granularity, in the required timeframe is what you really need to be able to protect your business. Unfortunately, IT's confidence in their ability to recover has been plummeting in recent years. The reason? Data and business requirements and IT are growing rapidly. We are experiencing an explosion of data and servers, but the number of IT professionals is not growing nearly as fast resulting in IT resources that are stretched very thin. Tasks like testing DR environments are frequently skipped and when disruptions do happen, frequently, the recovery environments do not function as required.
New Generation StoneFly DR365 appliances provide recovery assurance technology via our backup and replication solution to solve this problem. By automating DR testing and failover, with StoneFly DR365 appliances, IT can know with a hundred percent confidence that backup and DR environments are going to work. Because the backup and replication software is able to validate recoverability on a regular basis and at the application level. IT can now know that recovery time objectives (RTO) and recovery point objectives (RPO) are being met in actuality.
New Generation of StoneFly DR365 support deep virtual protection for VMware, Hyper-V and Nutanix AHV hypervisors. Nutanix users can now benefit from complete deep virtual protection available in the StoneFly DR365AK as well as all the other features that are available in the product. They can now utilize backup and replication in the StoneFly Private Cloud for disaster recovery as a service (DRaaS).
The 8th Generation of the StoneFly DR365 Backup and Disaster Recovery appliances make you more efficient. They provide recovery assurance for every application, file and server via new backup and replication software. They provide expanded platform coverage across the three most popular hypervisors and can now be integrated with your existing infrastructure. Contact us now for further details on how the StoneFly DR365 can help you recover more than just your data.