Ransomware attacks have surged in recent years, fueled by the lack of data protection, outdated IT systems, advanced attack methods, and the COVID-19 pandemic. Despite awareness of the growing threat, many companies still lack proper cybersecurity measures. This is a worrying trend, especially given the alarming state of ransomware in various industries.
To combat this issue, it is vital that organizations adopt strong cybersecurity practices, reduce their attack surface, and have backup and disaster recovery solutions in place, including air-gapped and immutable backups, to recover in the event of a ransomware attack.
This blog aims to provide a comprehensive overview of the state of cybersecurity by highlighting the ransomware statistics and trends for 2022.
The Impact of Data Breaches and Hacking: Insights and Statistics
Data breaches can have devastating consequences, exposing sensitive information and leading to identity and financial theft. In recent years, the number and sophistication of these attacks have increased, leaving organizations vulnerable to damage to their reputation, legal violations, and financial losses.
Here, we delve into a comprehensive analysis of data breach statistics and their underlying causes, exploring the effects of these attacks and the motivations behind them, with a focus on some of the most significant and historical data breaches.
Data Breach Statistics and the Cost of Ransomware Attacks
The number of ransomware attacks reached its highest point in the second quarter of 2021, with a staggering 188.9 million incidents reported. (Source: SonicWall)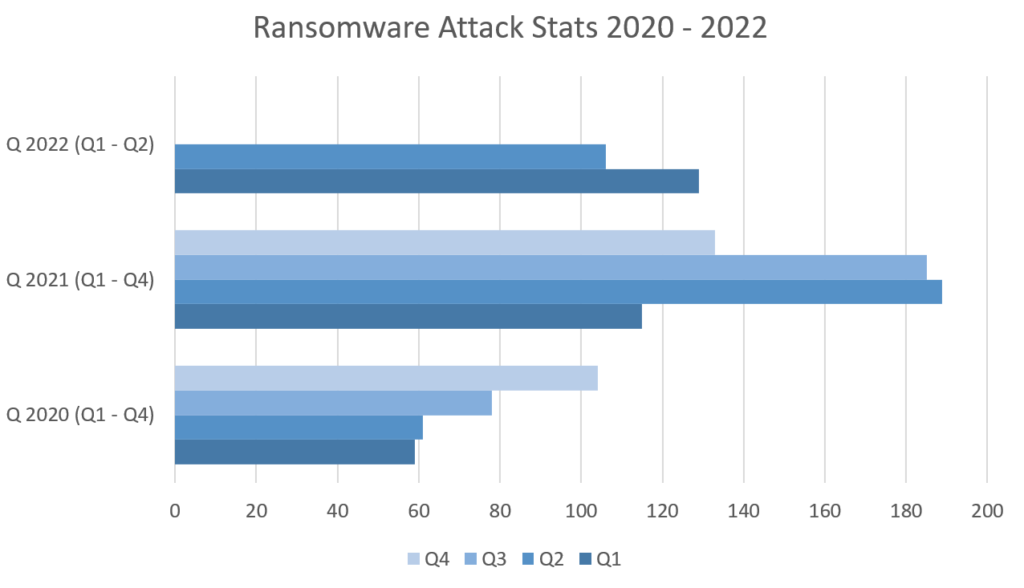 In 2022, the average cost of a data breach increased by 2.6% from the previous year, reaching $4.35 million. This represents a rise from 2021's average cost of $4.24 million. (UpGuard)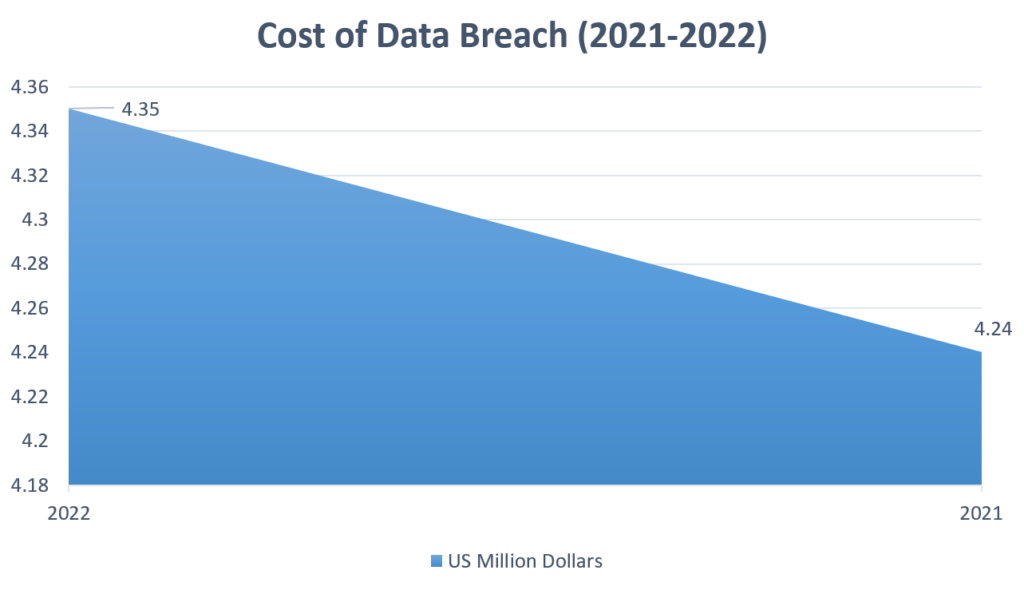 Most Active Ransomware Groups in 2022
In the first half of 2022, the top 3 ransomware families were Cerber with 43 million instances, Ryouk with 34 million instances, and GrandCrab with 16 million instances. (SonicWall)
The top 5 ransomware groups in 2021 were STOP (51%), REvil (34%), Cerber (4%), Conti (2%), and DarkSide (1%). (AntiViruseGuide)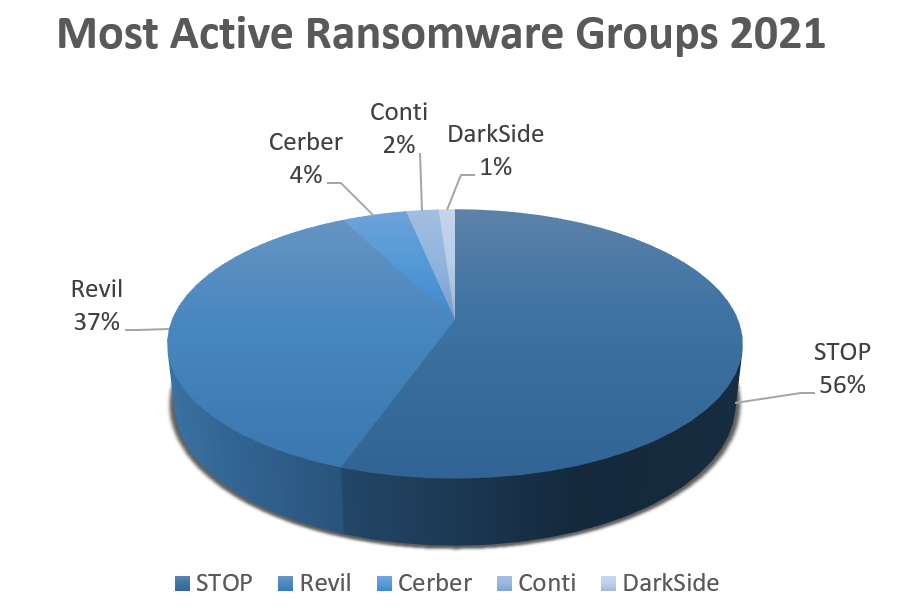 High-Profile Ransomware Incidents of 2022
In 2022, ransomware impacted over 70% of businesses, marking a significant increase from five years prior and the highest recorded figure to date. (Statista)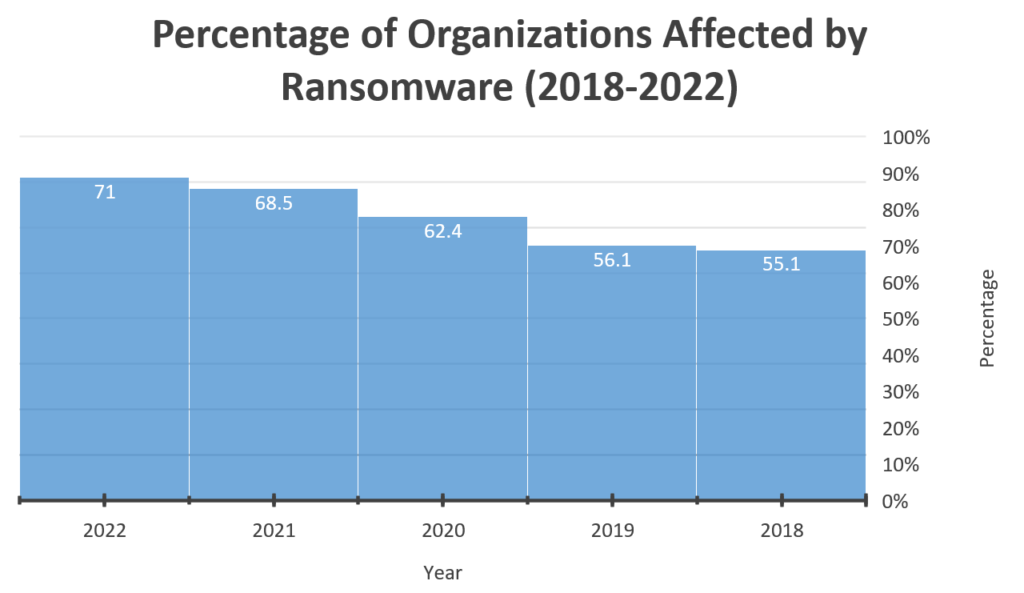 Here are the most noteworthy data breaches in 2022:
Ransomware and Malware Attack Statistics
Cyber threats are becoming increasingly diverse and malicious actors are continually adapting their tactics. Nevertheless, the most frequent attacks on businesses are phishing, social engineering, whaling, DDoS, malware, and ransomware. A clear understanding of these threats, their severity, and impacts is crucial.
Here's a list of statistics that highlights the prevalence, intensity, and impact of ransomware:
Ransomware Attack Vector Trends and Insights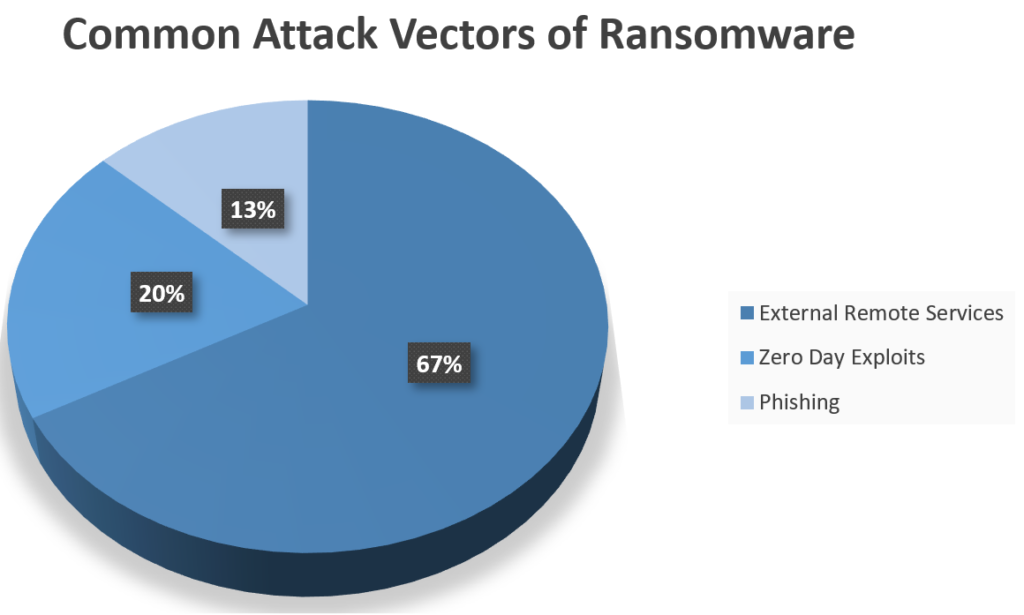 Distributed Denial-of-Service (DDoS), and Cyber Attacks on Internet of Things (IoT)
Cybersecurity Compliance and Cyber-Insurance Statistics
Data privacy and protection is a priority topic in legislation across different regions. Strict measures are being enforced in these legislations, including setting proper file permission, maintaining access controls, managing stale data and implementing backup and disaster recovery (D.R.) systems to protect sensitive data. This helps to maintain compliance with European GDPR, HIPAA and others.
Most companies, 94%, are unable to get cyber insurance coverage in 2021 due to the high number of ransomware attacks. However, 83% of respondents said their organization has cyber insurance with ransomware protection. (Sophos)
Security Spending and Cost Statistics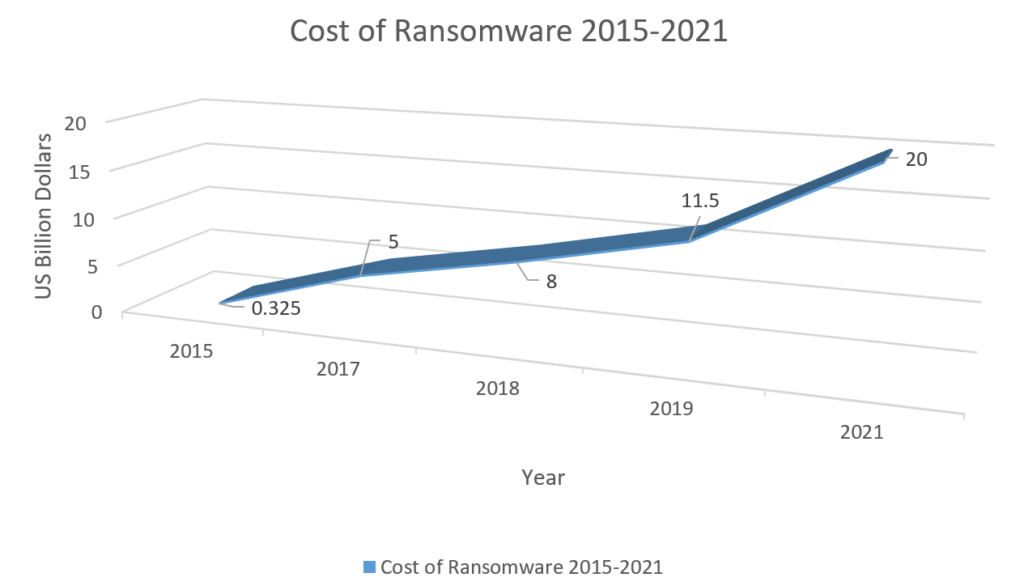 The rise in ransomware attacks with more advanced tactics has led to a surge in damage and recovery costs. This has prompted businesses to prioritize investing in cybersecurity with backup and disaster recovery to avoid crippling costs. Here are some key statistics: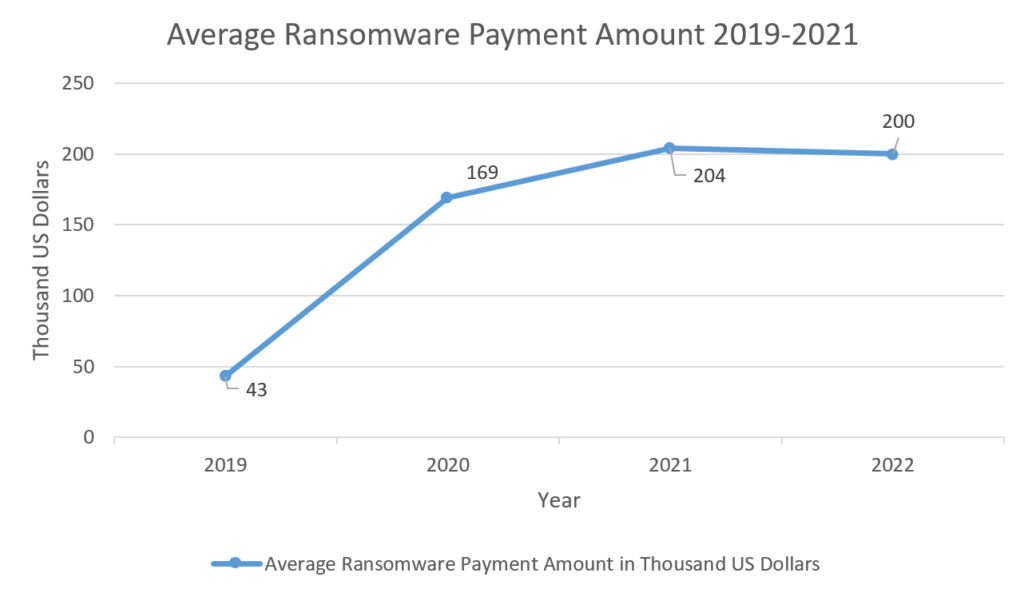 GDPR and Cybersecurity Statistics
Cybersecurity Statistics by Industry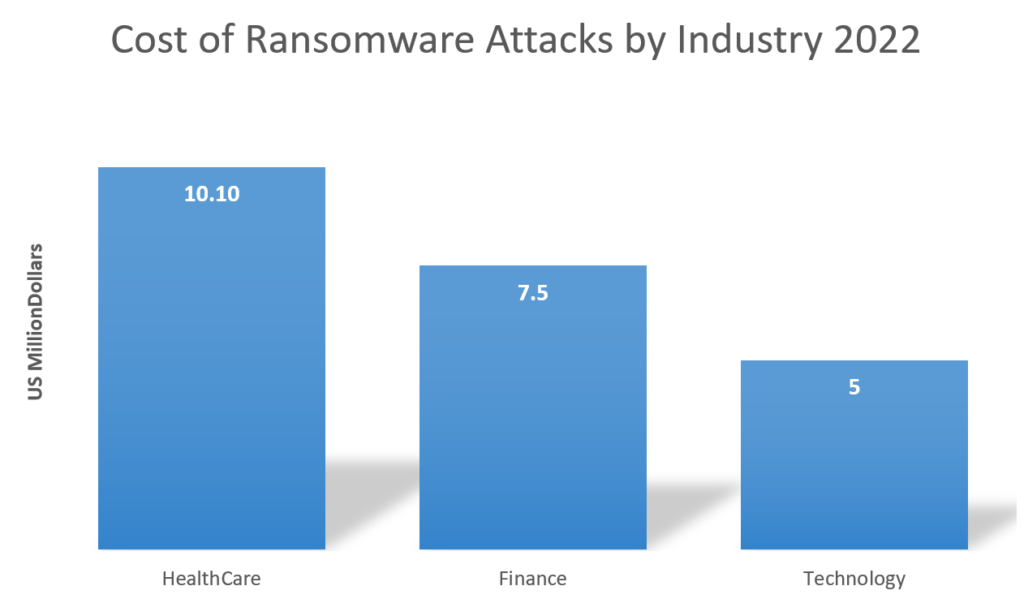 86% of private sector companies reported significant revenue and business losses from ransomware in 2021. (Sophos)
Here are cybersecurity statistics for different industries:
Ransomware Attacks and Breaches in Healthcare Industry
The cost of a data breach in 2022 was the highest in healthcare, at an average of $10.10 million, a 9.4% increase from 2021. (UpGuard)
Ransomware Threat in Finance: What the Numbers Show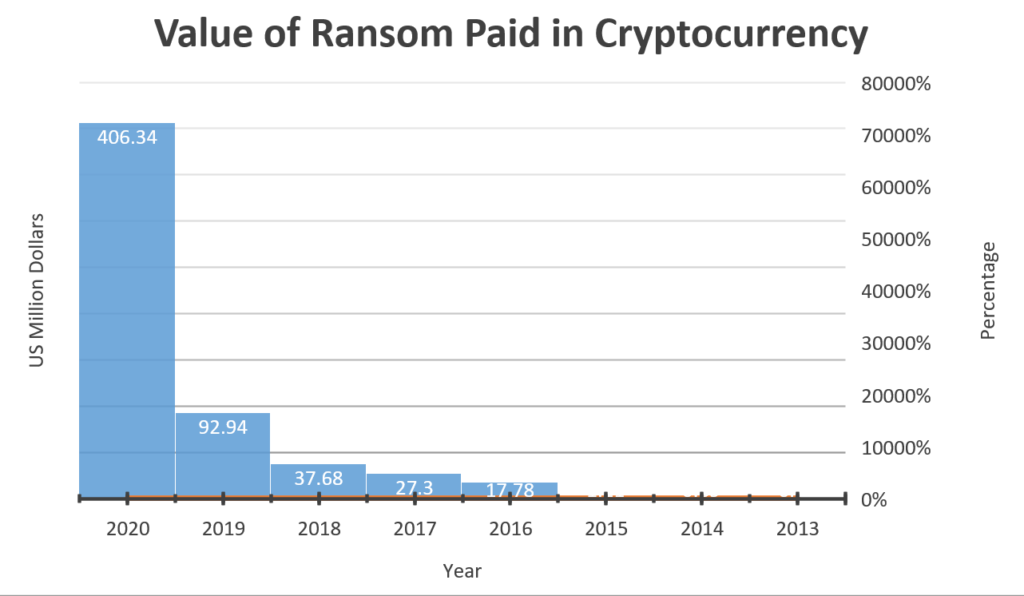 Ransomware Attacks on Government Sector – By the Numbers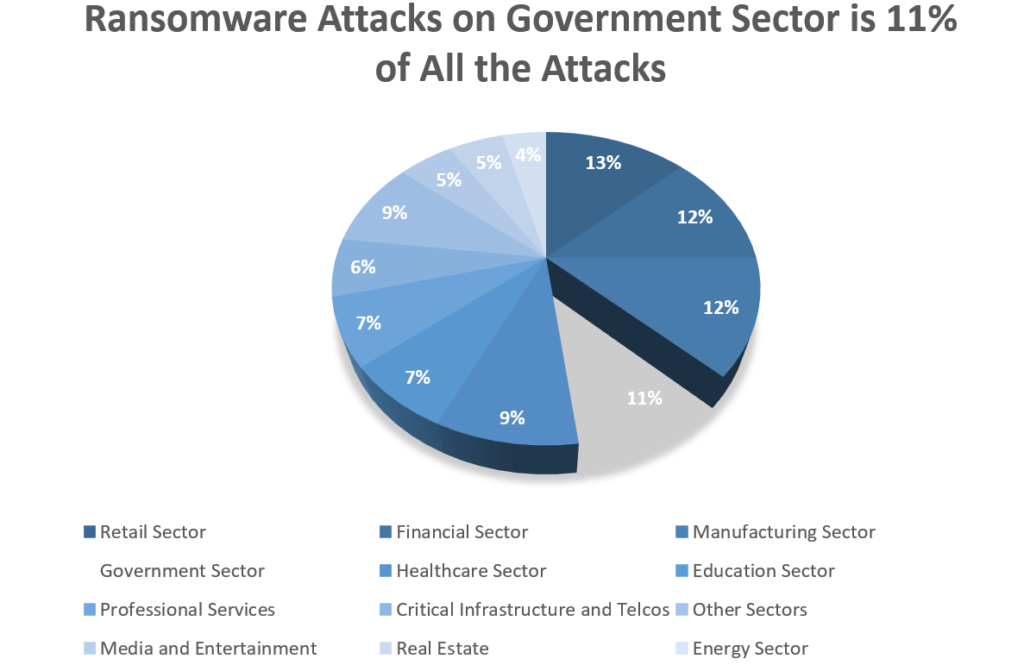 Ransomware Attack Forecast: What's in Store?
Cyber-attacks have caused massive disruptions and financial losses in recent years. The growing demand for cloud operations and convergence of IT and IoT has led to a heightened need for investment in cybersecurity infrastructure. As a result, cybersecurity is becoming increasingly crucial.
These trends are likely to persist into 2022 and beyond.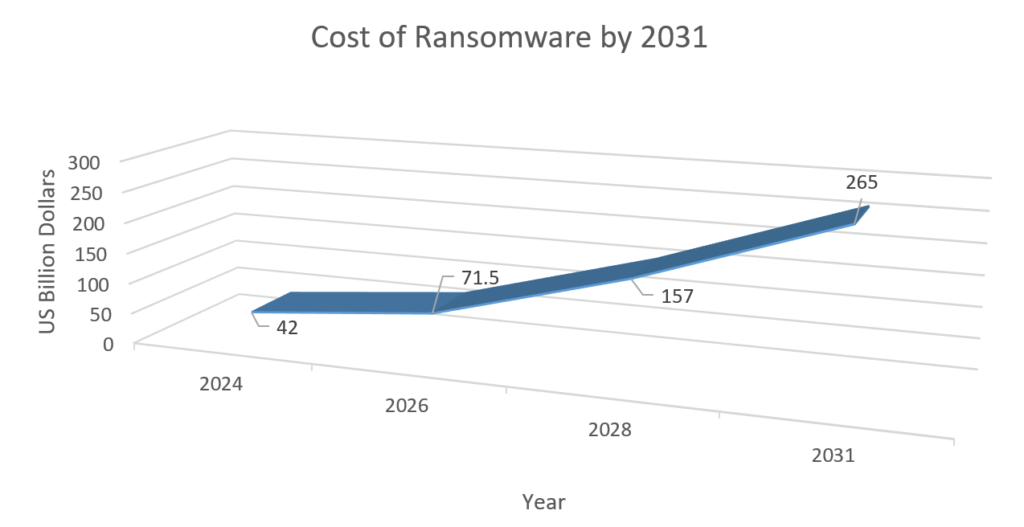 Prepare for Ransomware with Backup and Disaster Recovery (DR)
Regardless of the current state of ransomware and other cybersecurity threats, it is crucial for all organizations to prioritize all aspects of their cybersecurity, particularly backup and disaster recovery.
Ready to protect your critical data from ransomware attacks and ensure quick recovery? Contact us today to learn how StoneFly's backup and DR solutions, including air-gapped backups and immutability, can provide unbeatable protection and peace of mind. Let's start a conversation and find the best solution for your organization's needs.