StoneFly and Veeam Backup Solution for Office 365 in Cloud or on-premises
Email security is a critical need for companies no matter what their size. Today's threat landscape is littered with myriad ways that a single mistake can wreak havoc on an entire company's network or data. From viruses and spam to phishing and beyond to zero-day attacks like
Cryptolocker Ransomware
. There's a never-ending need for vigilance beyond those threats. Many companies are charged with protecting the sensitive data that they are trusted with whether that means stopping the data from being sent out with Data Loss Prevention (DLP) policies or by securing the data in transit via encryption.
Recently, many companies of all shapes and sizes decided to migrate their organizations' emails to Office 365. And as the businesses operate in the cloud, companies more frequently look for the steps to go further and backup their Office 365 environments whether on-premise or in the cloud.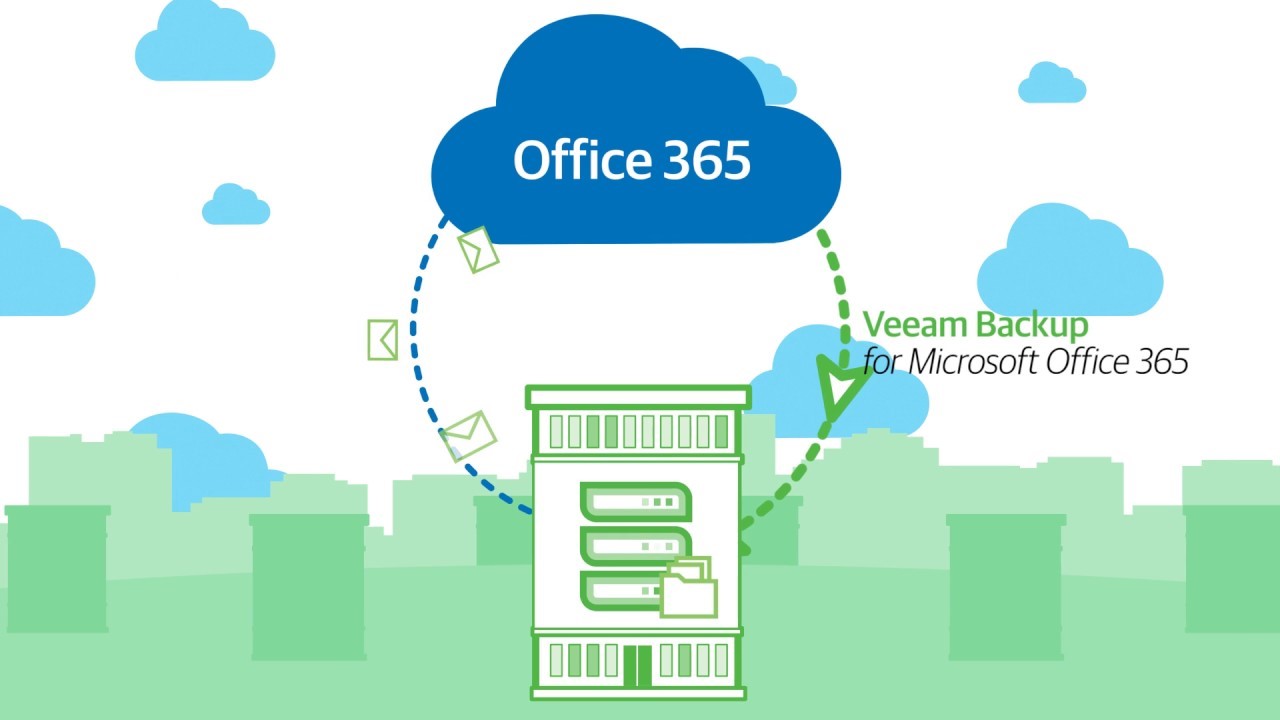 Protecting Office 365 from Data Loss
Having email backup is not only for compliance, i.e. because you need an archive for office 365 emails. But it's for recovering from a problem, from a disaster or a virus infecting a bunch of different mailboxes. It's important to be able to go back in time and recover to a point where things are good.
One of the components that make up office 365 is Exchange Online which provides hosted email services. One of the things that organizations traditionally struggled with whenever there is a need to backup emails to the cloud is the recoverability; the availability of multiple restore points and retention, to go back in time to do item level recovery for users or even provide any level of export for litigation purposes.
However, don't think you're getting that backup with Microsoft Office 365. Unless you backup you don't have one, and at some point the data will go away because of the terms of services. Besides, should anything happen to your emails, the problems will replicate to the entire Office 365 environment as well.
Office 365 archiving for compliance and retention
Only Backup is not enough. You need to archive data for multiple reasons ranging from compliance to legal search or legal exposure as well as optimization of your environment:
If your organization is in the health care, finance industry or is a public sector agency, then you require archiving. Companies in these areas need to comply with regulations like HIPAA, FINRA, Sarbanes-Oxley and the Freedom of Information Act (FOIA).
If your company gets implicated in a lawsuit, providing e-discovery data without an archiving solution in place will be a very tedious process.
If corporate policy or compliance requirements dictate that you keep emails even after an employee has left the company, maintaining that data with Microsoft means continuing to pay for the mailbox.
Old emails from exchange on-premise
If you've just moved off exchange on-premise what are you going to do with the historical emails? You still have to keep them for a while.
You want to archive everything that comes in and goes out. You want to make sure that the archive is immutable, in other words an end user cannot make an email disappear. With only backup you could easily delete an email before the mailbox gets backed up. At that point the email is gone. Whereas in an archive it's not gone. It's going to stay in forever depending on the compliance rules of the industry, business requirements and best practices.
The immutability component is very important so that the end users cannot modify the archives. They can delete all the emails in the inbox and those emails are gone from a backup standpoint but they will not be gone from an archive perspective.
If you go for archiving options in Office 365, you have to pay more. You have to upgrade your plan significantly and you may not get all of the features you need from a compliance standpoint. You need a specialized solution that only does one thing which is Backup and archiving for office 365. Great search, great archiving from the perspective of compliance, applying the right type of rules, the ability to search very efficiently and the ability to only let end-users access archived emails but not modify them ultimately or remove them from the archives.
Backup and Archiving go Together
Backup and archiving have some seemingly overlapping functionality. Achieving is for discovery and backup is for recovery. Archiving is designed to search across all mailboxes and provide the results of a set of search criteria. Doing a point in time restore from an archive would be very difficult. And conversely, backups are meant to provide data recovery. Trying to run the e-discovery search through backup revisions would result in many duplicates which in an e-discovery search are considered anomalies and must be individually explained. Both services provide specific and valuable functionality that warrants their concurrent use.
Complete, point-in-time backup and restore for Office 365
Veeam backup for Microsoft Office 365 provides organizations that are using it the ability to pull back down Office 365 email and data and back it up on premises or even back it up to another cloud. It offers all the restore functionality the Veeam Explorer for Microsoft Exchange provides in the backup and replication solution. That gives you individual item level recovery, mailbox recovery or export out to a PST file. Even though you are hosting your email online in exchange online office 365, you can still pull that down and back it up.
You can create archived jobs on an entire organization level depending on how large your environment is or you can get more granular and backup in an individual mailbox level. You can restore individual emails, entire mailboxes or alternate user restores.
If you are running in a hybrid environment where you have Exchange on-Prem as well as Exchange in the cloud. You can restore to either location using the Office 365 Veeam backup to migrate from environment to environment.
With Veeam Backup for Microsoft Office 365 you only pay for active mailboxes. You keep the legacy data in a compliant searchable format archive but you don't have a continued cost to maintain the archive.
The cloud archiving service provides the functionality to meet customers' compliance needs including the ability to create advanced searches within the archived data and use role based security to provide auditors access to search an entire domain and place legal hold on data. There is also flexible policy based retention to allow customers to age off their data should they need to do that.
Cloud to cloud backup provides a service that Microsoft themselves doesn't offer at this time; the ability to backup Exchange Online and OneDrive for business data or point in time restore. Organizations can now leverage the StoneFly Cloud connect to Veeam backup office 365 emails to public clouds of their choosing including the Amazon AWS Cloud or Azure Cloud for backup and retention.
Conclusion
Microsoft provides very narrow windows of opportunity to recover data that's been deleted. And even when you discover the mistake in time the process by which the data is recovered is typically very frustrating experience. With the Microsoft Office 365 Veeam backup solution with the StoneFly cloud connect the name of the game is simplicity. From creating backup sets to setting up retention policies and restoring data, the process takes no more than a handful of clicks.