Most IT professionals think about backups when they're considering data security, but the truth is that this isn't enough. Data can still be breached with a backup. The best way to protect your data from being stolen is by implementing air-gapping and immutability along with backups.
Air-gapping prevents hackers from accessing the data on your server remotely, while immutability ensures that no one can edit or delete any of your files after you've uploaded them to the cloud. This blog post will discuss these two methods in detail so you understand how they work and why they're necessary for protecting against cyberattacks.
Set up ransomware-proof air-gapped nodes for your Veeam backups with StoneFly DR365VIVA. Schedule a demo today! 
Why Backups aren't Enough to Protect Your Data from Ransomware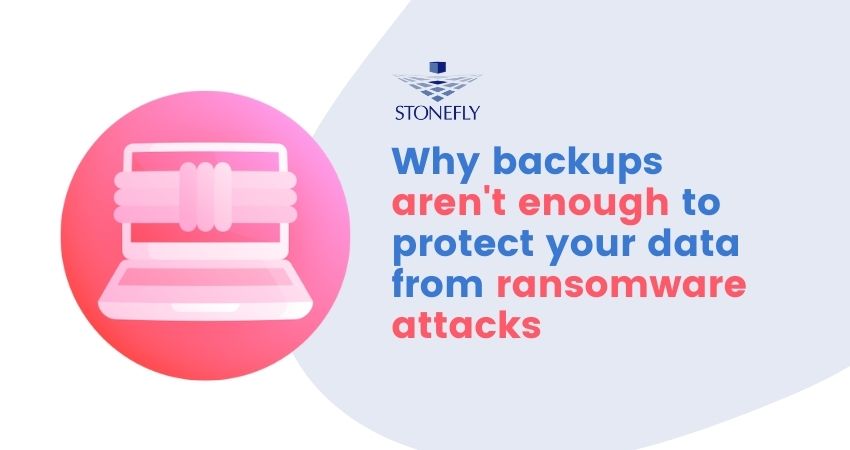 Here's a common scenario that all too often plays out in the IT industry: A customer contacts their IT provider, worried because they've been infected by a ransomware attack. What happened? Well, the customer had made regular backups. Yet now there seems to be no way for them to recover their encrypted data without paying for a decryption key—or maybe not even then.
What went wrong? In a nutshell, backups aren't enough anymore. We used to get excited when our customers introduced file-level backup as part of an overall strategy for backing up PCs and servers onto local disks or tape drives onsite before those digital assets were stored offsite. But those backups wouldn't have helped this customer in the ransomware attack scenario I mentioned above—and for a few reasons:
Backups may be encrypted along with everything else. In fact, most types of ransomware are built to specifically target backup files . Backups don't buy you much if they're encrypted along with everything else – actually, they just cost you more!
In many cases, backups require access to the same infrastructure that's been compromised by the ransomware infection in order to get them restored and running again on production systems. We've already seen how IT teams might not realize they've been hit by a malware infection until they're pinged about it by users directly or indirectly through AD/LDAP queries left running somewhere within net-connected company networks. Because backup servers, storage and tape drives typically need to be recovered onsite before they can be used again , there's no way a backup solution alone could have helped in this scenario.
In fact, the only person who has access to an IT team's backups is also likely the one who has been infected with ransomware! Let that sink in for a moment.
Why Do You Need Air-Gapped and Immutable Storage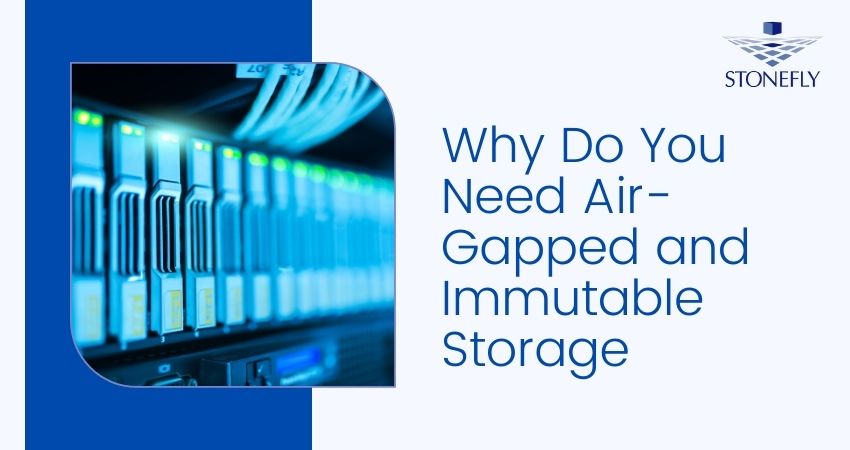 If you're still relying on backups as your primary means of protecting your resources in the event of data loss due to cyber-attack, it's time to get off them . It may seem convenient or cost-effective—and I'd agree that tapes are much cheaper than HDDs or SSDs these days—but they just don't provide enough protection anymore. And that means you need to be leveraging multiple layers of security if you want to keep your data safe from ransomware.
The future is in protection against cybercrime, not backup-centric restoration strategies: Forget the past and upgrade your protection strategy accordingly! Focus on preventing ransomware infections from happening in the first place — for example by using air-gapped and immutable storage volumes.
In the event of a ransomware attack, if you still have backups that are stored on your network, it's already too late.
Air-gapped backups air-gap the rest of the world from your data: When a backup server has no links to your production servers or storage systems, it can't be infected by malware that spreads via network connections and file shares. As air-gapping keeps your stored data offline by default, this makes it much more difficult for a ransomware infection to spread to your backups: You may be protected even before your IT team realizes they've been hit by malicious code.
Why is immutable storage important
Immutable storage is easier than you think: If you can't change data, it's more protected than if you can. An immutable storage volume is one that doesn't allow any data to be changed once it's been written to disk.
The data can be read, but not updated or deleted.
This means that even if you do get hit with ransomware, the ransomware cannot encrypt the data stored in the immutable storage volumes. It also helps prevent other types of malicious attacks from changing your resources such as virus and hackers. This means that, if the data is copied to immutable storage before any ransomware attacks your production systems and encrypts them, you don't have to worry about losing access to your most critical digital assets and backups.
How to Add Air-Gapped and Immutable Storage to Your Existing Backup System/Environment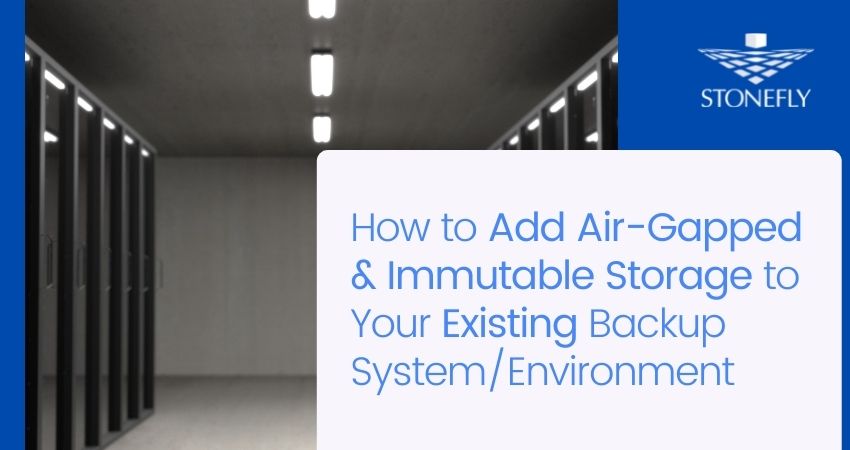 All StoneFly storage, HCI, and backup and disaster recovery solutions offer air-gapped and immutable storage as built-in features. If your existing systems are End of Life (EOL) and you're looking for a reliable upgrade, you can replace them with our purpose-built systems.
Alternatively, you can also choose to supplement your existing environment with our solutions rather than replace it completely. StoneFly offers two options to do so:
Physical 1U or 2U storage gateway hardware with your choice of hypervisor (VMware, Hyper-V, KVM, or Citrix) and StoneFly SCVM. Connect your servers, applications, and your choice of public/private cloud-based storage.
Software for organizations running any of the popular hypervisors such as VMware, Hyper-V, KVM, Citrix, or Nutanix AHV. You can install StoneFly SCVM, reclaim unused and idle storage resources and provision air-gapped and immutable storage.
In addition to air-gapping and immutable storage onsite and in the cloud, StoneFly solutions also include features such as: S3 object lockdown, file lockdown, immutable delta-based snapshots, encryption, AI-based ransomware detection and removal, and more.
How StoneFly Provides the Best TCO and ROI in the Market
Here's how StoneFly solutions deliver the best total cost of ownership (TCO) and return on investments (ROIs) in the market:
Reclaim Unused/Idle Storage Space
With StoneFly solutions you can repurpose unused servers and storage resources.
The physical storage gateway can connect to your idle servers and set up air-gapped and immutable storage.
The SCVM software can be installed on most popular hypervisors (VMware, Hyper-V, KVM, Citrix, Nutanix AHV) to reclaim and repurposed unused storage resources.
Complete and Turnkey Solutions
We deliver complete turnkey solutions because we don't want you to have to deal with the in-depth technicality. For you, it's plug and play because our systems are built, tested, and developed together to work as a complete solution. No extra management overhead expenses!
Premium Data Protection Features for No Extra Cost
Our hardware and software include an array of built-in premium features with no additional licenses or cost. What others offer as an optional upgrade for additional month-to-month or annual subscriptions, we offer as part of our standard licenses. Examples include immutable delta-based snapshots, WORM, S3 object lockdown, air-gap and more.
Spend less and get more in return!
24/7 Technical Support
Our technical support structure is designed to deliver same-day response. We know you're in a hurry and your customers can't wait. That's why we offer 24/7 support. No delays – No long wait times!
Best Price in the Market
Our solutions cost approximately 50% less than most "enterprise" solutions in the market. We deliver the best value at the best price.
Custom-Build Your Data Protection Solution as per Your Requirements and Budget
As opposed to offering pre-built fixed hardware/software, we customize solutions according to the needs and budget of our customers. This way, we ensure that you get exactly what you need and pay for what you're going to use, rather than overspending or getting little value despite spending more.
Conclusion
Ransomware is a growing problem and without air-gapping or immutable storage, your backups won't protect you.
If you want to save money in the long run by protecting yourself from ransomware, it is time for an investment into these data protection technologies.
Talk with our experts about how we can set up air-gapping and immutability for your business today!