Challenges:
Cost-effective storage for petabytes of data
Highly availability, accessibility, management & control of big data
IOPS intensive workloads with accelerated data growth
Solution:
StoneFly Super Scale Out (SSO) NAS Appliance (Petabyte NAS)
Results:
Highly scalable, cost-effective petabyte-scale data storage system
High performance NAS built for the most demanding read-write speeds
Optimized NAS storage utilization with state-of-the-art data services
Disruption-free access to mission-critical data volumes
Organization
Based in Canada, the organization is a leading provider of Iridium satellite communications, global flight tracking including live FDR streaming capabilities, and aircraft health monitoring solutions.
Industry
Aviation | Aerospace | High Tech | Aircraft Industry
Challenges
"Our services generate large volumes of data. The way we store, process and control this big data determines the quality of our solutions. That's why efficient storage has always been a necessity for us" said Oliver, the Chief Technology Officer (CTO) of the company.
They had petabytes of data distributed over multiple traditional solutions, tape drives, cloud solutions and other storage media. They experienced management difficulties, maintenance challenges and the cost implications were far greater than necessary.
Furthermore, each time they needed more storage, the only option for them was forklift upgrades. That was time consuming, costly and a rather inconvenient process.
"After an internal audit, we realized that our storage systems were slowing us down instead of helping us to compete in the market. Management was difficult, time consuming and maintenance was disruptive and costly" said Jake, the Data Center Administrator for the Aviation company.
They needed a solution capable of:
Simplifying data storage for petabytes of data
Reducing the cost of data storage
Enhancing storage resource utilization
Protecting data from threats like accidental deletion, malicious deletion, & ransomware attacks.
Solution   
In light of the challenges the Aviation company was facing, our storage experts suggested StoneFly's Super Scale Out (SSO) NAS storage solution built to store petabytes of data.
For their use-case, StoneFly built the following petabyte NAS system:
Three SSO-3605 NAS appliances
Three 24-bay 12GB SAS expansion units
All chassis fully populated with 7200RPM 16TB enterprise SAS drives for a raw storage capacity of 2880 terabytes (TBs) or 2.8 petabytes (PBs).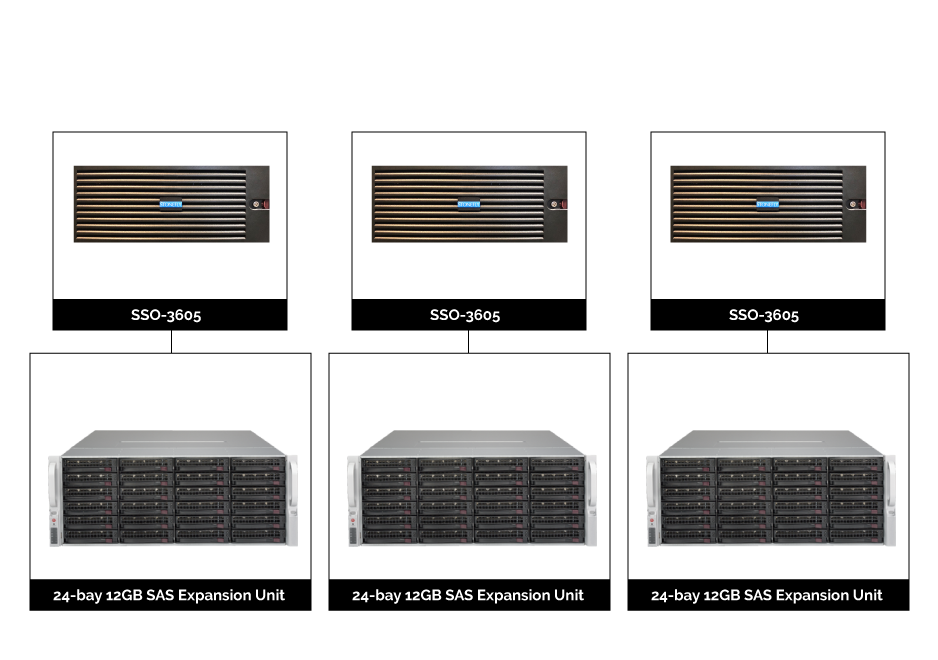 Highly Performance File Storage System
The SSO-3605 NAS appliances come with standard dual 10-core Xeon processors with the option to upgrade them to 28-core Xeon processors. The Aviation company had a focus on performance so they choose dual 28-core Xeon processors.
 In the above mentioned NAS system for the Aviation company, each SSO-3605 has built-in processors that means 3x the processing. Their total workload is aggregated across the three appliances nodes; this gives them better IOPS and faster read and write speeds than what they had setup previously.
Seamlessly Scalable Petabyte NAS System
In addition to the 24-bay expansion units, the StoneFly SSO NAS systems enables the company to add 256 drives per appliance node.
Currently, they've setup a total of 70 drives per appliance node, so they still have room for more than 500 enterprise drives in their NAS system. In other words, they can add petabytes of storage almost seamlessly when they need to simply by adding more expansion units.
This is far more convenient, quick and economical compared to the traditional mix of storage architecture they had previously.
Easy-to-Manage Data Storage Systems
The petabyte-scale NAS system is powered by StoneFly's patented NAS operating system: StoneFusion. With StoneFusion's unified management interface the data center administrators can provision, manage, monitor and control the NAS storage resources.
StoneFusion version 8.4.10 offers real-time graphical reporting about CPU usage, network usage, memory usage and several other factors that make data center management simpler and convenient.
For more information about StoneFly SSO NAS appliances, please visit the SSO NAS appliances page or contact our storage experts to discuss your data storage projects.  
Results
The StoneFly petabyte NAS system was a game changer for the Aviation company. Instead of managing a number of storage media, they had a purpose-built storage system capable of storing all of their workloads and deliver more value with enterprise data services.   
More Storage Capacity – Better Performance
The enterprise-grade petabyte NAS enabled the Aviation company to focus on their core business operations and stop worrying about the state of their data storage systems.
With our petabyte NAS system, the Aviation company is now able to work efficiently, quickly and deliver better services to more customers. In other words, they're now able to work more, take less time and perform even better.
"We feel empowered. Management has never been this simple. The storage system is fast and playing an effective role in our day-to-day operations" noted Oliver.
Secure Storage Provisioning with WORM & Immutable Snapshots
With services such as WORM (Write-Once Read-Many) and immutable delta-based storage snapshots, the Aviation company can secure sensitive information without having to worry about data loss, data corruption, malicious access and unauthorized edits.
WORM enables the Aviation company to set up storage repositories that can be written once and then read as many times as necessary. However, the data within WORM storage cannot be edited. This makes them very suitable for compliance and helps the Aviation company in facilitating customers with compliance requirements.
The immutable snapshot technology takes snapshots that consume less storage space and cannot be edited. This means that they're secure from threats like ransomware attacks, rogue software, malware, and viruses.
Store Your Data in a Reliable & Secure NAS System
Contact StoneFly
Phone:             +1 510 2651616
Email:            sales@stonefly.com