In-Memory Scale Out virtual Distributed Storage appliance
Enjoy unprecedented, performance, redundancy, and scalability.
StoneFly SIM™ "Super Scale Out" In-Memory appliances were designed for customers requiring a powerful Storage solution 300 times performance.
SIM™ "Super Scale Out" In Memory, nodes scale up to 36 drives and 288 TeraBytes of Storage per chassis, up to 256 drives per node, and easily Scale Out to multiple nodes on demand.
Perfect for computation Frameworks such as Spark, Hadoop, Flink, Apache Hbase, Apache Zeppelin and Presto managing large quantities of data within a single global namespace and a single file system.
Deliver breakthrough in-memory speed and reliable online transaction processing.
The Scale Out feature allows you to "Scale Out" as your business grows by adding nodes without losing performance. Users can work with frameworks of their choice. Additionally, SIM enables new workloads across different Storage systems.
Various frameworks can share data efficiently among each other. SIM's unified namespace enables applications to interact data in its Storage system at memory speed. This future proven architecture enables users to extract value from data in Storage faster.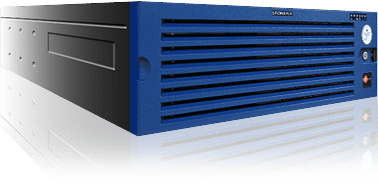 Being memory centric design and being the central point of access, residing between Storage systems and computation frameworks and applications such as Apache Spark or Hadoop MapReduce. For user applications and computation frameworks, Fast data access, facilitating data sharing and locality between jobs, regardless of whether they are running with the same computation engine. As a result, an order of magnitude speed up for those big data applications while providing a common interface of data access. Connecting  the gap between big data applications and redefines the set of workloads available to utilize the data. Usable bandwidth increases as new nodes are added. Best of all, you can manage multiple nodes with just a single user interface.
Frameworks Support
Your choice of Spark, Hadoop, Flink, Presto and Apache.

Unified Namespace
Single unified namespace provides applications to same file system APIs to access data.
Memory Speed
Tiered Storage allows usage of any media other than memory such SSD, SAS and others.
Customized Data Management
Setting file permissions manually is a tedious task, integrated with standard authentication methods like Active Directory in order to enable security settings to be delivered via policy and centrally managed.
Run Everywhere
Provides the ability to run in cloud, on-premises or Hybrid environment.
Framework Flexibility
Supports different frameworks such as Spark, Fink, MapReduce and Its own file system API
Tiered Storage
Tiered Storage allows usage of any media other than memory such SSD, SAS and others.
Hadoop compatible
Fully compatibale with Hadoop file system. Any application can run without any code modification.
Linear Scalability
It scales to thousands of nodes.
The award-winning StoneFusion® Network Storage Platform (NSP), StoneFly's patented storage networking operating system architecture, brings in block level storage intelligence to the IP network core. Featuring iSCSI, Fibre Channel and Scale Out NAS technologies, StoneFly delivers all the benefits of enterprise managed SANs.