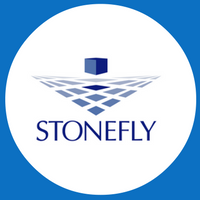 This page has moved. 
Our apologies! The page you are looking for has most likely been moved.
We recently redesigned StoneFly.com, so it is very likely the address for the page you are trying to access has changed.
You can write to us regarding your query or simply use the menu to find what you are looking for.
StoneFly is a pioneer in the creation, development and deployment of the iSCSI storage protocol. Beginning with its registration of the iSCSI.com Internet domain name in March 1996, StoneFly has made iSCSI into a standard which is now used by IT professionals around the world.