StoneFly UDS-HA Deduplication Gateway
The StoneFly UDS-HA™ Cluster "Unified Deduplicated Storage" High-Availability SAN Deduplication Gateway Appliance allows businesses to easily convert their existing Fibre Channel, SAS, Infiniband, or iSCSI Storage (EMC, NetApp, Dell, etc.) into unified iSCSI or Fibre Channel SAN Storage with optimized data deduplication for increased Storage efficiency.
UDS-HA Deduplication Gateway is an ideal solution to consolidate all of your server and Storage systems into one easy to manage, fully redundant, highly available modular appliance. Use of virtualized operating systems allows for complete hardware utilization and considerable reduction in power/cooling costs. UDS-HA flexibility replaces the "fixed hardware model" of the past with on-demand resource allocation (such as CPU, memory, storage, etc.) based on your application needs. UDS-HA comes with a Virtual SAN Cluster (SCVM™) and the ability to create additional virtual Storage or virtual servers as needed.

Assign or provision all or part of your existing Storage (EMC, NetApp, Dell, etc.) through your existing or preferred available interface (iSCSI, FC, Infiniband, SAS). From this Storage pool you can create new volumes for all of your hosts. These new volumes are shown in the diagram as V1, V2, V3 and V4.
These new volumes (V1 – V4) are now part of StoneFly Storage and can now be encrypted, mirrored, replicated, data deduplicated, thin provisioned, etc.
Hosts can now enjoy volumes V1 – V4 through StoneFly iSCSI (or optional FC SAN) and enjoy all of its features. You have turned a simple volume into a managed volume and saved a lot of money!
Additional Virtual Machines (Windows, Linux, StoneFly SCVM, etc.) that are VMware compatible can easily be installed on the UDS-HA Deduplication Gateway Cluster Appliance to further reduce hardware costs and datacenter overhead.
StoneFly UDS-HA™ Cluster "Unified Deduplicated Storage" High-Availability SAN Deduplication Gateway Appliance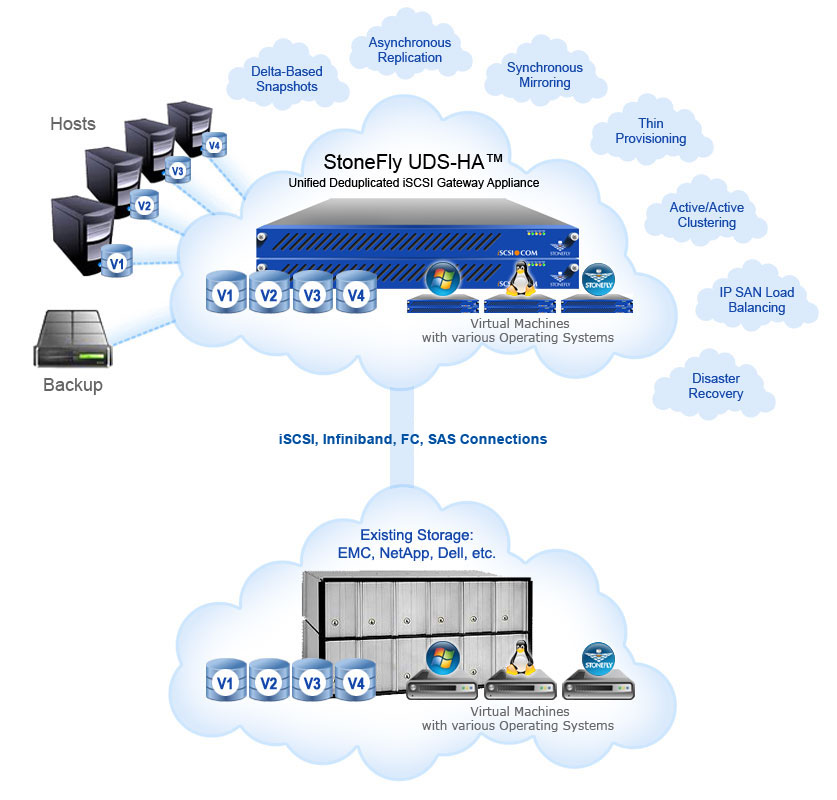 StoneFly SCVM™ 8.0 Virtual SAN Storage Appliance on Each Cluster Node
Logical Volume Creation and Patented Advanced Storage Virtualization Services
200 iSCSI Volumes Supported with 1022 Concurrent Host iSCSI Sessions
iSCSI Port Teaming, Failover and Load-Balancing
Volume-Level Access Control and Dynamic Volume Management
Support for iSCSI, SNMP Traps, UPS, Nagios, RAID Monitoring, Call Home
System-Wide Graphical Performance and Utilization Reporting
Advanced Report Management
Automated Online Volume / Storage Expansion
StoneFly StoneFusion 8.0 Advanced Features Package on Each Cluster Node
StoneFly Active / Active Clustering Services with Host and SAN Load Balancing, Seamless Failover and Failback Operations
StoneFly Snapshot Services with 2520 Delta-Based Snapshots per Subsystem
Mountable Read-Write Snapshot Volumes
Snapshot Schedule Utility, Command Line Interface Utility
StoneFly Real-Time Synchronous Mirroring of SAN Volumes and Nodes (Campus Mirroring)
Multi-Site/Multi-Appliance Replication and Unified Central Management System
Optimized Block Level Parallel Data Deduplication with High-Performance Index Engine
Thin Provisioning with Space Reclamation
Tiered Storage Architecture with Hardware and Software Support
Available Software Upgrade Options
Asynchronous Replication (One-to-Many & Many-to-One)
Hardware-Enabled Block Level AES 256 Volume Encryption
NAS with Support for CIFS/SMB and NFS Protocols
Fibre Channel SAN Target (License Bundled with Choice of 4Gb/8Gb/16Gb HBAs)
VSS Support
StoneFly i7000vd-D Dual 1U, StoneFly i7100vd-D Dual 2U or StoneFly i7200vd-D Dual 3U Storage Concentrator Cluster
Choice of Space-Saving 1U, Low-Profile 2U, or Full-Height 3U Storage Concentrators
Hot-Swappable Cluster Nodes with Failover and Failback
Choice of Dual Hexa-Core (12 Cores), Dual Octa-Core (16 Cores), Dual Deca-Core (20 Cores), or Dual Dodeca-Core (24 Cores) Storage Virtualization Engines per Cluster Node
Up to 1TB Data Packet and Command Queuing Cache for SSPP® per Cluster Node (64GB Minimum)
Two Hot-Swappable OS Drives Mirrored at RAID 1 with Cache Battery Backup in each Cluster Node
Supports 1Gb Copper; 10Gb RJ-45/CX4 Copper, SFP+, SR/LR Optical; 40Gb QSFP+, CR4 Copper, SR4/LR4 Optical
One Gigabit Management Port per Cluster Node
Supports Infiniband, 3Gb/6Gb/12Gb SAS, and 4Gb/8Gb/16Gb FC External Storage Expansion Kits to Easily Convert Your Existing Storage Appliances into Deduplicated iSCSI Storage
Intelligent Platform Management Interface (IPMI) v2.0 with KVM-Over-LAN
Integrated DVD+/-RW Optical Drive
Redundant 80-PLUS® Certified Hot-Swappable Power Supplies
Choice of VMware vSphere Essentials Kit, vSphere Essentials Plus Kit, vSphere Standard or vSphere Enterprise Plus
Dynamic Storage Expansion
Operating Temperature: 10° to 35°C (50°F to 95°F)
Relative Humidity: 8 to 90%, Non-Condensing
The award-winning StoneFusion® Network Storage Platform (NSP), StoneFly's patented storage networking operating system architecture, brings in block level storage intelligence to the IP network core. Featuring iSCSI, Fibre Channel and Scale Out NAS technologies, StoneFly delivers all the benefits of enterprise managed SANs.