Enterprise NAS Storage Solution for Big Data Storage Challenges
Initially, big data was restricted to particular industries. In the early days of big data, the healthcare industry, finance industry and life sciences had to deal with it. Now however, big data is an integral part of every enterprise. This makes big data storage challenges larger in scale and important than ever before.
StoneFly's enterprise NAS appliance is one of the best solutions to address big data storage challenges. This article provides a brief overview about:
What are big data challenges?
How scale out NAS appliances address these challenges.
What is Big Data?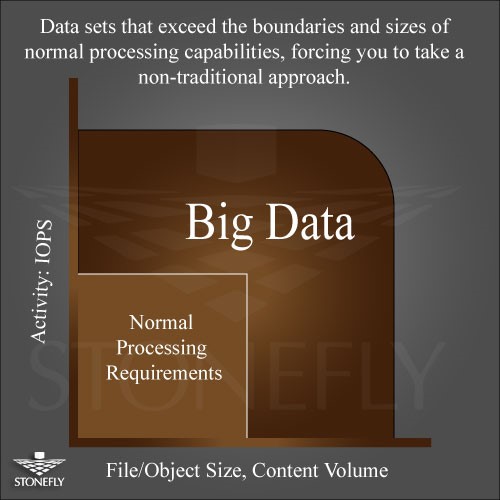 StoneFly defines Big data as "Data sets that exceed the boundaries and sizes of normal processing capabilities, demanding non-traditional solutions".
As the industries that generate big data are diverse, similarly big data can exceed the boundaries on multiple fronts. You may have to deal with data sets with an exceedingly large number of random IOPS or with big multiple Gigabyte file sizes or you could just be storing and managing massive amounts of data.
Big Data & Traditional Storage
To be fair, traditional storage can handle big data but at a cost. For instance, to handle large scale data you need an equally large traditional scale up storage system capacity and throughput. Big data exceeds these physical boundaries of capacity and performance that these individual systems were designed to support. The average utilization rate of traditional storage lies within 50% to 55% range; that ends up being a lot of footprint energy and management time dedicated to empty spinning disks.
In case of streaming data, traditional storage may require lots of short stroked drives and may require time spent laying out files in order to increase bandwidth. This too results in the footprint energy problem and consumes time.
On the other hand, when enterprises take a non-traditional approach and deploy scale-out NAS; they can handle big data efficiently in a single scalable system.
Big Data Challenges
Big Data used to be restricted to specific industries in the beginning, like media and entertainment, life sciences, manufacturing and design. Now big data has become an integral part of the enterprise resulting in a versatile range of challenges for IT experts.
IT experts have to deal with the following questions on a daily basis because of big data challenges:
How do I deal with the growth of unstructured data at an optimal cost?
How can I maintain data protection at scale?
What if I run out of floor space?
How do I cost effectively automate the management and optimization of the infrastructure at scale?
This is not the full extent of questions as the list can go on to containing management costs, managing and optimizing data placement, reporting and analysis of storage usage; it ends up being a really long list.
Even without big data, IT experts have to deal with similar challenges. With big data, all of these challenges of managing unstructured data are magnified.
Enterprise IT Environments
To improve productivity and efficiency, enterprise IT is looking to consolidate, virtualize and share the environment. In order to support big data in enterprise IT, enterprises will need a system that scales yet maintains a single system image: a scale-out platform. For consolidation and virtualization enterprises have to employ multiple virtual servers for different applications, departments or in the case of service providers even for different customers; all sharing the enterprise storage environment. And these requirements in turn make data security and data protection that much more important.
In such an enterprise IT environment no disruption or downtime is tolerable that's because all users sharing the capacity in the virtual and cloud environment get affected by it. As many of these IT environments are virtualized, it's important to ensure your storage solution is integrated into the virtual environment. This storage solution integration is important because it gives you end-to-end visibility and control.
Scale-Out Network Attached Storage & Big Data
To summarize the requirements of big data in terms of storage, the list comes out as follows:
Data Protection
Integration in Virtualized environments
Ability to support high IOPS (Input / Output Per Second)
Reduced Latency
Data Security
Manageability
Data Recoverability
Data Availability
This makes scale-out NAS appliances the best solution to deal with big data storage challenges. StoneFly's innovative NAS appliance is capable of addressing all of the above requirements and does a lot more.
StoneFly's NAS storage is capable of:
Scaling up and scaling out. Enterprises can add disk drives to a node to increase capacity; however, this does adversely affect performance. This is called scaling up. Scaling out is when additional nodes are added. This not only increases the storage capacity but also improves performance by distributing the load over the entire storage structure.
Protecting data using advanced AES-256 bit encryption at rest and if cloud connect services are used, it is protected using SSL (Secure Socket Layer).
Integration in virtualization environments as every StoneFly appliances comes with cloud connect services.
Supporting IOPS intensive workloads efficiently by distributing the workload over the number of nodes.
Efficient data accessibility due to innovative features and hardware such as flash memory.
Simplified management due to StoneFly's software defined storage solution SCVM interface.
Using replication and disaster recovery (DR) services to ensure that enterprise big data is always recoverable and available.
These attributes make scale out NAS appliances the best choice for unstructured big data storage and management. Enterprise IT environments will need such appliances for applications such as large-scale file shares, home directories archived on-premise, secure syncing and sharing and big data analytics. And with access to enterprise cloud storage, they can ensure data recovery by using backup and disaster recovery services.
Only by building an environment based on big data challenges will enterprises be able to move forward.