Transform your Data Center with the StoneFly DR365VS & Veeam
The acquisition of a reliable backup and disaster recovery plan is a challenging task. Traditional backup infrastructure is costly and requires additional
resources. Due to the limitations of a traditional backup infrastructure, many
enterprise requirements remain unattended.
However, StoneFly's appliances are capable of transcending these limitations by providing innovative solutions that facilitate backup in the local infrastructure and also provide cloud connect services. These solutions can be used to backup to Azure or to AWS (Amazon Web Services). Therefore, you can have multiple copies of backups at different reliable locations ensuring that your data is always recoverable.
One similar customer-oriented solution provided by StoneFly is in partnership with Veeam. This solution is a direct result of various customer feedbacks and is meant to address a diverse range of data requirements.
StoneFly's DR365VS + Veeam Availability Suite
The StoneFly DR365VS backup appliance provides complete hyper-convergence. It consolidates optimized software-defined networking and computing power of the StoneFly USS with Veeam availability solution. DR365VS offers operational efficiency and adaptability to workloads in the enterprise data center.
Veeam settles perfectly with StoneFly appliances to provide data availability protection and disaster recovery (DR). Using Veeam's unique, native snapshot integration, Veeam Availability Suite delivers efficient backup and replication to efficiently lower the Recovery Time Objective (RTO) and Recovery Point Objective (RPO) of less than 15 minutes for all applications and data.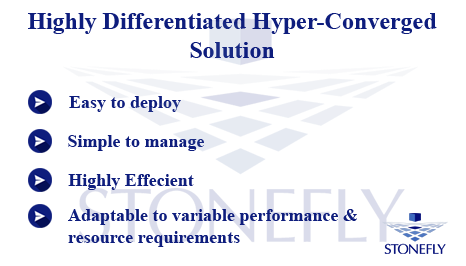 Customer feedback and StoneFly's innovative efforts resulted in a highly differentiated hyperconverged solution that is:
Easy to deploy.
Simple to manage.
Highly efficient.
Adaptable to variable performance & resource requirements.
Veeam leverages StoneFly's innovative solutions to achieve granular file recoveries. This is done using Veeam's agentless application which is compatible with backup technologies such as Microsoft Active Directory, Exchange, SharePoint, Sequel and Oracle. This integration facilitates instant VM (Virtual Machine) recovery of entire applications and data directly from StoneFly's storage snapshots. This leads to more than double the backup performance as compared to standard VMware API backups.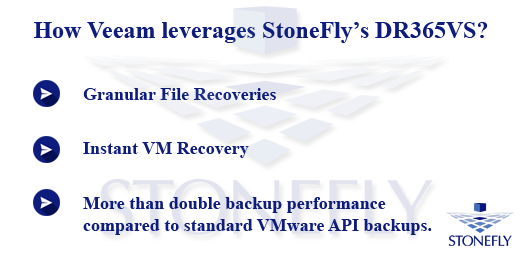 Renovating IT operations with Complete Hyper-convergence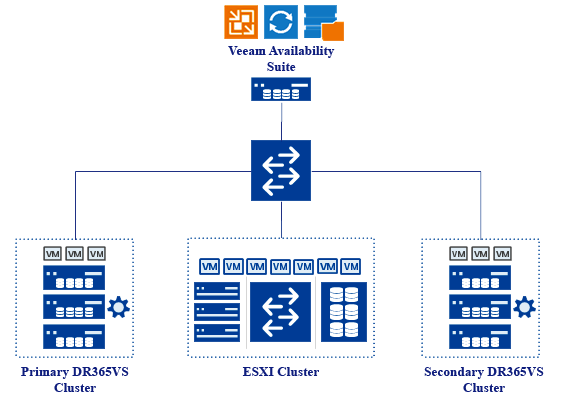 The StoneFly DR365VS + Veeam Availability Suite provide the customers with:
Single site backup and replication of primary DR365VS cluster.
Remote Office Branch Office (ROBO) remote replication.
Multi-site data backup
Cloud backup and replication.
This innovative solution effectively reduces RTPOs (RTOs and RPOs) for all applications and data. Customers gain backup and recovery at VM and item-level for instant recovery.
DR365VS dynamically places data in server memory cache and capacity tiers to maximize application performance and redundancy. Through real-time data deduplication and compression storage costs are kept at minimum. These capabilities result in optimal performance and cost efficiency without additional complexity.
When modernizing your datacenter
with the StoneFly DR365VS, it is important to also modernize your data
protection environment. That's because legacy backup tools were not meant to
protect virtualized application workloads. This is noticeable as they are often
harder to manage, have higher cost of ownership and cannot deliver the data
protection requirements of highly dynamic virtualized environments. That's
where Veeam comes in as Veeam was developed with virtualization in mind as a
completely agentless architecture, that is:
Cost Effective.
Easy to deploy and manage.

Rapid backup and recovery enabled for high
availability. 
Conclusion
Conclusively, the combination of the StoneFly DR365VS and Veeam Availability Suite promises hyper-convergence. It delivers customers a flexible and scalable architecture with data availability requirements that ensure data is always available and recoverable. This makes this combination an essential part of every comprehensive disaster recovery plan.