Network Attached Storage (NAS) for Unstructured Big Data
Network Attached Storage (NAS) appliances are the best storage option for unstructured big data. Gartner Research suggests that in the coming five years, the global data footprint will grow exponentially and 80% of this additional data will be unstructured. While previous operational models relied on structured data; today, organizations seek to extract value and gain competitive advantage from their unstructured data.
Unstructured data is everywhere. In fact, most enterprises conduct their operations around unstructured data. Similar to structured data, unstructured data is also either machine generated or human generated. As unstructured data constitutes most of the data flowing through an enterprise IT environment; effectively analyzing and using this data provides enterprises the much needed edge to compete in the digital market.
StoneFly offers the enterprise-grade storage technology that can easily store, manage and assist in the analysis of unstructured big data: Enterprise NAS. Before we explore StoneFly's innovative storage solutions, let's explore where exactly does unstructured big data comes from.
Unstructured Big Data: Where does it come from?
As mentioned earlier, unstructured big data is either machine generated or human generated.

Here are some examples of machine-generated unstructured data sources:
Scientific Data: This includes data that supports research environments like media data in the form of images, videos, atmospheric data, genome sequences etc.
Security Footage: The data collected by surveillance systems like dashboard cameras, body worn cameras and security cameras.
Internet of Things (IoT) Data: IoT devices, within a network, generate a pool of unstructured data required to process operations. This includes temporary data required for immediate processing and data generated by the device; varies depending on the devices, the network and its application.
Satellite Images: This includes weather data or data collected by the Government in its satellite surveillance imagery. (Similar to Google Earth)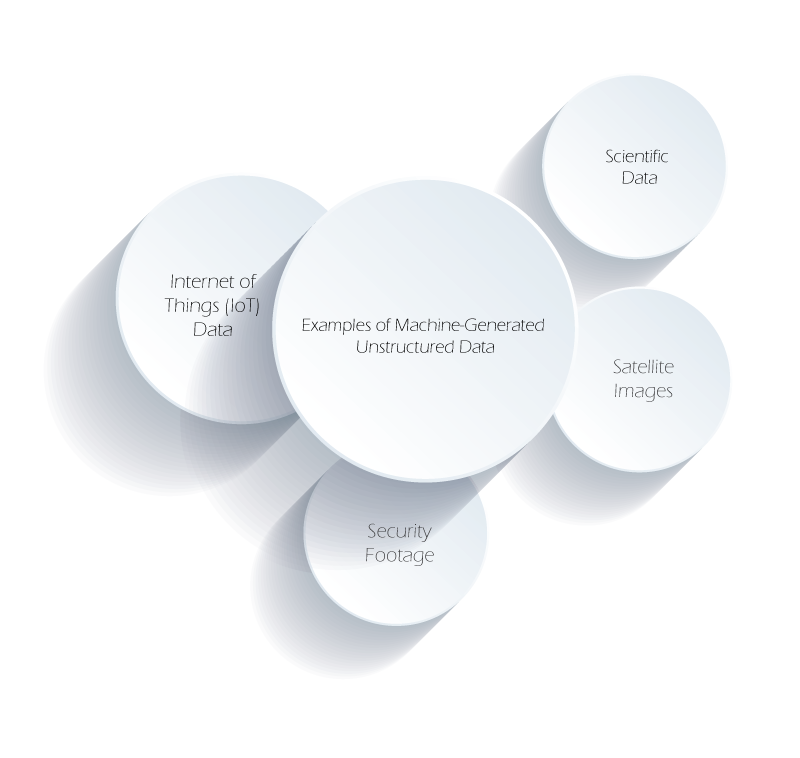 Here are some examples of human-generated unstructured data sources:
Internal Documents: This includes all of the text files created within an organization including documents, sheets, survey results, email data and more. As a matter of fact, enterprise information actually represents a large percentage of the text based information in the world today.
Media Data: This includes media files like videos, photographs, images, graphic and design resources.
Website Content: This data is generated by any site delivering unstructured content, like Youtube, Flickr or Instagram.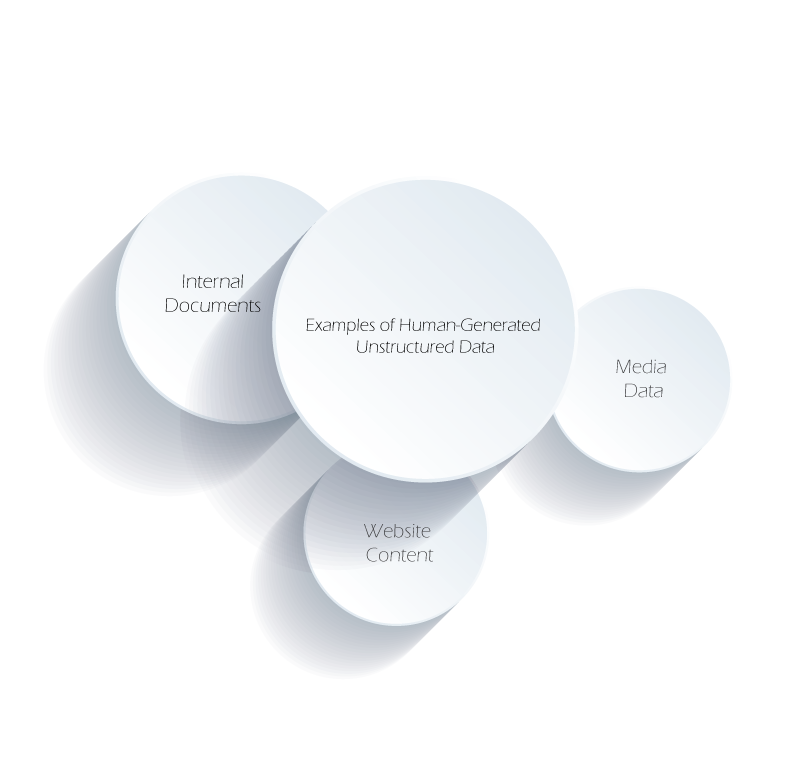 You might find yourself wondering: "Okay, so that's where Unstructured Big data comes from but where does a NAS appliance fit into this?"
Network Attached Storage appliances are the simplest, easiest and cost effective way of storing, handling, and analyzing unstructured big data. Conventional Network Attached Storage (NAS) appliances are limited in scalability and provide a tool or two for data management. However, StoneFly's battle tested and innovative technology is different. How? Let's look into that.
StoneFly Network Attached Storage (NAS): Best Storage Option for Unstructured Big Data
StoneFly's Network Attached Storage (NAS) appliances have been addressing enterprise data storage requirements for over a decade now. The storage solution is purpose-built for enterprise-grade data storage. StoneFly's NAS appliance adopts an effective information management approach instead of the conventional store-everything model.
StoneFly recognizes that it's important to gain visibility; as you cannot control what you cannot see. In order to accomplish this, StoneFly's built-in software SCVM™ provides a simpler and customized management console. Under a single global namespace, enterprise IT environments can access, manage and control their workload volumes with ease.
StoneFly's Network Attached Storage (NAS) is by far the easiest type of storage networking appliance to implement. To facilitate a diverse range of enterprise requirements, our Network Attached Storage (NAS) appliances are equipped with enterprise-scale data services and features that enhance the utilization rates, deliver greater value for money experience, and optimize enterprise processes.
Enterprise-grade Features of StoneFly Network Attached Storage (NAS)
StoneFly Network Attached Storage (NAS) is equipped with a number of a data services and features. These include, but are not limited to, the following:
Unlimited Scalability
StoneFly Network Attached Storage (NAS) appliances can start from a few Terabytes (TBs) and scale-out to Petabytes (PBs) of storage. The storage appliance delivers Dual scalability: Performance and Capacity. Using the scale-out NAS configuration, enterprise IT environments can choose to scale-out storage capacity and performance. With the addition of nodes, storage capacity increases while the workload volume is aggregated over the total number of nodes. This enhances the computation capabilities of the Network Attached Storage (NAS) system; thereby increasing performance as well as storage capacity.
Enterprises can also choose to scale-up their storage resources. This expansion only increases the storage capacity via addition of hard drives.
StoneFly Network Attached Storage (NAS) appliances leverage StoneFly's award winning StoneFusion™ software to make on-premises data storage simple and effective. StoneFusion software provides a single global namespace that enables IT administrators to easily access, control, and manage their workload volumes. IT staff can customize their dashboards and setup advanced reporting to make sure mission-critical data is always accessible.
Cloud Connect Technology
Unstructured big data is best stored in on-premises Network Attached Storage (NAS) appliances. However, if all of it is kept on-premises then, that yields greater CapEx and OpEx costs. With the integration of enterprise cloud storage technology, IT environments can choose to move their workloads to cost effective cloud storage tiers. With StoneFly's partnerships with public cloud service providers (like Microsoft Azure, Amazon Web Services (AWS), Google etc.), enterprises can move their data to their preferred enterprise cloud storage.
StoneFly's partnership with Microsoft Azure enables our customers to setup data storage in the Azure data center of their choice.
Encryption Technology – Enterprise-grade Data Security
In order to ensure enterprise data remains secure within our Network Attached Storage (NAS) appliances, StoneFly uses AES 256-bit (optional) encryption technology for data at rest. If enterprise IT environments choose to integrate cloud connect services with their NAS appliance; StoneFly protects data during transit using SSL/TLS tunneling.
Storage Optimization – Deduplication, Thin Provisioning, and Compression
To reduce the CapEx and OpEx expenses, StoneFly Network Attached Storage (NAS) appliances deliver a number of services that optimize the storage utilization rates. These services include deduplication, thin provisioning and compression. With deduplication unnecessary duplication of data is removed, compression reduces the data footprint while thin provisioning facilitates IT environments to leverage their existing resources effectively.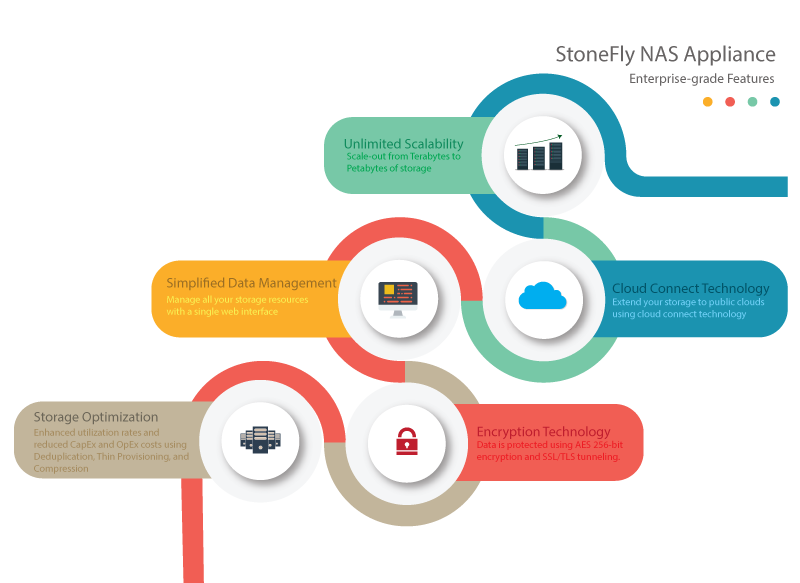 This isn't the complete list of the enterprise-grade features of StoneFly's Network Attached Storage (NAS) appliance. To learn more about the features of our NAS appliance: click here.
Conclusion – The best fit for Unstructured Big Data is StoneFly's Network Attached Storage (NAS) Appliance
Unstructured data is expected to grow exponentially. In order to maintain a competitive edge, enterprises seek to manage and analyze this unstructured data. With its limitless potential to grow, unstructured big data demands storage technology that can grow proportionally. This requirement makes enterprise Network Attached Storage (NAS) the best fit for it. As StoneFly's NAS appliances can scale-out without limitations, enterprises can use the enterprise-grade storage appliances to address their unstructured big data requirements.
By leveraging the innovative software that accompanies StoneFly's Network Attached Storage (NAS) appliances, enterprises can effortlessly manage and control their unstructured big data.