Ransomware is a continuously lingering threat to healthcare IT environments. While healthcare IT environments focus on data mobility and simplified data management, the threat of a ransomware attack is too big to ignore.
In May 2017, the massive ransomware (WannaCry) outbreak targeted different organizations/businesses including 16 Hospitals in United Kingdom (UK). The cyber-attack crippled healthcare services and brought service provision to a standstill. Doctors did not have access to patient information, care takers did not have access to schedules; it became a huge mess very quickly. If these hospitals had setup enterprise-level backup and disaster recovery solutions then the entire situation could've been resolves within minutes.
Read more about WannaCry ransomware and data protection from it in this article: After WannaCry. What businesses need to withstand the Ransomware Era.
StoneFly's innovative backup and disaster recovery appliance – DR365™ can effectively protect important patient data and operational data for healthcare industry from cyber-attacks and threats like ransomware, malware, accidental or malicious deletion, natural disasters etc.
How DR365™ makes IT environments in Healthcare Industry Ransomware-proof
By setting up DR365™ IT environments in the healthcare industry can easily brush-off disasters like ransomware, malware, accidental or malicious deletion etc. as a mere inconvenience. Equipped with enterprise-level data services like delta-based snapshots, synchronous and asynchronous replication, deduplication, thin provisioning, erasure coding and more – DR365™ delivers:
Active Protection from Ransomware – With its enterprise-level software DR365™ provides active protection from ransomware. The software proactively prevents the need to recover and protects data from ransomware attacks by detecting and blocking suspicious changes to data, backup files and the backup agent.
DR365™'s backup software possesses complex multilayered security architecture. While it is mainly focused at protecting data from ransomware, it also provides protection against other attack vectors that take aim on backup agents as well.
Automated Physical Server(s) Backup Images – DR365™'s backup engine automatically creates backup images of physical servers based on pre-configured user-defined policies. These images can then be used to restore (bare metal recovery) to the same hardware or to a dissimilar hardware to build a new server. In order to speed-up the process of recovery, DR365™ also enables users to mount these images as a drive to retrieve an earlier copy of a specific file, folder etc.
This enables healthcare industry to accommodate use-cases where immediate data accessibility is required, despite having experienced a disaster. Even a successful ransomware attack cannot disrupt this flow of data when backed up by DR365™ backup and DR appliance.
Guaranteed High-speed recovery in minutes – Healthcare professionals have zero tolerance for downtime. With features like Full and Instant Virtual Machine (VM) recovery, Instant File recovery, Application-aware image-based backups, granular recovery, and Full disk and virtual machine imaging DR365™ ensures high-speed recovery of important workloads.
Even if a ransomware manages to successfully access and encrypt important files, IT staff can easily recover the data using DR365™ without having to worry about the cyber-attack.
Multiple Backup Locations – Ransomware tend to be tricky and most are programmed to not just target the actual data but also the backup copies of data. However, DR365™ enables users to keep backup copies in five different locations, locally and in the cloud. Users can combine local disks, attached storage, tape, network storage, public and private clouds to enhance recoverability from and durability against ransomware attacks.
In summary, by integrating StoneFly's feature-rich backup and disaster recovery appliance DR365™ – the healthcare IT environment acquire: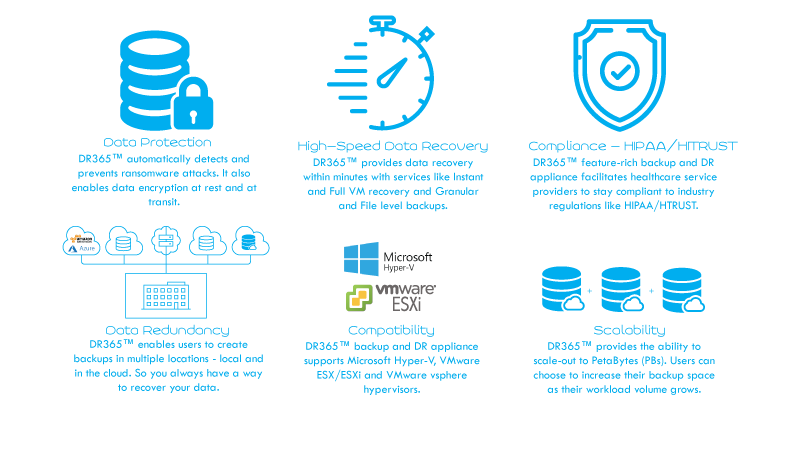 Conclusion
Ransomware is a real threat to healthcare industry. Healthcare industries cannot endure disruption or data loss, that's why they need StoneFly's enterprise-level backup and disaster recovery appliance – DR365™. DR365™ is a purpose-built and feature-rich appliance that ensures high availability and business continuity for healthcare industry.
With DR365™ healthcare industry can effectively protect their important workloads from ransomware while keeping the cost implications in check.
Interested about DR365™? Learn more about the appliance here: StoneFly backup and DR appliance – DR365™.
Looking to setup our enterprise-level backup and DR appliance for your workloads? Contact us and we'll deliver a customized solution for your requirements.