Why every small enterprise needs a backup and disaster recovery plan?
Studies indicate that 60% of small businesses have experienced cyber-attacks last year. The vast majority did not realize that they had been attacked. The report analyzed 1,069 enterprises and less than 299 employees for the study. Initially, only 13% acknowledged that they had been victims of an attack. However, after explanation of the types of cyber-attacks ranging from phishing emails, Trojan horses to ransomware; the percentage increased to 58%. This incredible percentage is mostly due to the fact that small businesses either don't dedicate a budget to or simply do not acquire cloud backup and disaster recovery.
Small Businesses: Easier Targets for Cyber-attacks
Cyber-attacks aren't just targeting industry leaders and large enterprises. Large enterprises are well aware of the value of their data and that is why most of them are focusing on cloud backup services to ensure their data is always recoverable. They have acquired means to keep copies of their data on different locations and means that would enable them to failover in case of a system failure. These enterprises are also utilizing advanced encryption techniques to ensure the security of their data. This makes large enterprises a difficult target for cyber-attacks.
In comparison, small enterprises are unprepared for cyber threats. In a study, it was found that a staggering 57% of small enterprises did not have dedicated staff, solution or vendor monitoring for cyber-attacks in place while an astounding 76% did not have a disaster recovery plan at all. Meanwhile, 57% didn't have a plan to protect employee data and 54% lacked a plan for protecting client data.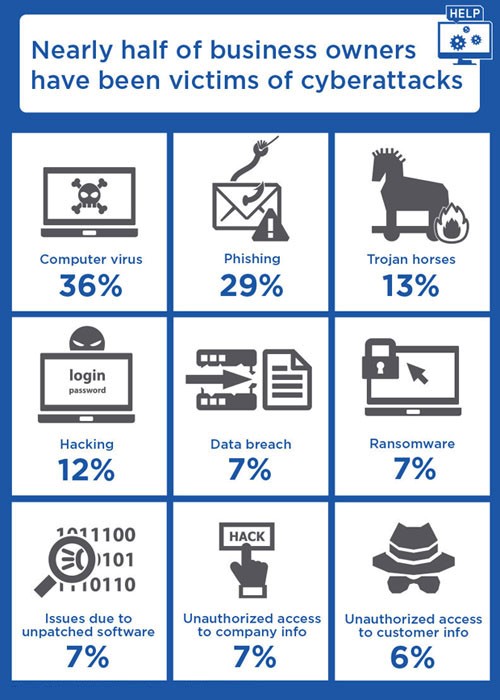 Even though, ransomware consistently makes headline news and is considered a global threat; the sample that was considered in this survey exhibited that only 7% had fallen victim to them. The major devastation was caused by Computer viruses and Phishing Emails. There are a number of ways that the two can wreak havoc. Computer viruses can infiltrate the system with tape storage or with the help of a phishing email. In these scenarios, it is important to train your staff to be impervious to these attacks. Precautions can be taken against phishing emails by making sure that they are identified and no one clicks the bait within them. If that is ensured, then phishing emails have no effect.
However, trained staff are simply not enough to protect your enterprise and your client data. You need backup plan in place to ensure business continuity in case something goes wrong. This is why the acquisition of backup appliances is necessary. You can utilize StoneFly's appliances to keep copies of your backed up data on the cloud.
You can backup to Amazon AWS (Amazon Web Services) or Microsoft Azure and move copies of your data to these storages to ensure that even if your backup infrastructure is compromised; you can still recover. You can get Veeam cloud connect service that ensures business continuity with replication and simplifies management of the backed up data.
Potential cyber-attack targets
Usually ransomware and hackers, attempt to acquire Personally Identifiable Information (PII) such as addresses, name, social security numbers etc. so that they can sell off this information. The other information they attempt to steal is credit card and account information. This information can be of the enterprise or from the client information maintained on the enterprise's database.
This sensitive information that requires the highest level of security protocols. Recently, reports are surfacing where enterprises and solution providers have stored such information on enterprise cloud storages with the wrong access protocols. Such information should not be publicly accessible. Anyone with the links to these folders/files can download the data from cloud storage.
There are solutions to this predicament as well. You can utilize Amazon's AI (Artificial Intelligence) service: Amazon Macie, to appropriately classify and protect your data efficiently.
Conclusion
Cyber-attacks aren't just focused on large enterprises. That's because even with the potential large payout, the defenses employed by enterprises are extremely protected. While small enterprises are easier targets because they either don't dedicate any budget at all or they barely have any disaster recovery plans. This makes them preferable targets for attackers. That is why for small enterprises it is necessary to acquire backup and means to recover and secure their data.
Statistics mentioned in this article are extracted from: Nationwide® Third annual Survey of Business Owners