Backup and Archiving with the Smart Cloud Gateway
Smart Cloud Gateway is a service that connects your on-premise appliance with cloud-based storage. You can use the Smart Cloud Gateway to store data in Microsoft Azure Cloud, Amazon AWS, any S3 compatible cloud or any other public or private cloud for scalable and cost-effective storage.
Using standard backup software and the Smart Cloud Gateway, you can write backups to the cloud and store data durably. This enables both long-term data retention for compliance and recovery into the cloud, locally or other site on-premises.
With the Smart Cloud Gateway you can expand your on-premise storage into the cloud without having to physically buy additional disks to expand your on-premise storage. It works with existing applications whether it is a backup application, a line of business application or file server. The Smart Gateway works with all those types of scenarios and provides a low latency access to your users/customers.
How does Smart Cloud Gateway Work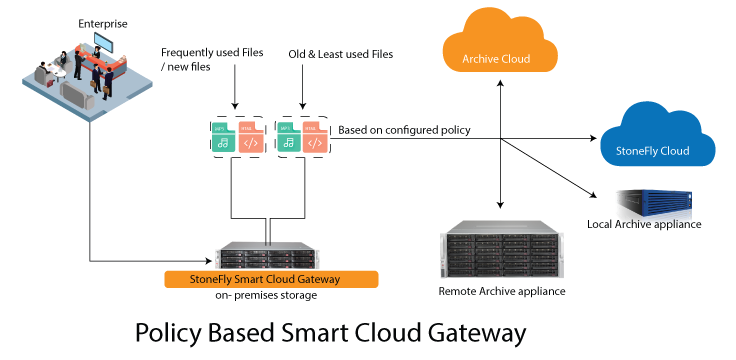 The Smart Cloud Gateway virtual machine sits on your on-premise server and communicates with an iSCSI block protocol. This all runs on-premise on your hypervisor. The Smart Cloud Gateway connects over the internet or via a direct connection to the cloud and provides different advanced data services to manage your storage data based on configured policy. The management console provides options to manage on-premise data, backup data to local appliance, StoneFly private Cloud or any other public cloud. The process of moving data to the cloud is as following:
First, your on-premise server will write data to the Smart Cloud Gateway using the iSCSI protocol.
Over an SSL connection over the internet, the Gateway stores the blocks locally and asynchronously and securely uploads the changed data to the cloud.
The data is stored in the cloud with AES 256-bit encryption.
The reverse procedure happens when your on-premise server reads data. The on-premise server requests data from the Smart Cloud gateway over an iSCSI connection. The Smart Gateway returns the requested data from the local storage if it is already been stored. If the blocks have not been stored locally, they are requested from the cloud. The backend cloud storage fetches the data from cloud, and returns the requested data to the Smart Cloud Gateway and then returns the requested data to the virtual machine running on-premise.
Benefits of Using Smart Cloud Gateway
With the Smart Cloud Gateway You can retrieve files directly using CIFS or NFS version 3 or version 4.1 depending on which version of Windows you are using. You can access your data directly in the Cloud from anywhere using simply an internet connection. You can store your data in any cloud that you want which is different to the other storage gateways and you can also manage your data directly in the cloud using lifecycle policies such as cross-region replication, cloud-to-cloud backup, tiering, encryption, scale out and much more.
The Smart Cloud Gateway lets you store your entire dataset locally and then asynchronously backs up the data to the cloud in the form of snapshots. It provides on-premise applications with low latency access to the entire datasets while providing durable off-site backups. You can create storage volumes and mount them as iSCSI devices from your on-premise server.
Support for Amazon AWS, allows you to cost-effectively and durably archive backup data in Amazon Glacier and provides virtual tape infrastructure that scales seamlessly with your business needs. This also eliminates operational burden of provisioning, operating, scaling and obtaining a physical infrastructure. It simply replaces your physical traditional backup system that you will have on-premise and leverages the cloud.
Backing up with Smart Cloud Gateway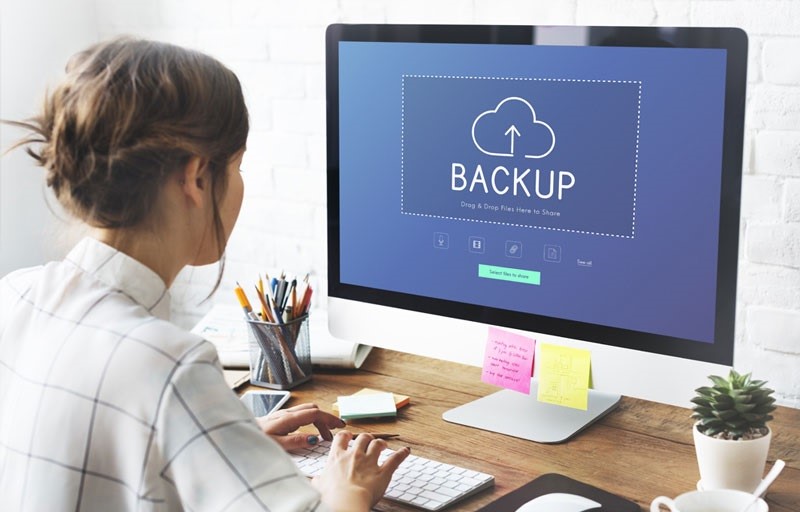 With the Smart Cloud Gateway you only have one responsibility and that is how to leverage the cloud storage services. For instance, if you write data from your on-site system to Amazon S3 you can control and manage when you move data from AWS S3 or lifecycle tier data from AWS S3 to Amazon Glacier.
One of the benefits of backup with the Smart Cloud Gateway is you can spend more time focusing on core business and not spend time managing tapes and libraries and dealing with any issues like tape failure or any on-premise disaster. You also have the benefits of security of the cloud. You can get fine-grained access control and audit control to see exactly what happened when and who called that action. This is much easier than managing traditional physical tape libraries. Tiering takes care of moving data between the different storage tiers and you do not have to worry about moving different types of data.
The Smart Cloud Gateway changes how backups leverage the cloud. Your local on-premise backup software is given the ability to write to the cloud without any changes to the backup software itself. You can export storage as CIFS (SMB) or NFS share and use it as backup repository for backup, replication and disaster recovery in the cloud.
Leverage the Smart Cloud Gateway and move your data to the cloud for as little as $10/TB. Contact us now and avail this Limited Time offer!