Archiving Veeam Backups in Amazon Glacier
The advantage of storing data in Amazon Glacier is its low cost. And although Amazon glacier is designed for cold data with scarce chance of being recovered, the real challenge is to manage information and maintain the management process.
Veeam Backup to the cloud began with Veeam Cloud Edition, which was an add-on to Veeam Backup and Replication that came out with version 6.5 and made it possible to convert cloud storage provider into a Veeam repository. Veeam Cloud edition was available from version 6.5 to 7. In version 8 Veeam Cloud Connect emerged which enables service providers to offer an offsite repository to their Veeam customers.
In the case of Veeam Cloud Connect, unlike Cloud edition, no additional patch or software is required on the client side in addition to Veeam Backup and Replication. Veeam Backup version 9 and 9.5 also brought with it the possibility to replicate virtual machines (VMs) over Cloud Connect providers.
Therefore, Veeam discontinued Veeam Cloud Edition and replaced it with Veeam Cloud Connect. And the only supported way to export Veeam backups to Amazon glacier is to use a Cloud storage gateway in Virtual
Link Trunking (VLT) mode.
How Veeam Backups are sent to Amazon Glacier?
The Schematics of the supported solution for sending Veeam backups to Amazon are as follows: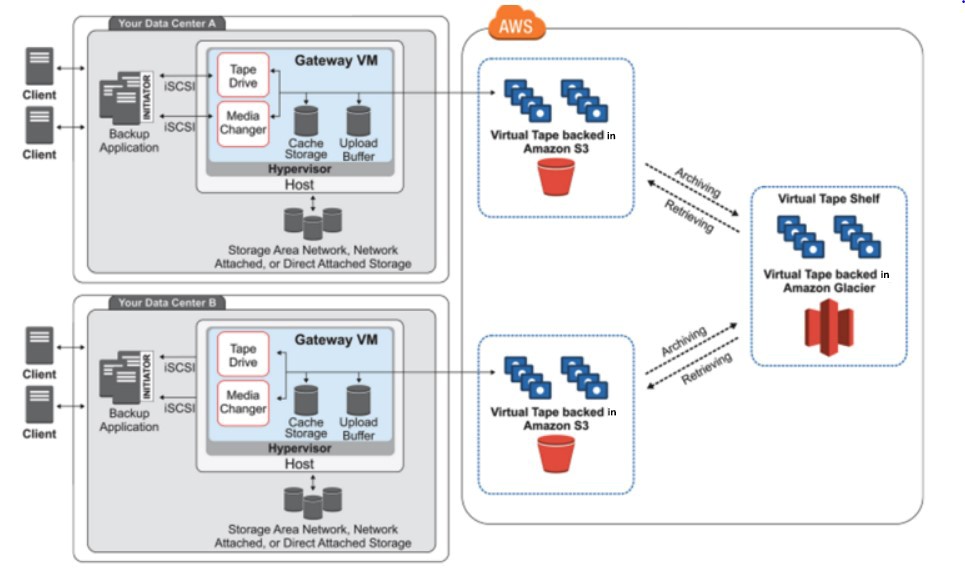 Basically, it is about placing a backup appliance On-premises that pretends to be a library of virtual tapes. The appliance sends the data asynchronously to a set of virtual tapes backed by Amazon S3. The tapes that we want to keep for the longer periods of time can be sent for archiving. This may involve moving the virtual tape from Amazon S3 to Amazon Glacier.
Note that when using this solution we are copying Backup files to Amazon. We don't copy VMs directly, but the content of backup files generated previously by another Veeam job.
When users restore, they can choose if they want to restore the backup file in a local repository or perform a restore of a VM. Once the Cloud Storage Gateway is enabled, the configuration will be done in Veeam.
Archiving Veeam backups in Amazon AWS
The StoneFly CacheCloud Storage Gateway Appliances deliver unprecedented performance and cloud scalability. It is designed for customers requiring a powerful On-premises Flash Based Cache edge storage solution to provide the fastest On-premises speed while they are using the public Cloud such as Amazon AWS. Hybrid Storage gateway stretches your storage from On-premises to cloud without sacrificing data availability and performance. It is also perfect for managing large quantities of unstructured (file-based) data within a single global namespace.